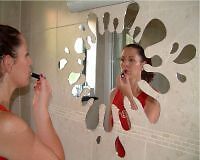 What to look for when you are buying a cool funky mirror.
Firstly, you need to make sure that the mirror you are buying is made in the UK and not a cheap inferior import. These imports (and sold by others on ebay) are thinner and do not meet with UK standards.
Secondly, it is really important to make sure that the mirror is supplied with all the fixings required to ensure a proper fixing to the wall. All our mirrors for example are supplied with specialist mirror tape manufactured for us to the highest spec. Some sellers sell mirrors with general double sided tape and normally of simple craft standards. This is really not suitable and should be avoided.
Thirdly, make sure that the sizes of mirror specified are going to be the correct size for your application. The mirrors shown in the pictures can be misleading as they could be of a much larger size. We try in all our listings to show the actual size mirror and not a much larger mirror. This really is a must watch for point. Some sellers show mirrors that are nowhere near the size stated in the listings then blame you if you think you have bought the larger size.
Fourth, All mirrors will come with a protective covering on the top of the mirror. This should be removed before you stick the mirror up on the wall. failure to do this will mean that you may not position the mirror correctly.
Fifth, when buying a mirror, it is important to note that we will always send out detailed instructions of how to mount your Mirrorkool Mirror and to look after it. If you are not provided with the correct information then it is highly possible you will damage your mirror the very first time you come to clean it.
Sixth, when fixing your mirror to the wall make sure you have it in the right place first time round. The Mirrorkool tape can be moved if you are quick and then replaced, however normal craft style tape will lose its ability to stick and the mirror will fall of the wall. Always make sure you have Mirrorkool tape to aply your mirror.
Seventh and most importantly cleaning your acrylic childsafe shatterproof mirror must be done with a microfibre cloth or soap and warm water and a soft cloth. This is important as glass cleaners will damage the mirror surface.
I hope this is useful and helps in your choice of the perfect Mirrorkool safe shatterproof acrylic mirror
Take care,
Simon