Introduction...
Hi there! Sarah from Sarah's Sparkles here, and today I'm going to help guide you around the world of false nails. With so many different ways of extending your nail length available these days, and people often using the wrong words to describe their false nails, it can be really hard to tell which is which. So, in this guide, I will be running through all the different types of false nails, so you can decide which type would suit you best.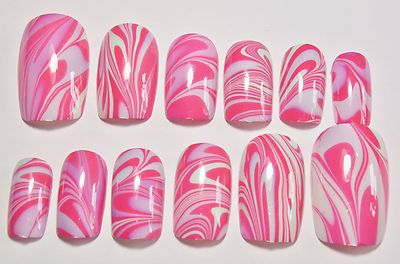 Press-on's/Stick-on's/Full False Nails
-These are full nails, that you can buy pre-decorated, and just glue them onto your natural nails with nail glue. They are usually made from plastic, and can last at least a couple of weeks, depending on how strong your nail glue is, how hard-wearing the nails are, and how well they were applied to begin with. (for example, if any of the false nail is stuck to the skin around the nail, as well as the nail plate, then there is a high chance that they will pop off quickly - the glue is not designed to adhere to skin)

-You can buy pre-printed nails from places like Superdrug and Boots, as well as the many designs available from ebay. These tend to be quite thin and flexible - making them strong, and the designs are always sharp and precise. The downside however, is that the design is usually not protected by any kind of seal over the top, which means you will have a lot of tip wear within a few days, so they can start to look tatty quite quickly.

- You can also buy hand-painted designs on ebay, created by individuals like myself. These are normally painted with nail polish, and sealed with a nail polish top coat to protect the design. Of course, one of the biggest upsides of hand-painted, is that you can request any colour or design you want - I love to take custom orders, and I know there are a few other sellers who also offer this option.

- It's worth noting that ebay do not currently have a sub-category for stick-on false nails, so you should find most of them via Health and Beauty > Manicure and Pedicure > Acrylic & Fibreglass Products. Alternatively, use the search term "full false nails"

Acrylics
These are probably the most common type of nail extensions, and are also the word I see being misused the most. Acrylics are nail extensions that are built onto the natural nail by combining a powder and a liquid to create a pliable plastic blob, that is then shaped into an extension of the nail, and sets to become a very strong plastic. They are not type of false nail that you can buy from a distance, you would need to see a registered/licensed nail technician, and have them built onto your natural nails. They can cost anything upwards of about £30 to have a full set applied, and after a few weeks, you will need to go back to the salon, and have the gap filled in where the new nail growth has emerged. ("infills") While the infills are cheaper than a full set, they are still one of the more expensive options, and not really viable for short term wear. So, if you wanted to wear them out at the weekend, but couldn't type with them at work, you would need to go back to the salon to have them safely soaked off.
*I should also warn you that acrylics can be harmful to your natural nails, especially if they're not removed properly - it took me more than a year to get my nails healthy again, after wearing acrylics on and off for about 2 years, so they're not really a good option if you want lovely natural nails when you take them off. They are extremely strong and durable though, so are a good option if you want to keep them on all the time, and are tough on your hands. If you want to see a set of acrylics being applied, check out the YouTube video on the left.
UV Gel Nails
UV Gel Nails (or hard gels, as they're often called) are created in much the same way as acrylics, the only difference being that the nail is built up with a gel, which solidifies when placed under a special UV light. They are less damaging to your natural nails, but the only way to remove some types is to file the entire extension away. No amount of soaking in acetone will break these down, so most salons use an electric file (drill) to remove the bulk of the nail, and then manually file off the rest, so as not to cause damage to the natural nail underneath. There are soak-off versions of this now too, although I'm unsure if there are any downsides to them.
Just like acrylics, these are only available from a nail technician, and can't be sold long distance. To see a set of hard gels being applied, please see the video on the left.
*As a side note, they are usually finished with a UV Gel Top Coat. This is a version of hard gel with a thinner consistency, that can be applied more like a nail polish, and leaves a really amazing shine.
UV Gel Polish (Shellac)
UV Gel Polish is a UV Gel/Nail Polish hybrid. It's often referred to as Shellac, although that is actually a specific brand of Gel Polish - there are many other brands out there too. It won't add any instant length to your nails, but if applied and removed correctly, it will help to keep your nails stronger, so you may be able to grow some length with continuous use. This is solely dependant on the proper application and removal though, as just like any other type of false nail, improper methods can damage the nail underneath.
It's applied to the nail just like a regular nail polish, and then cured in a UV Lamp to set, instead of air drying like a nail polish. It comes in a range of colours and finishes, and should last you a couple of weeks before you need to change it. To remove, you soak your nails in acetone for 10-15 minutes, and the gel polish should just lift off the nail completely. Gel manicures are usually priced between £15 and £25, depending on where you go, and what kind of manicure you want. To see the application and removal process, check out the video on the left.
Others
There are a few other groups that are not technically false nails, but are often grouped into the same category.
Fibreglass/Silk Wraps:
These are thin layers of fibreglass or silk that are fixed to the natural nail with resin or glue, and add a bit more strength to your nails, allowing them to grow.
Nail Wraps/Stickers/:
These are usually just self-adhesive stickers that fit the size of your nail, so will add a fun design to your nails short term, but won't make them any longer or stronger. Some of the better quality wraps are made from polish, and can be top coated and removed just like a regular nail polish. If applied well and sealed with a quality top coat, they can last as long as any good standard manicure. (Sometimes wraps are referred to as nail "foils" too, especially if they're metallic. This can be confusing, as there is another type of nail foil that comes in a long strip, and is affixed using a special glue, so be sure to double check the descriptions to find out which type of foils you may be looking at)


So, while I'm sure there are probably a few more obscure types of false nail that I've never heard of, these are the most common ones. I hope you've found this guide useful, and if you decide that stick-on nails are the way to go for you, please check out my shop where you will find a large range of false nails, in different shapes, lengths and finishes.

If you are interested in learning, or even just looking at nail art and nail polish, feel free to check out my personal blog, where I share nail art, swatches, and nail art tutorials - Penny Pinching Polish (I can't put a link in, so you'll have to google me I'm afraid)
And if you see any designs on the blog that you would like on a false set, please contact me via ebay messages, and I'll do all I can to make it happen. :D