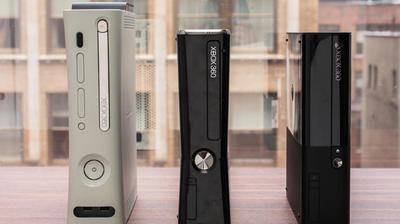 Add a caption
Over 9 years the Xbox 360 has had a few face-lifts....
In the beginning....
Since the Xbox 360 launched back in December 2005, there have been many different incarnations and model changes. Over it's 9 year life span it has evolved from a humble gaming machine into an all round media centre and entertainment unit. Whether you want to stream the latest movies using Netflix, Skype your relatives 1000's of miles away or just kick back and play the latest Call Of Duty, Xbox 360 has you covered.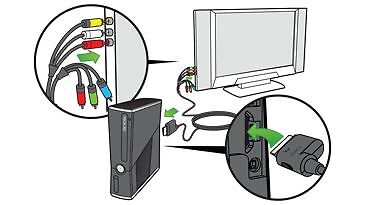 How easy are they to use?
A lot of people say they are put off buying a games console because they aren't "tech-savvy". The thing is, you don't need to be. They are designed to be user friendly and within minutes you can be set-up ready to play! No matter what TV you have too, there is a connection to suit you. Still not sure you could do it? Microsoft have a dedicated freephone Xbox 360 helpline to guide you through everything step by step.
OK, so what do I need to know?
What connection does your TV have? Is it HDMI, standard AV (composite), component cable or VGA?
What memory size do you need? If you're buying it for a child just wanting to play Minecraft etc, chances are a 4GB machine will be sufficient for saving their games and maybe downloading a few skin packs. Buying it for an older child or adult? I'd recommend going for a higher memory. A lot of the newer games (Call of Duty, GTA V, Battlefield etc) require a mandatory install before they'll play. It works out better value to just buy the bigger memory in the first place rather than upgrade later.
How many players? You get one controller as standard. Wanna play 2 player? You'll need another pad. Xbox 360 supports up to 4 players at once.
Are you playing online? Once connected to the internet you can download games and additional game content off the Xbox Live Marketplace. To do this you will either have to input your card details onto the Xbox OR a safer option is to buy a pre-paid code (Xbox Live Credit) from a trusted source. If you want to play with other friends over the internet you will need to buy an Xbox Live Gold Subscription. You can buy different length subscriptions from 1 month (usually around £6) to 12 months (usually around £40). You may also want to buy a headset so you can talk to people online. You do get one in the box as standard with a new machine but they are basic.
Kinect. Want to get active? The Kinect attachment is a camera which plugs into your Xbox and allows for motion controlled games such as Just Dance, Kinect Sports and fitness games like Zumba. This camera ideally needs to be placed between 2 feet off the floor up to a maximum of 6 feet. it also requires you to be stood at least 6 ft away from the sensor to work properly ( or more like 8 feet if there are 2 players). You can buy zoom lenses if you don't quite have the available room but they don't always work as they should.
Other accessories. The one accessory I would recommend above all else is something called a Play & Charge kit. If you have wireless controllers they take 2x AA batteries. Depending on game play these can anywhere up to 20-25 hours. A Play & Charge kit replaces the batteries with a rechargeable battery pack and charge cable. To charge, simply connect one end of the cable to your Xbox360 and the other into the top of your controller. An LED on the cable lets you know when your battery is fully charged, at which point you simply unplug and carry on playing! Battery running out? No problem, just plug back into your pad and carry on!
What's the difference between the models?
The main difference you need to be aware of is the memory size (how many GB hard-drive space). The other differences aren't very important when it comes to playing games and using apps. The original models (20GB, 60GB, 120GB Elite etc) all look like the console on the left in the picture at the top of the article. The hard-drive attaches externally to the top, some don't have a HDMI output as it wasn't as common in TV's as it is today. The middle console is referred to as the Xbox 360 S. These have an internal hard-drive but all come with a HDMI output. These also have a dedicated port for the Kinect attachment. The lastest model is the Xbox 360 E which was redesigned to bring it into line with the new Xbox One. It has a slight difference in the cables to the S as in the connections into the Xbox itself look more like headjack cables.