What is Avon?
Avon, the company for women, is a leading global beauty company, with nearly $11 billion in annual revenue. As one of the world's largest direct sellers, Avon is sold through more than 6 million active independent Avon Sales Representatives. Avon products are available in over 100 countries, and the product line includes colour cosmetics, skincare, fragrance, fashion and home products, featuring such well-recognized brand names as Avon Color, ANEW, Skin-So-Soft, and Advance Techniques.
In the UK, Avon now reaches one in three women, with six million women seeing an Avon brochure every three weeks.
Avon provides innovative, quality products to customers at competitive prices. Product lines include Avon make-up, Avon fragrance, ANEW skincare, Skin So Soft and Advance Techniques. Avon also sells an extensive range of wellbeing products, jewellery, lingerie, accessories and gifts. More products carry the Avon name than any other brand in the world.
As the company for women, Avon is committed to supporting the causes that matter most to women – breast cancer and domestic violence. Globally, Avon has raised over $800 million to date as one of the world's largest supporter of women's causes. In the UK, Avon has donated over £16 million to charities including Breakthrough Breast Cancer, Macmillan Cancer Support and Crazy Hats Breast Cancer Appeal. Avon UK has also donated over £1,000,000 to its domestic violence charity partners Refuge and Women's Aid to help end violence against women.


Buying Avon online
My independant Avon team and I have been selling Avon products for up to 12 years now. Over that time, Avon has developed and grown in many ways - one of those developments are being able to shop online. Shopping online is far easier than shopping in a store, and at times can be more convinient than leaving the brochure out for your Avon lady every 3 weeks.
Avon Best Sellers
Every second of every day, four Avon lipsticks and two Avon mascaras are sold somewhere in the world.
One Mega Effects Mascara is sold every 10 seconds in the UK.
One ANEW Reversalist Complete Renewal Express compact is sold every minute in the UK.
One ANEW Clinical Eye Lift Pro is sold every minute in the UK.


What is gailsonlineshop?
Gail's Online Shop is my own personal Online Avon Brochure that I share with all of my online community of customers. It is a virtual book that anyone can view and buy from.
Otherwise known as POB (Personal Online Brochure), gailsonlineshop will continue to offer people around the world to buy from me when they do not have the chance to see a brochure through their letterbox, or they were too late to place with their Avon lady.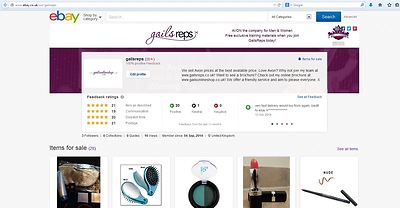 Gailsreps on eBay
At
Gailsreps
, we offer you Avon products at the cheapest rates via eBay. These products are all brand new and not used (unless otherwise stated), and available for sale to you guys. We try our very best to give you absolutely fantastic service and we only want the best for our loyal customers. We are more than happy to answer any questions, or give you advice on anything. We love hearing your feedback, too!
How to apply the perfect eyeshadow
Perfect eyeshadow is as easy as 1, 2, 3, 4: NEW Avon True Colour Eyeshadow Quads
Celebrity make-up artist Liz Pugh shares her practical tips on using Avon's NEW numbered mini palettes.
Creating stunning eyes just got a whole lot easier, thanks to Avon's NEW True Colour Eyeshadow Quads. The newly formulated palettes have got stunning stay-true colour and crease-proof technology... and also a handy numbering system to help application.
Don't be afraid of colour, it's as easy as 1, 2, 3, 4!
Think of it like painting by numbers, with all the guesswork taken out.
1 - this is the highlight shade. Use under the brow bone. Dotted in the corner of the eye it will open the eyes and make them look bright.
2 - this is generally a perfect shade to wear on the lid.
3 - this is a great shade for blending into the socket.
4 - this shade is the darkest in all of the palettes and should be used along the lash line. For a smoky look, apply this shade under the lashes as well.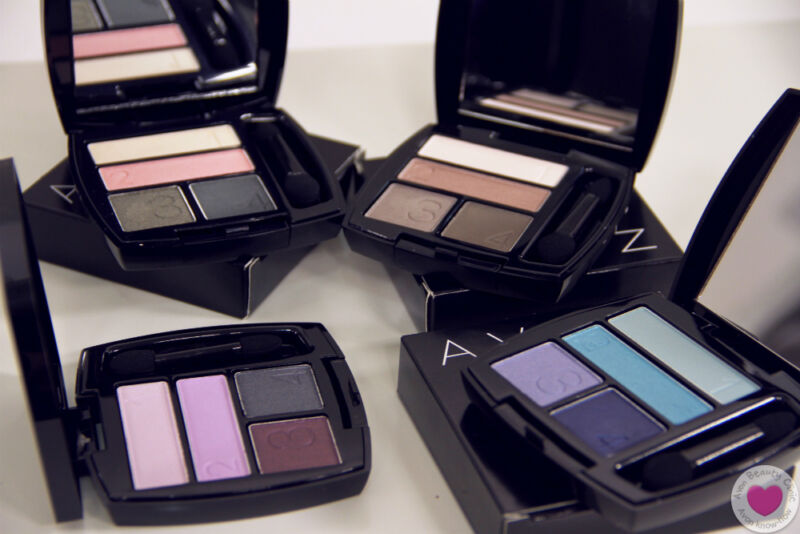 All the palettes in the collection are designed for all the shades to work together; or you can pick 2 or 3 shades to complement each other.
The brightest shades in each quad will liven up the eye, and the hot trend is for bold colour right now. Choose a bright shade and sweep over the lid. Shade 2 in Metal Eyes, for instance, is a gorgeous gold and looks fabulous on more olive skin tones. Or pick shade 2 from Jeans; it's all you need for a bold catwalk-inspired look.
To add a little more depth to a bright eye, add shade 4 along the lash line, using a small brush, treat it as an eyeliner, applying close to the lashes.
A dot of shade 1 will liven any eye, making eyes appear wider and more open.