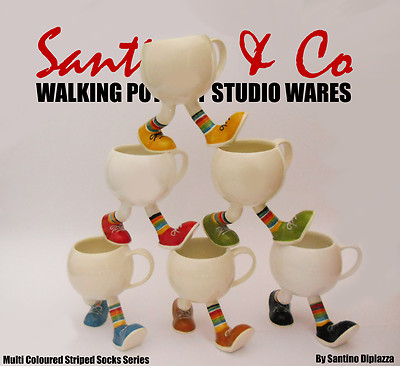 Santino Dipiazza, celebrating 26 years in the pottery industry.
Join the club TODAY, and start showing off my Funny Walking Tableware's.

Santino & Co are known as makers of artisan Walking Pottery and limited edition Studio Ware collectables.
All our collections are authentically hand-made and hand-painted. I NEVER MASS PRODUCE any of my Wares, and I truly believe that this has been one of the key factors to our success story. Each piece from our collections is made using fine earthenware or fine bone china clay, and hand-painted in eco-friendly paint colours, and all are individually signed by me the potter, Santino Dipiazza. I also developed a non-crazing glaze, so there's no need to worry about washing any of our wares - all our Walking Pottery is guaranteed to be dishwasher safe.

BIO
Santino Dipiazza, I was born in Stoke-On-Trent, Staffordshire England. A self-taught ceramic designer, sculptor and mold-maker. I worked for ROYAL DOULTON, WEDGWOOD, COALPORT and SPODE over a period of 20 years,before the demise of the UK's pottery industry. In 2009 I started Santino & Co Walking Pottery Studio Wares. I am a completely hands-on studio potter - designing, sculpting and creating all my own wares, alongside a small dedicated team of skilled assistants from my state-of-the-art pottery studio in Bangkok. The studio is home to all our of collections including our flagship Walking Pottery Tableware, as well as a stunning range of fine bone china figurines and collectables.

Our beautiful products are perfect for your personal collecting pleasure, or as gifts for the special loved one in your life. Our affordable prices, always include FREE INTERNATIONAL SHIPPING, with an average of 5 - 10 business days for delivery time. I package all my wares in recycled cardboard boxes, I CARE ABOUT THE ENVIRONMENT WE LIVE IN. I dispatch all my wares by registered post - tracking numbers are provided.

Santino and Co also take orders for customisation, I can produce or reproduce any item to exact customer specifications.

Treat yourself to a look at our fabulous works of art.

To view our complete range of Studio Ware Collectables, please visit our Pinterest Boards and search for Santino and Co, you can also find us on all social media including, Youtube, Twitter, Linkedin,Google+, Facebook, Flickr, or simply Google "Santino Dipiazza - Walking Pottery"

Go on...Cheer up your kitchen...and thanks for taking the time to read this article.

Happy Collecting!
Santino Dipiazza
A NEW GENERATION OF STUDIO POTTER...
Making today's collectibles, tomorrow's antiques.