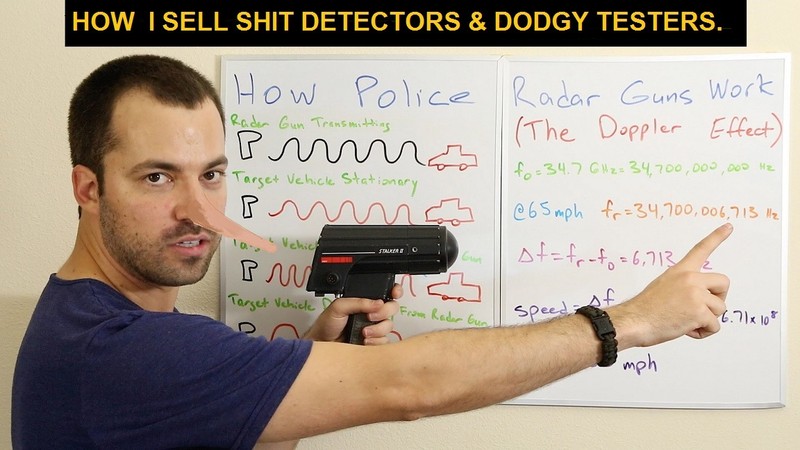 $1 to make Crap, Rated as Top Notch by Guess who... VORTEX the main Salesmen. You US Dudes are so funny!.

He Lies about Jammer Killing Laser Testers, Lies about Detectors, can the AL Priority even Jam VPR as he claims? I have my doubts personally.
Paste a YouTube Video URL

Uploading...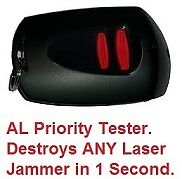 $49.95 AL, LE, Snooper , Stinger Testers Kill Jammers.
Dozens of unsuspecting Drivers have Killed their Expensive Jammers all makes with VortexRadar and many other Nasty Cheapo Testers, it's a Fact!.


Liar Yes he is a Scam Salesman and Liar. Radar Roy I and many older Drivers (like me) know Detectors give Nil Warning. How? because many have been caught Speeding, or Hit by Cops with one fitted. I have often, even 2-3 Weeks ago.

I just Posted a Video for DIY Jammer builders.

was the first to complete the Interesting 'Instructable' Take a Look, it is still Online, the Title is Test your radar detector or laser jammer with this traffic enforcement LIDAR gun simulator HandymanDave was an old Username.
.
All I got was Smart Ass 'Verbal Diarrhea' Vortex and other wholly Anonymous US based Sales Goons calling me names Libeling me in Public to Millions. " I wouldn't trust this guy" " He's an Idiot" (such an Idiot Vortex later messaged me how I Biased my Laser Units 3-4 Times).

This Vortex guy accepts Donations!... Yes he still does. He Cons US guys into buying his sale or return Jammers & Ironically) Also AL Priority Jammer (see Below) testers that INSTANTLY DESTROYS ANY MODEL JAMMER IT IS USED ON!.
has learnt all he knows off the Internet.
His Primary motivation is selling his Scam Useless $400-$900 Car Dashboard Detectors, to 20-35 Year old US Drivers who have Cash, but haven't yet learnt the World is full of Conmen selling 600% Markup items like him and many others.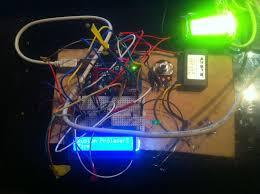 Instructable I completed 2-3 Years ago.
See the 'I made this'.
I/O Radar and Laser (Lidar) Police get you Speed in 0,30 Seconds. As it goes off, You and your Wallet is Toast. In the early 1970's Yes
I/O Radar and Laser (Lidar) Police get you Speed in 0,30 Seconds. After it goes off, You and your Wallet will unfortunately be emptied. In the early 1970's Yes they were pretty Effective. In the Days of Powerful X and K Band Car units. Now there are No constant Microwave Emissions to get a Warning from. He points, Presses the Trigger and your Dead...simple as!.
This was why He Muhammad/señor/ Mr Vortex whatever he really calls himself in his search for Immense Riches from Naive US Drivers.

was told to Leave Radar Roy's Forum PDQ.
He wanted to Specialize continue selling these Scam, very Cheaply made Chinese Crap. Roy would not Condone downright Lies to Drivers-Consumers.

Jammer Testers on Sale now, are the Number One Danger to Jammer Owners. All ARE 'Destruct Test Devices' in truth. Flogged by Shill Shallow Salesmen to unsuspecting Customers. Additionally using any 'Tester' is classed as "Abuse & Undue Wear" by all makers, including Me, and Voids your Warranty Instantly! I have a laser Elite here which was Destroyed with a 'Laser Tester', complete with Melted Plug Pins & Blown Mosfets.
Blinder Stinger,ALP All Jammer Makers Ban Amateur Testing for Good reasons


Dashboard detectors DO NOT WORK & are all now Obsolete.Yes no matter how High the Price, or how the Sellers spin it, no amount of Sensitivity or display feature can change this.
Radar Roy with 23 Years Police Experience told us this Years ago, repeatedly.


I have Laser Tester & Never use it on any Jammers.
If you want to see what a correct Laser Jammer Tester Signal 'should' look like, please see on the Link on this Video, or
AL Priority Antilaser Priority, Very Fragile, easily blown with 'His' AL or LI Testers.


I Only use Highest Quality Purchased Osram 75 Watt Laser Diodes & European Components, via FedEx for Speed.​
HP-M60 Smart Jammers Protects Vehicles with just One Unit Front or Rear using my own Circuits, I am now Proud to incorporate Osram Lasers with Texas & Fairchild Components. Finally Below, An Honest Video Warning of the many Awful Signal, Key Fob 'Jammer Destroyers',

​Being an Agilent Fast Smart Jammer No Jam Codes (E07) are displayed on Guns either. With Pro Laser 3-4 used in US & Australia, the LEO just has to try again, as readings fail & with Poliscans. With LTI Lidar Guns he gets an E01 and when close E02, seen on many Jammer Demonstrations. The M60 has 10 Nanosecond Pulse Emulation. These have Astronomic Amplification & are a High Performance Item,

I use Higher cost US, UK & German Supplied Quality Components.
For the Power Supply for instance I use Copper Cored Wire to feed this Units. Far Thicker Cored, & better Quality than All the Asian Jammers. Chinese Blinders ALP LI Jammers All use Ultra Thin Cheap Steel 'Burglar Alarm Hook up Wire'. Looks OK but Patently Not good if for handling decent Electrical Current. US Sold Jammers only use a Tiny Cheap 10 Watt Laser running at 20-30% Power. See ALP Below.
See what My Awesome SPLPL90-3 Osram Laser can do here, and just 'ticking over' here.


Paste a YouTube Video URL

Uploading...

This is My Invention & all Circuits Remain are Copyright, they remain my Exclusive Intellectual Property. Anyone Copying or Publishing Details is Acting Illegally.

​You Don't Even Need a Detector with This.
See HP-M60 on You Tube.
Genuine Osram Lasers are Used..
X1 Head is Very Easy to Hide on most Cars.


Add a caption
This was from last Year, Jamming a Cop lidar Gun point blank. but more-better Videos very soon.