THE LORD OF THE RINGS TRILOGY ARMIES OF MIDDLE EARTH COLLECTIBLE SMALL SCALE FIGURES AND SETS
MORANNON ORC RIDER ON WARG...................
THE FILM TRILOGY CREATED A BUZZ AND WITH THE TOYS DISTRIBUTED BY PLAY ALONG TOYS COMPANY BETWEEN 2003 AND 2005 FIGURES SCULPTURED BY GENTLE GIANT STUDIOS DESIGNED AND DEVELOPED BY ART ASYLUM , THEY MANAGED TO PROVIDE US WITH WAVE AFTER WAVE OF HIGHLY DETAILED FIGURES ,IN EXCESS OF 120 FIGURES AND WEAPONS WERE RELEASED.
THESE SMALL SCALE FIGURES ALLOWED THE BATTLE TO BE PLAYED OUT AT HOME . THEY ARE GETTING MORE AND MORE DIFFICULT TO FIND STILL BOXED AND ARE NOW COMMANDING SOME VERY HIGH PRICES.
WITH A RANGE OF SINGLE , TWIN PACK, THREE PACK, RIDERS PACKS AND BOXED SETS IT COVERED IT ALL AND BECAME HIGHLY COLLECTIBLE AND THEY ARE VERY HIGHLY DETAILED AND ARE GETTING MORE RARE,
AS WITH ALL POPULAR FIGURES THE FULL RANGE WAS NOT ALL AVAILABLE IN THE UK BUT THANKS TO E-BAY YOU CAN TRACK DOWN THE ITEMS FOR YOUR COLLECTION.
EASTERLING WARRIOR................................
NOW WITH THE RELEASE OF THE 3 NEW HOBBIT FILMS COLLECTORS
WILL RE-IGNITE THE ENTHUSIASM FOR THIS FANTASTIC RANGE OF VERY COLLECTIBLE HIGHLY DETAILED FIGURES.
ARMY OF THE DEAD ,,,,,,,,,,,,,,,,,,,,,,,,,,,,,,,,,,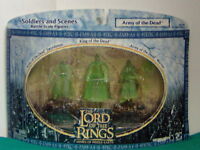 THE BOXED SCENES PERFECTLY REPLAY THE SCENES FROM THE FILM AND ARE ENHANCED WITH THE OTHER FIGURES AND WEAPONS YOU CAN COLLECT.
VERT RARE DELUXE PELLENNOR FIELDS SET.....................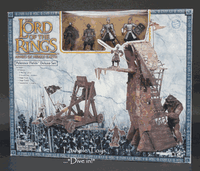 MORDOR ORC +MACE
LEGOLAS RARE
ROHAN AXEMAN
MORDOR ORC +AXE
PROLOGUE ELVEN WARRIOR
ORC DRUMMER VERY RARE
STRIDER AT WEATHERTOP
GOTHMOG RARE
HALDIR
HELMS DEEP ARAGORN VERY RARE
GANDALF THE GREY
HELMS DEEP LEGOLAS VERY RARE
FRODO RARE
EOWYN
MORIA ORC RUNNER VERY RARE
ROHAN ARCHER
GOLLUM
TWILIGHT RINGWRAITH VERY RARE
RINGWRAITH
MORDOR ORC +ORC RIDER AND WARG RARE
CAPTURE OF SMEAGOL
FIRES OF MOUNT DOOM RARE
ORCS OF CIRITH UNGOL
ATTACK ON AMON-HEN
RANGERS OF GONDOR
MORIA ORCS
ROHAN SOLDIERS RARE
RING WRAITHS
MEN OF ROHAN
LEGION OF HARADRIM RARE
FIGHTING FELLOWSHIP
ATTACK ON ROHAN SOLDIERS
EASTERLING WARRIORS
ARMY OF THE DEAD VERY RARE
MARCHING TO MORDOR
ELVEN SOLDIERS
RESCUE AT CIRITH UNGOL
DEFEAT OF SUARON
AMBUSH AT WEATHERTOP
TWILIGHT AMBUSH AT WEATHERTOP RARE
ELVEN WARRIORS OF HELMS DEEP RARE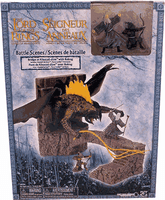 ............................. BRIDGE AT KHAZADUM SET
RIDER SETS
ARAGORN+HORSE
GANDALF THE WHITE+JUMPING HORSE RARE
SHARKU +WARG
RINGWRAITH +JUMPING HORSE RARE
RINGWRAITH +GALLOPING HORSE
LEGOLAS/GIMLI+HORSE
ARWEN/FRODO +HORSE
AOWYN/MERRY+HORSE
MORANNON ORC +WARG RARE
NAZGUL+HORSE
EOMER +HORSE
GANDORIAN HORSEMAN+HORSE
ROHAN RIDER+HORSE
ARAGORN IN GONDORIAN ARMOUR+HORSE
DARK RIDER+HORSE
MERRY IN ROHAN ARMOUR+HORSE
KING THEODEN +HORSE
MOUTH OF SAURON + HORSE RARE
PIPPIN/GANDALF +HORSE
GOTHMOG ON WARG RARE
ROHAN RIDER+JUMPING HORSE RARE
MORRANNON ORC +WARG (VARIATION ) RARE
PELENNOR FIELDS FELL BEAST SET RARE
PELENNOR FIELDS DELUXE SET
AMBUSH AT WEATHERTOP
FELLOWSHIP SET
FELLOWSHIP SET WITH BILL THE PONY VERY RARE
BRIDGE AT KHAZADUM SET
ORTHANIC CHAMBER SET
URAK-HAI SIEGE SET RARE
SHELOBS LAIR SET
URAK-HAI BATTERING RAM SET
GONDORIAN CATAPULT SET
BATTLE AT HELMS DEEP SET VERY RARE
FELL BEAST AT OSGILITH RUINS SET
HOPEFULLY WITH THE LAUNCH OF THE NEW HOBBITS FILM ,THERE MAY BE MORE ITEMS TO ADD TO THE COLLECTION.
KEEP AN EYE OUT FOR VARIATIONS AND MISS PACKED SEVERAL OF THEM OUT THERE ALSO VERYRARE FIRST WAVE HAD HOLOGRAPHIC STICKERS ON FOR THE FIRST 100
PRICES DO VARY DEPENDING ON AVAILABILITY AND HOW RARE THE ITEMS ARE AND BOXED OR NOT.
IF YOU LIKE LORD OF THE RINGS YOU MAY ALSO WANT TO CHECK OUT THE RANGE IF 6 INCH FIGURES FROM TOYBIZ ,THEY TO ARE HIGHLY DETAILED AND HIGHLY COLLECTIBLE.
I HOPE THIS HELPS YOU AND IF YOU FIND ANY THAT I HAVE NOT YET LISTED LET ME KNOW
HAPPY COLLECTING AND ENJOY A FUTURE INVESTMENT