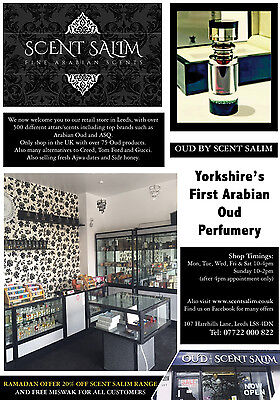 Pure Ouds and niche fragrances
Scent Salim & Oud by SS
Telephone: 0113 345 2711/ 07722000822
HQ 107 Harehills Lane Leeds UK LS8 4DN
Arabian Scent are proud to work with Scent Salim, Scent Salim was established in 2007 and has been catering to the perfumery needs of all around the globe since. Its creations after creations have adored the exotic, the romantic, the introvert & the contemporary in many ways than one. Naturally, from a perfumery that indulges in psychology, the world can look forward to perfumes with distinctive personality.
We specialise in perfume/scents from around the globe. We have different types of Musk, Oudh wood, rose, and many more.
At Scent Salim we aim to offer remarkable products at unbelievable prices. We promise that by choosing us, you not only grab a bargain, but also get fantastic service. Scent Salim has its roots in organisations which have been manufacturing and dealing in Fragrances and pure Oud for the last 70 years.
We Specialize in Non-Alcoholic Perfumes from the Middle-East and Asia. Our stock includes fragrances from very well-known brands like Arabian Oud, ASQ, Ajmal, Surrati, Amouage our own creations and others. If you have never heard of these brands, you can think of them as the Tom Ford, Gucci and Creed of the Western World.
We now have thousands of customers in over 50 countries and we supply to both trade and individuals. Our inventory now contains over 1000 fragrances and fragrance related products. We also retail approximately 125 Oud products. Please contact us for more information about Scent Salim. Our designer collection is retailing in many outlets in the UK and many other countries.