Here's some info to help you spot if that item is a great deal or just a rip off. This is really just meant as a bit of basic help if you don't know the brand. In general if you're going to part with your hard earned cash a seller should be able to send you GOOD pictures of the labels in close up and if they don't look much like these below then hold onto your money.
There is much more fake Armani around for sale at the moment - Buy these, and you'll be seriously ripped off. Read this guide and hopefully you will be able to find the real thing.
I noticed e-bay automatically lists items next to this guide. They have no connection with me unless they are my items and there is no guarantee what's listed to the right of this is genuine - so look out.
Basically, the people making the fakes design them to fool the people who don't know the brand. They make the fakes look how you'd expect an item to look if you didn't know the brand, most Armani fakes are really quite unlike the real thing.
I get a lot of mail asking me about individual items and I can't really reply to these.
There are plenty of US sellers selling the genuine thing, and they will usually have good pictures and close ups of the details. These items won't be cheap but they are the real thing.
WHEN BUYING ARMANI JEANS BAGS TAKE THE FOLLOWING PRECAUTIONS INTO MIND...

SPOTTING CERTIFICATE OF AUTHENTICITY LABELS
ALL ARMANI JEANS PRODUCT ALWAYS COMES WITH CERTIFICATE OF AUTHENTICITY LABEL
(SEE PHOTO`S BELOW)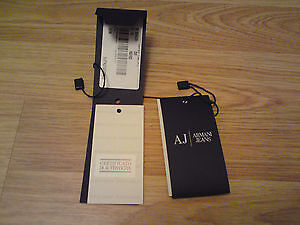 Armani Jeans - Look for a dark blue label with 'AJ' on the left side and 'Armani Jeans on the right. The tag will be dark blue too and held on with blue thread. (a plastic gun tie may mean it's been re-tagged, it doesn't mean its fake - but its not 'new tagged' ) Older items will have an ivory garment label with burgundy and blue writing on it and a small eagle logo. Older items will usually be Made in Italy, but most AJ is made in eastern Europe, Macau,or China now. The older items are better quality usually in terms of fabric and finish. These Armani Jeans item have been faked quite accurately so beware - ask for and get CLOSE UPS or the labels and if they don't look like this in terms of type and texture don't buy. Some older AJ clothes will be made in Italy. Newer items may be made in China, Romania, Hong kong, but this does not mean they're not genuine.
OTHER THING WHICH YOU NEED TO KEEP IN MIND THAT SOME SELLER BOUGHT BAG FROM CHINA AND SELLING ON REAL BAGS PRICE. SO BE CAREFUL AND BUY ONLY ORIGINAL.
I HOPE THIS SHORT AND SIMPLE GUIDE HELPS YOU AVOID THE ARMANI JEANS SNIDES!!