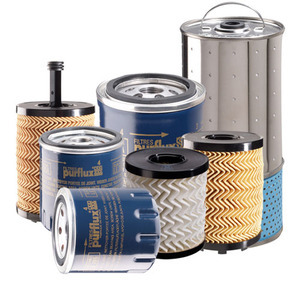 The original performance
Today's advanced vehicle engines are set to tighter tolerances and rely on top quality filtration. With OE quality oil, air, cabin air, petrol and diesel filters, the Purflux programme offers a complete choice for every customer.

Purflux provides high quality filtration media and drives innovation, including Chevron pleating and compact, lightweight filters using fewer metallic parts.[purflux 02]Established in 1956, the PURFLUX name is synonymous with original performance, for the Independent Aftermarket.
Our brand provides the customer with filters that satisfy all the engineering and commercial requirements set by the vehicle manufacturers.

To achieve this, the engineering staff at PURFLUX have acquired over 50 years a unique mastery over the techniques for processing filtration material using both chevron pleats and straight folds.

PURFLUX as it self is for Peugeot, Citröen, Renault, Fiat and many other famous car manufacturers. That is one additional information about their quality.

Where can you find PURFLUX?

The IHS ranking puts the Volkswagen Golf VI at the top of the list in Europe. The popular compact is equipped with OE stabiliser bars and coil springs. The Ford Fiesta VI follows in second place with original Sogefi oil and diesel filters, coil springs and air and cooling systems such as the thermostat housing. The Opel Corsa D is also among the leaders with Sogefi air and oil filters, stabiliser bars, air intake manifold and coolant pump. Other 2012 models featuring original Sogefi Group parts include the Renault Clio III, Ford Focus, Opel Astra, Renault Megane III and Nissan Qashqai.

Dream machines
Sogefi's OE oil filters also support the smooth running of some of the world's most popular dream machines. For example the Ferrari California, the Maserati Gran Turismo and the Mercedes Benz SLK 350 CGi all make use of Sogefi filters, which are available in aftermarket versions as well. Sogefi oil filters are also selected as original equipment for many high-performance motorbikes. Every Ducati bike, for example, features an original Sogefi oil filter, such as the Ducati Monster 1100.

This all explains why so many customers are choosing the company's OE and aftermarket parts. "The cars carrying our parts are driven by millions of people and must deliver thousands of kilometres of trouble free driving each year," says Taschini. "There is no room for error."