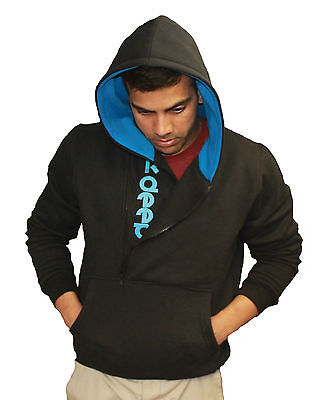 Add a caption
An example of a high quality PolyCotton mens hoodie
What is PolyCotton?
A blend of Cotton and Polyester

Where will I find it?
Mostly in clothing/apparel and usually in fitted casual menswear.

Benefits of PolyCotton
Cotton is a soft, breathable fabric that tears easily and doesn't hold colours well, while Polyester is much more durable, holds colour for much longer, however a 100% Polyester garment is not breathable and therefore not ideal for clothing.
A high quality blend of the two takes the best of both the natural Cotton fabric and the man made Polyester, allowing a long lasting garment that is durable and holds it's colour through washes, while also staying soft to the touch and breathable.
Polyester allows for the garment to have a slim fit finish.
A roughly 70% Cotton, 30% Polyester blend is ideal for long lasting, warm and extremely comfortable clothing, so keep an eye on the labels when you are in store or the product details online to ensure you are getting the best fabric blend.
For examples of this style, we stock a huge range of quality menswear using a PolyCotton blend in many of our garments so please feel free to have a look through our eBay Store
by following this link