Hi. Just in the process of selling some 'vintage' Star Wars figures still on the original cards. As these are quite valuable, and have the flimsiest plastic bubbles/blisters on the front, I'd like to offer some handy tips on getting these items ready to post. I have not had any damage reported up to now (fingers crossed) to any of my items in transit. My advice is free with no guarantees, so don't hold me accountable if anything happens to your items after following these guidelines. Should take less than 15 minutes packing time if you're organised.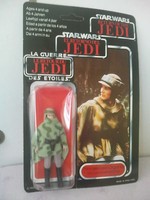 HOW I PACK MY CARDED STAR WARS FIGURES
STEP 1 (PREPARATION)
Cardboard boxes are a must. I use boxes from local shops (I'm sure other ebayers do!), but the main point is deep boxes are ideal. Any box that you would fit an A4 size piece of paper in the bottom (quite a standard box) which is also made of relatively thick cardboard - a metre long strip of bubble wrap, some spare cardboard, light filling material such as polystyrene chips and some good quality parcel tape and you're ready to go.
STEP 2 (GETTING BOX READY)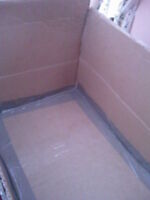 Strengthen bottom of box. Cut a piece of spare cardboard to fit in bottom, and tape around edges holding in place. Score inside of box 'lightly' with blunt tool (I used closed scissors) all the way around, then bend flaps over inwards (you'll need to cut down the corners of box first). Now, cut excess off the longest flaps so they meet nicely in the middle. When finished, you should have a box shape at least 3 times the depth of your carded Star Wars figure (10cm/4inches deep +). Cut a piece of spare cardboard out that would fit perfectly in the bottom of box (leave on outside of box for now though for use in step 4).
STEP 3 (GETTING CARDED FIGURE READY)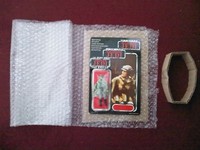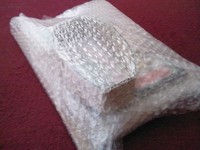 Cut a strong piece of cardboard out, which is larger than cardback of figure. Make sure that it will lie flat comfortably in box. Also, cut a strip of relatively thick cardboard out about 4cm/1.5inches wide by 40cm/16inches long and tape ends together (cut so long side is at right angles to ridges/corrugates, to give strength). This will be used to protect the plastic blister. Next, lay the end of the strip of bubble wrap on the cardboard cutout, lay carded figure on top of this and fold bubble wrap over. Put the taped strip of cardboard carefully around plastic blister (which is covered in bubble wrap) after bending into a rectangular shape and obviously having been checked to see if it fits around plastic blister with room to spare. This should be placed lightly over blister and should not deform it in any way (may need to 'pinch' bubble wrap before pushing cardboard strip down if bubble wrap is too tight over blister). Take the remaining strip of bubble wrap right around back of cardboard and over again, then tape up end and around edges to keep everything in place (Star Wars figure cardback should not be hanging over any edges of the backing cardboard and should be encased in bubble wrap).
STEP 4 (FINAL PACKING)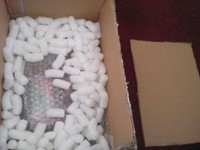 Put bubble wrap or polystyrene chips in bottom of box, followed by your bubble wrapped figure (plastic blister facing upwards obviously). Fill up box with usual light filling material (I prefer polystyrene chips) and if done correctly the top of the wrapped figure must be below top of box. Now, place the cardboard you cut out in step 2 on top of packing material. This should all close down nicely (should only push down very lightly when closing flaps of box down). Tape up all edges with parcel tape and DONE!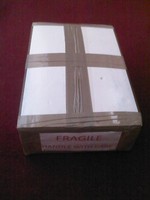 OKAY, sounds a bit long winded but the aim is to safely package a very fragile item, which now usually takes me less than 15 minutes. Package usually weighs well under 500g mark, so first class recorded costs £2.98 to send, and if over 500g mark £3.49 at most. I'm happy charging £3.50 p&p at moment, although bubble wrap costs me £1 for a 4m roll. I have sent several figures individually wrapped like this in one box (this is why I prefer to cut my boxes to size) with no problems. Just make sure box feels sturdy. If it bends under pressure it is not sturdy enough and not packed well enough. You can always make stronger by double boxing.
THANKS FOR READING - hope this has been of some use