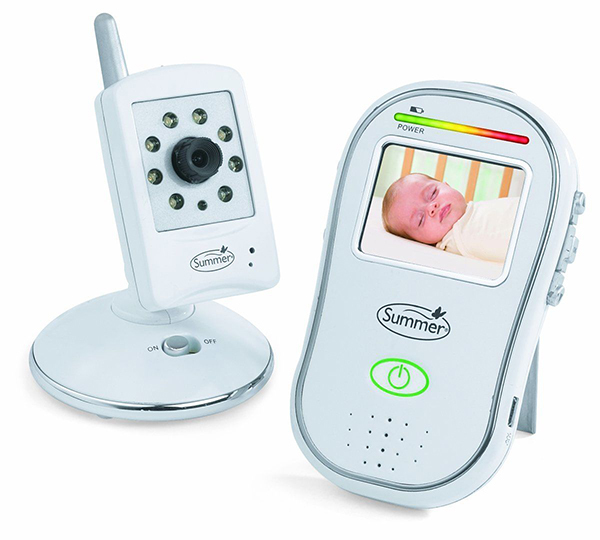 Buying baby gear takes a big hit out of any pocketbook. By the time parents buy the crib, stroller, and carseat, there often is not too much left over in the budget for a baby monitor. However, this is an indispensable item that parents need for their baby's safety and should not be ignored or forgotten. The good news is that a decent baby monitor is not too expensive. Even the most basic models get the job done, and thrifty parents can even find great deals on affordable high end baby monitors. Taking to the Internet and using an online websites like eBay, is an easy way to find the best deals on baby monitors and other safety products. When shopping for affordability, do not sacrifice safety over financial concerns. However, by getting creative and buying a product that suits their needs, parents can find an affordable baby monitor at the right price.
Functions of Baby Monitors
Baby monitors are safety devices that record sound, video, or both in a child's room and transmit it to a receiver that is monitored by a parent or guardian. These monitoring devices alert parents if a child wakes up, is crying, or otherwise having trouble. Video monitors in particular, are useful in ensuring that newborn babies are sleeping on their backs and not on their stomachs. Babies that sleep on their stomachs are more than 12 times as likely to die from SIDS than back-sleeping babies, and while doctors are not exactly sure why, many parents take the time to invest in a video monitor so that they can ensure proper sleeping habits.
Choosing an Affordable Monitor
Baby monitors come in all shapes and sizes therefore what might be suitable for some, may not be the best fit for others. Not everyone needs or wants the same type of monitor. A basic baby monitor that only transmits audio signals at a limited range works just fine for many who live in a small house or apartment. Those who live in larger houses, or those that like to do a bit of gardening while the baby is napping, typically choose to invest in a longer range digital model. The truth is that while the most expensive models come with all the bells and whistles, not everyone needs them. Choose which features are important and then find a model in the right price range.
Audio or Video
The first big choice buyers face with baby monitors is selecting between audio or video monitors. Audio monitors are usually less expensive, though some high end models are as expensive as their video counterparts. Parents who select an audio monitor can hear, but not see, their child. However, sound receivers are portable compared to video receivers. This means that a parent can make the best of the baby's naptime by getting some chores done while the receiver is conveniently clipped to their clothes.
Video Monitors
Video monitors allow parents to see as well as hear their child. The pricing for these monitors depends on the size of the monitor screen, and any additional features that may or may not be included. For example, a night-vision baby monitor allows the user to see in the dark. The main downside to video monitors is that they are not portable, especially the ones with large video screens. Whoever is watching the monitor must stay in the same area while the baby is napping, and this presents a problem for busy parents who have things to do around the house.
Analogue or Digital
Once a parent decides between the audio or video route, they then have to choose between analogue or digital signals. Analogue technology is older, so for thrifty bargain shoppers there is a better chance of finding a used analogue monitor as opposed to a digital one. Analogue monitors transmit sound over radio waves. Unfortunately, since they often have to share these radio waves with other electronic devices such as phones and computers, they pick up a good bit of interference. There are also frequent reports of baby monitors picking up reception from other nearby baby monitors.
Digital
Parents who have issues with the lack of privacy and electronic interference of analogue monitors opt to go the digital route. Digital technology transmits sound by turning it into data, and thereby making it impossible for other analogue monitors to pick up the signal. In fact, digitally enhanced cordless technology, or DECT monitors even add an extra layer of encryption to the transmissions. DECT monitors also operate on the 1.9 GHz band where they receive almost no interference from other electronic devices.
DECT monitors are somewhat expensive, so buyers need to evaluate if they need one or not. One way to do this is to use the cordless phone factor. Cordless phones operate on the same band as most baby monitors and they create a lot of potential interference. Even if the parents do not own a cordless phone, if they live in an apartment complex, some of their neighbours might. This means the baby monitor can pick up phone calls. There are stories of parents running into their child's room because they heard a voice over the monitor only to find no one in the room at all. Instead, the monitor picked up part of a phone call from one of their neighbours.
Range Issues
Parents need to ask themselves how much range power they need from their baby monitor. Basic baby monitors do not have an extended range, but in many households the baby's room is close to the parent's room, and long range devices are not needed. However, do not assume that just because the house is small that a long range monitor is not needed. Many moms and dads like to take a break in the garden while their child is sleeping, and short range devices lack the power to deliver a strong signal outdoors. Most digital models use either 2.4 or 1.9 GHz, and are able to work at long distances. Analogue systems run on either 2.4 GHz, 900 MHz, or 49 MHz. The 49 MHz monitors have the shortest range while the 900 MHz monitors fall in the middle.
Optional Features
Baby monitors come with several optional features, including a low-battery light, sound activated light, and out-of-range light. The good news is that the impact of these features on the overall price of the monitor is minimal. It is the technology and range of the monitor that typically sets the price, not the features.
Shopping for Value
Affordable does not mean cheap. It does, however, mean getting the most out of a bargain. There are several ways to pick up affordable high end baby monitors. Sales or promotions are a wonderful way to get a brand new monitor at a bargain of a cost. However, many parents have their heart set on a particular type of monitor, and this item may or may not go on sale. If it is an older model, try looking for a used listing. Many parents sell their old baby monitors once their child outgrows them by using an online venue like eBay.
Buying Affordable Baby Monitors on eBay
If you want a particular baby monitor, but simply cannot afford to pay the shocking retail price, chances are that you can find an affordable version for sale on eBay. Sellers on eBay often list their products at below-market prices in order to compete with one another, and this directly benefits the buyer. The second advantage to shopping on eBay is the seemingly endless list of used baby monitors that are available. Even digital high end models become affordable when bought in used condition at rock-bottom prices.
Finding Affordable Baby Monitors on eBay
Start off looking for baby monitors by typing 'baby monitors' into the search engine to pull up all relevant listings. After that, begin narrowing down your results by adding more terms to your search. For example, if you want a DECT monitor, then search for 'DECT baby monitors'. If you want a video monitor, then change the search terms into 'video baby monitor'. You can also search by the item's condition, such as 'used baby monitors' or ' new baby monitors' in order to find the best deals that suit your budget. Alternatively, if you already know the name of the baby monitor you want, simply type it into the search engine.
Conclusion
Buying an affordable baby monitor is not nearly as hard as it seems. Parents should never take any shortcuts with their child's safety, and this starts by purchasing the right baby monitor for their needs. While not everyone can afford a top of the line model, the truth is that not everyone needs it. Many basic baby monitors work just fine in average-sized households. However, for parents who like to take the time to be outdoors while their child naps, or prefer to be able to watch their child through a video screen, a basic baby monitor cannot do the job. The key to finding an affordable monitor is to determine important factors, and then browse eBay looking for monitors that fit into the budget. With its wide selection of new and used merchandise, even buyers on a shoestring budget can get a high quality baby monitor at an affordable price.