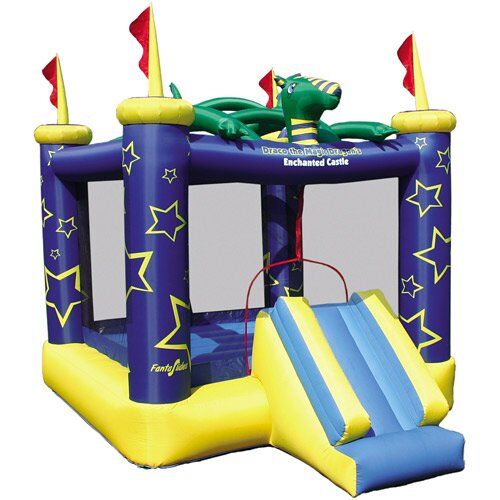 This guide will look at the various types of bouncy castles on the market and more specifically how to buy one from eBay, a website guaranteed to have many different models listed at rates potentially much lower than on the high street.
Although identified as bouncy castles in the UK, some types have moved away from the traditional four poster 'castle' design which has led them to be known by such terms as a 'bounce house' or 'inflatable house' in some parts of the world.
What is a Bouncy Castle?
How it Works
If buying the bouncy castle for personal use in gardens then this section will look at the steps needed to set up your inflatable safely in the desired area. Some indoor models are also available to buy.
Different Types of Bouncy Castle
Bouncy castles come in many styles apart from the traditional square or rectangular design. For example, newer models may come in the form of inflatable slides or obstacle courses that are highly attractive for youngsters to play on. They are usually found in a mixture of bright colours and sometimes with cartoony characters incorporated onto the exterior to make them more appealing aswell.
Size Guide
Various models will come in different sizes so think about how many people will be likely to use the bouncy castle at the same time before making a purchase. The surface area of more common four poster inflatables will range at differing values from a width of around 10 feet to a length of 18 feet. Wall heights will generally be at 5 foot to above 10 foot for extra large models. Think of the height of who will be using the castle in regards to this.
Bouncy Castle Safety
Perhaps the main concern people have when thinking of buying a bouncy castle is the health and safety aspects, especially for parents with young children. Occasional unfortunate accidents and sometimes even deaths have transpired over the years for a number of reasons. For youngsters, the foremost piece of advice is to maintain strict supervision over them at all times. Other considerations for staying safe when setting up and using a bouncy castle include:
| Approximate Size (feet) | Number of Children |
| --- | --- |
| 10x10 | 6 max |
| 12x12 | 8 max |
| 15x15 | 12 max |
| 18x18 | 14 max |
Using eBay to Buy a Bouncy Castle
If a decision has been made to buy the bouncy castle online, then using eBay is a fantastic way of finding the most suitable model at the best possible price. In regards to inflatables – items which are still perfectly usable second hand – eBay is a fantastic place to shop as plenty of used models are being listed all the time.
Knowing how to search on eBay is useful because the items on eBay are listed by the general public and not professionally monitored by the company. In this sense it is possible for two similar items to be listed in two completely different ways. For example, some people may have worded their item as a "bouncy castle" whilst others may have used "bouncy house" or "inflatable castle." Here is a quick run through of how to find a bouncy castle on using eBay.
Conclusion