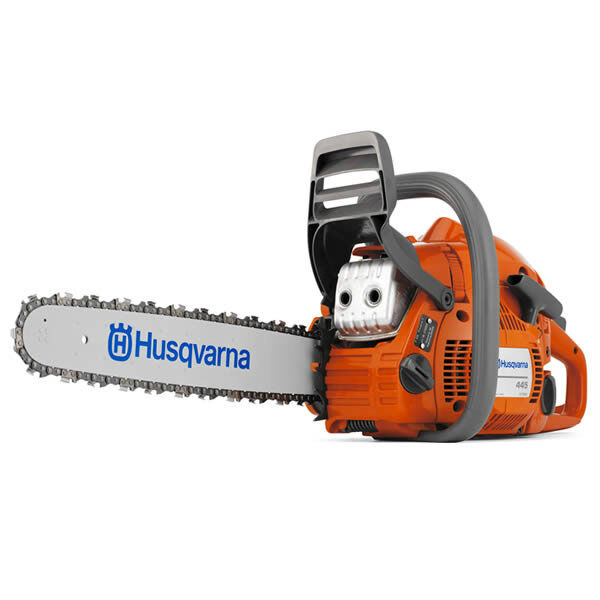 When it comes to cutting wood, pruning large branches, and taking down tall trees, there is absolutely no substitute for a chainsaw. These powerful tools have been used since the mid 19th century, and modern chainsaws are more efficient and user-friendly than they have ever been in the past. And while chainsaws are associated with thousands of injuries each year, those that use common sense, wear protective gear, and exercise caution throughout the process should be able to tackle tough jobs in a safe and effective manner. In fact, one person with a high-powered chainsaw can turn a tree trunk into firewood within minutes.
While these tools make great additions to any shed, some buyers have a difficult time committing the initial investment and steer clear of them altogether. High end chainsaws can be expensive, but buyers that can make a distinction between features that they want, and those that they truly need, should be able to make an informed purchase that fits their budget and provides them with enough power to get the job done. Those in the market for an affordable chainsaw should understand the different types that are available, the most common features that affect price, the necessary safety products, and the best methods of shopping on eBay.
Types of Chainsaws
There are three main types of chainsaws that buyers can choose from, including petrol-powered, electric, and pole chainsaws. Buyers in the market for an affordable chainsaw should consider the best tool for the job and purchase a chainsaw that fits their needs.
Petrol-Powered Chainsaws
Most people know the unmistakable sound of a petrol-powered chainsaw at work. Petrol-powered chainsaws are some of the noisiest power tools on the market, and they also require more maintenance than the electric and pole saw varieties. In addition, most of these chainsaws run on a mix of petrol and oil, so consumers should factor the price of these costly fuels into their budget.
However, the cutting power of a petrol-powered chainsaw is legendary. In terms of sheer power and speed, there is absolutely no comparison between petrol and electric powered chainsaws, and buyers that intend to fell large trees and spend long hours trimming branches should consider investing in one of these tools. In order to find an affordable petrol-powered chainsaw, buyers should target one that lacks all of the costly features of high-end models. Some saws, such as the Poulan PP3516AVX have received high ratings from independent reviewers while still being very affordable.
Electric Chainsaws
While they do not pack the same punch as their petrol powered cousins, the electric chainsaw has several distinct advantages over other saws. First, they are easier to use, and those that have never used a chainsaw before typically find the startup and operation very basic. Second, they are much lighter than electric chainsaws. Finally, they do not require as much maintenance, and obviously do not drink expensive fuel either.
However, this last part does come with a caveat, as electric chainsaw users have to contend with an annoying cord the entire time they are working. However, buyers that do not need to perform heavy-duty tasks should definitely consider investing in one of these models due to the lower price point. Even quality brand name items like the Bosch AKE 35S and the Gardena CSI 4020X can be affordable alternatives.
Pole Saws
Pole chainsaws can be found in both petrol-powered and electric varieties. There are also cordless pole saws that run on Lithium-Ion batteries, and these can provide over an hour of cutting power before they need to be recharged. The main drawback of battery powered chainsaws is the fact that they are the least powerful chainsaws on the market, but users who want to complete smaller jobs without the nuisance of a cord should keep them on their list.
The main difference between pole saws and standard chainsaws is all in the name; the saw is mounted on an extension pole and can be used to reach higher branches. Some pole saws have extensions that can reach up to 4 meters. The price of pole saws varies widely depending on the make and model, and they can be quite expensive because of their unique design. However, bargain shoppers can still find great deals if they know what to look for in terms of features.
Basic Chainsaw Features
Buyers in the market for a chainsaw should always consider the type of jobs they plan on tackling, specifically the type of wood that needs to cut, as well as the amount of use the chainsaw will receive. Those who intend on using the chainsaw on a regular basis should consider making a substantial investment up front to avoid maintenance and replacement costs down the road. The two most basic features that affect cutting speed and price are bar length and engine displacement.
Bar Length
Bar length refers to the size of the cutting tip, from the end of the chain to the point where it enters the housing. Buyers should choose a bar length that is most appropriate for their basic maintenance needs and avoid paying for a chainsaw that is larger than necessary. Standard bar lengths are 35, 40, 45, and 50 cm. As a point of reference, a 35 cm bar can cut through a 71 cm log. A 50 cm bar is more along the lines of something a professional landscaper would be interested in.
Engine Displacement
Engine displacement simply refers to the size and power of the engine. The larger the engine displacement, the more cutting power the chain will deliver. Buyers should seek the advice of a professional in order to determine the engine displacement that is best for them. If shopping online at an online marketplace such as eBay, open up dialogue with the seller and ask them about the type of tasks the chainsaw in question is best suited for. When in doubt, read online reviews and try to target the model that has just enough power to get the job done.
Optional Chainsaw Features
Most users only break out the chainsaw occasionally, and therefore can afford to save a few pounds by cutting out the bells and whistles featured on more expensive models. The following chart outlines several optional chainsaw features and their applications. As a general rule, more features correlate to a higher price tag.
| Feature | Description/Application |
| --- | --- |
| Antivibration technology | Buffers the impact of the chain as it cuts through wood; very helpful feature for those who intend on using the chainsaw for extended periods of time |
| Advanced Muffler | Reduces the amount of noise emitted from the chainsaw; typically found on petrol-powered chainsaws only; buyers who plan on using the chainsaw often should consider this feature as a courtesy to neighbours |
| Automatic Chain Oiler | Dispenses oil while the chain is in use to keep it well-lubricated |
| Electronic Ignition | Found on all electric models and select petrol-powered models; allows users to avoid the classic yanking motion required to start most chainsaws |
| Quick Adjust Chains | Allows users to adjust the tension on the chain quickly and easily |
| Trigger Lockout | Prevents the saw from functioning until a palm switch or separate button is engaged; very helpful safety feature that is included on most models |
| Wraparound Front Handle | Provides a comfortable grip and makes it easier to cut on a horizontal axis, as when cutting down a tree |
Other features might include an Exhaust Air-cleaning System that helps extend the life of the filter, and a carrying case which will protect the chainsaw in transit as well as storage. Most chainsaws on the market today also include reduced-kickback chains as standard.
Chainsaw Safety Products
Buyers should also factor the cost of safety equipment into the bottom line, as protective clothing and gear must always be worn when operating a chainsaw. Some important items to purchase are eye protection with side shields, hearing protection such as earplugs or earmuffs, and heavy-duty boots with steel toes. Also, chaps or leggings with cut-resistant fibres are extremely useful, as are gloves with a tacky gripping surface on the palm. A hard hat should also be worn when operating a chainsaw. The risk of injury is real, and many people are seriously wounded using these tools every single year. Therefore, buyers should look to cut costs on the chainsaw itself and not the amount of safety equipment they purchase.
How to Find and Buy Affordable Chainsaws on eBay
Buyers looking to find the right chainsaw at the best possible price should look no further than eBay. eBay is an enormous retail website with thousands of sellers competing to provide the best possible products at affordable price points. The sheer number of merchants plays to the advantage of the consumer, who can sort through the listings in the comfort of their own home. Those looking to maximise the shopping experience on eBay should learn how to conduct an efficient search and evaluate sellers as well.
Search and Filter Results
If you are unsure of the exact make and model chainsaw and would like to browse a wide variety of listings, simply type in a general search phrase, such as "electric chainsaw" and check to see which listings fit your budget and personal preferences. To narrow the search field, use the filters to weed out the products that do not fit the brand, condition, or seller location you desire. One particular feature that is extremely helpful for buyers on a strict budget is eBay's price feature, which allows you to select the minimum and maximum amount that you wish to pay for the chainsaw. Simply enter the number of pounds in the blank space and eBay narrows the search results to those within your price limits.
Evaluate Sellers
In addition to finding the right price point, you also want to make sure to research and evaluate the seller before making a purchase. eBay helps facilitate this process by assigning a seller rating to every merchant on the website. You should note these ratings and target sellers that have earned Top Rated Seller designations. Also, pay attention to the comments from previous buyers located in the feedback section of the seller's profile. Finally, make sure to ask the seller about the specifics of their return policy before finalising the transaction.
Conclusion
One individual with a chainsaw can make quick work of even the most daunting tree felling, cutting, or pruning task. They are the most powerful portable mechanic saws available to consumers, and anyone looking to complete their toolshed should definitely make the investment. The amount of the investment should be the only aspect in question, and buyers looking to make a smart purchase should start by assessing the type of jobs they foresee in the future and the amount of power they need.
Of the three main types of chainsaws, the petrol-powered saw is the most powerful, and usually the most expensive as well. However, electric chainsaws can also tackle most light cutting and trimming tasks, and buyers that do not need to cut through thick branches and tree trunks should consider these tools as well. The best way to cut costs is to identify the features that are absolutely necessary, and eliminate the superfluous additions. Features such as antivibration and advanced mufflers sound attractive, but buyers on a tight budget might want to stick to the basics. Those who understand the available options and match the saw to their most common maintenance tasks should be able to find a chainsaw that is both affordable and effective.