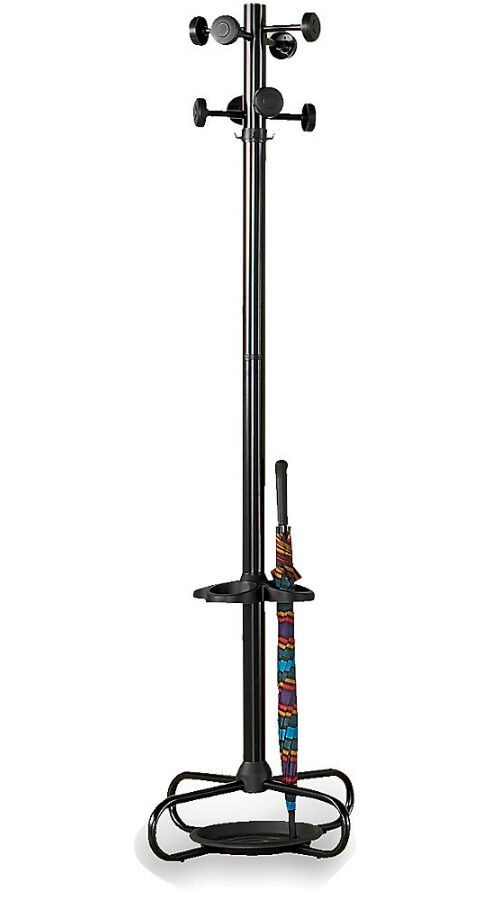 While affordable coat stands are primarily used in a residential hallway for hanging coats and jackets, they can actually be used for a variety of purposes in almost every room of the house, and they are able to provide attractive and yet inexpensive solutions to a range of home storage needs. Affordable coat stands are available in different colours and materials to match existing home decor, and also come with many features and accessories, which boost their basic function in the home.
Benefits of Affordable Coat Stands
Storage solutions for the home don't have to cost a fortune, and affordable coat stands are widely available both online and in traditional stores in a variety of styles to suit all kinds of environments, ranging from an old Victorian home to a contemporary and minimalist apartment. As well as providing a space for damp or wet outdoor coats and jackets, they are also a useful storage solution for small objects that could easily become lost in drawers or cupboards such as scarves, gloves, and hats, and for other wet objects that don't want to be carried through the home such as umbrellas. With coat stands being so affordable, it may be sensible to purchase two or three for around the home, as they can easily be utilised in other parts of the house other than the hallway. For example, a kitchen or conservatory, a bathroom, or a bedroom could benefit from these attractive, inexpensive, versatile, and useful storage solutions.
Choosing an Affordable Coat Stand
'Coat stand' is a rather generic term covering a wide range of similarly styled home and office storage solutions. There are a number of considerations to take into account when choosing an affordable coat stand, including styles, materials, proposed uses, and special features and accessories.
Affordable Coat Stand Materials
Coat stands come in many different materials to suit all environments and strength and durability requirements, although some materials will naturally be more affordable than others. However, even more costly materials can be inexpensive if purchased online in a used condition.
| | |
| --- | --- |
| Metal | Metal is a strong and sturdy material, although some materials are more costly than others. When looking for an affordable coat stand, look for painted steel, which may be much less expensive than stainless steel or chrome. |
| Plastic | Plastic stands are usually the least expensive option, although they may be more flimsy and lightweight than others and should only be used in areas where a very light load or infrequent use is expected. |
| Wood | Wood is a very popular option for coat stands as it is long lasting and durable, although some woods are more expensive than others. Look for pine stands rather than more more costly oak. Colour isn't an issue as it can be painted. |
Affordable Coat Stand Styles
One of the most attractive aspects of affordable coat stands is that they don't need to be bland and generic. They are available in a range of different styles to not only fit in effortlessly with existing home decor, but also with individual room themes.
| | |
| --- | --- |
| Contemporary | Contemporary stands may be made from metal and be designed in a minimalist fashion that is popular, especially in state of the art offices. Design may be simplistic or futuristic, with fewer additional features than other styles. |
| Traditional | Traditional stands are commonly made from wood and are reminiscent of the stands used during the early 20th Century. These stands may be purposefully and artificially aged to promote authenticity. |
| Kid's | Kid's stands may be made from plastic or, more commonly, wood. Wood is used as it can be painted traditional blues and pinks, or more bright and vivid shades to fit in with a specific bedroom theme. |
| Novelty | Novelty stands are often aimed at children and commonly made from wood as the material allows painting and decoration. TV, book, and cartoon characters or big brand names are popular choices. |
| Gothic | Gothic stands are often made from wood and are usually quite intricately detailed and more complex than other stands reminiscent of medieval gothic architecture. Expect many additional design features on these stands. |
| Art Deco | Art deco stands are usually made from brightly coloured plastic and may not be instantly recognisable as a coat stand, instead appearing more like a decorative and modern sculpture or artwork. |
Affordable Coat Stand Features
Many coat stands come with features other than the basic hooks which make them versatile enough to be used for a variety of purposes throughout the entire home. Many features are included, although some, such as extra hooks, can be purchased as add ons.
| | |
| --- | --- |
| Coat Hooks | Coat hooks come as standard on all coat stands, although additional hooks may be purchased to add more storage space to a stand. Depending on material, hooks may be able to hold quite a heavy weight. |
| Key Hooks | Key hooks are often added around the same area as coat hooks, around eye level to make depositing and collecting the keys a simple process. This prevents car keys and house keys from becoming lost around the home. |
| Key Trays | An alternative to key hooks, key trays are either pre-attached or can be purchased separately and affixed to the stand. They provide a safe storage space not only for keys but for other small household objects. |
| Umbrella Stands | Umbrella stands are quite a common feature, and present as a bucket-type bottom above which a rack is placed. Wet umbrellas can be held in an upright position by the rack and can drip into the bucket, rather than on the floor. |
| Boot Storage | Some coat stands include boot storage, which looks like spikes rising up from the base of the stand. Footwear, particularly high rise boots or wellingtons, can be placed upside down on the spike, allowing for drying. |
Affordable Coat Stand Uses
Affordable coat stands serve a variety of purposes, as they're not solely reserved for coats and jackets. They are a welcome addition to almost any room of the house as an inexpensive and attractive storage solution for clothing and small items.
| | |
| --- | --- |
| Front Door | Stands situated by the front door can be used for storing items needed for going out, such as coats, jackets, boots, umbrellas, hats, scarves, gloves, and car keys. This is the most common use for affordable coat stands. |
| Kitchen Door / Conservatory | Stands located by a back entrance can be used for storing gardening materials such as a small tool bag holding shears, special gardening clothing and durable boots designed for the outdoors. |
| Bathroom | Stands are a good addition to a large bathroom and can be used to hang towels, both wet and dry, clothing that has been removed to bathe, or clean pajamas or dressing gowns for covering up afterwards. |
| Bedroom | Stands in the bedroom can be used to display clothes needed for the following day, to avoid rushing the decision in the morning before work. They can also store smaller bedroom items that could become misplaced. |
| Kid's Room | Stands in a kid's room may well be more decorative, fun, or educational than serving a storage purpose, but they can be used for dressing gown, pajama, clothing or even small toy storage. |
Maintaining an Affordable Coat Stand
An affordable coat stand that isn't maintained adequately may not last very long, especially if it has been bought in a used condition and already has some wear and tear. One of the most important ways to prevent damage to a coat stand is to ensure the stand is never overloaded. Some stands may list an upper weight limit, while with others it's a case of common sense. If the hooks appear to be under pressure, remove some of the load. Also be sure to distribute coats evenly around the stand to reduce the risk of damage from topping. If using a feature tray for holding keys, be gentle when placing the keys onto the stand to avoid scratching the material.
Conclusion
Affordable coat stands are a widely available storage solution for the home and office that are versatile enough to be useful for many other purposes other than simply for holding coats and jackets. They come in a variety of styles and materials to suit all environments and can prevent clothing or small items becoming misplaced or damaged. Used coat stands purchased online are often inexpensive and with the right care and maintenance can be extremely long lasting and durable.