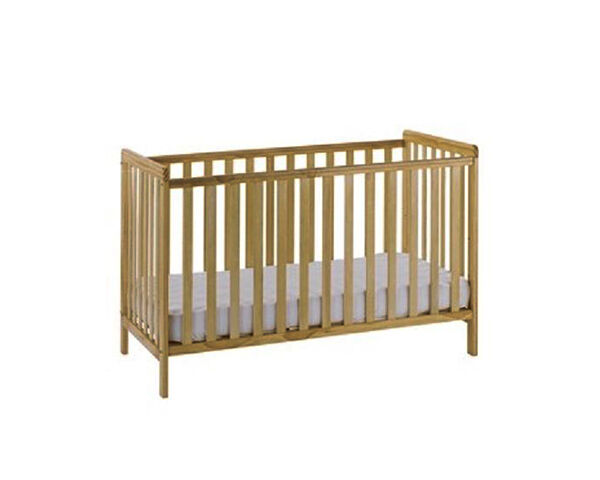 Even though a newborn seems tiny by comparison to a cot, a cot is still the recommended bed for children starting at birth. Cots are safety regulated, unlike bassinets and other kinds of infant beds. They also suffice for a child until age two or three, while little basket sleepers, although initially inexpensive, need to be replaced by a cot. Some cots even convert to a toddler bed, so the one bed purchase can be sufficient for five or six years.
Often, the first place people turn for affordable cots are charity shops or friends whose children have outgrown the beds. Because cot safety standards have changed, obtaining a new or recently made cot is advisable when at all possible. A parent who knows the features that are desirable in a quality cot and is acquainted with the features that make cots most safe for a child is in a good position to select an affordable cot. That parent can be comfortable choosing a new cot or a used one, whether shopping in a bricks-and-mortar children's shop, a charity shop, or an online market like eBay.
What Ages Do Cots Suit?
A child may sleep in a cot from birth until the age of two or three. If the cot is convertible into a junior bed, he or she may use it for a number of years longer.
Some parents prefer to use bassinets, cradles or Moses baskets for the tiniest infants, feeling that the little child looks lost in the large cot. The main reason to start a child in a cot is safety. Bassinets, cradles, and Moses baskets are not regulated for safety, while cots are. A parent who wishes to provide a sense of closeness and security for a small child in a cot is advised to wrap the child in a swaddle blanket. This is in fact recommended over the use of blankets and quilts for the child's safety as well.
Different Types of Cots
The most familiar type of cot is the drop side cot. Other common cots include the bedside cot, the convertible cot bed, and cots for travel away from home.
Drop Side Cot
The drop side cot has been the most popular cot model for some decades because of the convenience it offers parents. The side that drops down makes it easy to reach into the cot when it is time to take baby out. Many drop side cots offer several adjustments to the mattress height, so as baby grows, the mattress may be lowered to prevent the baby from climbing out. Drop side cots are offered in many models, colours, and finishes, allowing families to decorate their nurseries to their taste. Because these cots have been used for so long, it is easy to find them in charity shops or on consignment.
Bedside Cot
Parents who like the idea of co-sleeping but have some concern about the risk of rolling onto a tiny child may wish to consider the bedside cot. This type of cot has one side that may be entirely removed so the cot functions as an extension of the parents' bed. It is convenient for parents who like to have the baby at hand for night-time feedings.
Convertible Cot Bed
The convertible cot bed is usually longer and wider than standard cots. Their main advantage is that they can be converted into a junior bed so the child may continue to use the same bed. This is less clearly advantageous, of course, if another baby comes quickly along. This type of cot usually does not have a drop side, and not all versions have multiple mattress positions. Some parents find the lack of a drop side makes it more difficult to reach the child.
Unusual Shapes: Round, Oval and Corner Cots
Cots in curved shapes and corner shapes are relatively uncommon, which tends to lift them out of the "affordable cot" range. The cot itself is likely to be more expensive and to require a special mattress and special sheets. One pleasure of owning an oval cot is converting it, when the child grows older, into a junior bed, oversized nursery chair, or even a small sofa for bedtime stories.
The corner-shaped cot is designed to fit into an odd space. The one corner cot that serves a nearly irreplaceable purpose is the L-shaped corner cot that serves twins. Its diagonal corner join creates the need for unique mattresses and bedding, however. The parents of twins seeking affordable cots may do better simply to match two cots together.
Cots Away from Home
Travel cots come in several varieties for children of various ages. Some have inflatable frames; others use snap together metal frames. Many pack into a small bag or rucksack that fits into an airplane's overhead compartment. Nap cots are used primarily in for child care centres. Their simple construction of fabric over a plastic or metal frame lifts the child off the floor and provides a more comfortable resting place.
Cot Features
Many of the features people seek in a cot are those designed to keep their infant safe, which are addressed separately below. Other common features that make the cot more convenient or secure include the following features below.
Teething Rail
Infants are prone to chew anything once their teeth begin to come in. A teething rail is a plastic guard over the top railing of the cot. Since the child begins pulling up at about the same time as teeth are coming in, this prevents chewing the cot's finish off the top rail, which is no better for baby than for the cot.
Wheels
If the cot is to be moved from one room to another, wheels are a convenience. Wheels should include locking mechanisms to prevent the cot from rolling unintentionally.
Adjustable Height Mattress Base
As baby grows, an adjustable height base allows the parent to lower the mattress. This way, a baby who is able to pull him or herself up is less likely to be able to climb over the top rail and fall. It also may make it easier to lift the baby in and out of the cot.
Features of Affordable Cots
Many affordable cots in the marketplace are traditional stationary cots, where the cot sides remain in place and the mattress base may or may not adjust. As seen below, this cot design is regaining market popularity as a result of consumer safety concerns about drop side cots in the U.S. and Canada. When choosing a cot of this design, it is still important to confirm that key safety features are provided as noted below.
Cot Safety Features
Almost 1 in 5 injuries to infants in their first year result from unsafe cots. As a result, the cot selected should conform to BS EN 716-2:2008. Other safety guidance noted below also helps to protect young children when in their cots.
| | | |
| --- | --- | --- |
| Safety Feature | Benefit | Related Regulation |
| Depth of at least 49.5 cm | Reduces likelihood baby may climb out | BS EN 716-2:2008 |
| Bars at least 2.5 cm apart and no more than 5 cm apart | Prevents baby's head from becoming caught between bars | BS EN 716-2:2008 |
| Corner radius of at least 3 mm | Prevents sharp corners that could injure baby | British standards |
| No decorative millwork or protruding corner uprights, unless tall enough to support canopy | Babies may strangle or suffocate if clothing becomes caught on finials or scrolls | None |
| Two-step process to drop crib side | Baby cannot accidentally drop side and fall out | In U.S., drop side cribs eliminated in 2011 by U.S. Consumer Product Safety Commission |
| Cot mattress fits closely | Maximum gap of 2 cm when centred allows drop action; prevents child from becoming caught between mattress and crib | British Standards |
| No footholds for climbing | Protrusions lower than 5 cm above the top of the mattress may tempt a mobile child | None |
Most cot accidents occur because a child climbs and falls. The right affordable cot takes into account the growing child's increasing mobility. It preferably allows a parent to lower the mattress so the cot sides become more challenging relative to the child's efforts to climb out. It also lacks any protrusions that would encourage a future rock climber to test his or her skills.
Safety Questions Raised About Drop Side Cots
The drop side cot, a design that has been used for many decades, has recently become the subject of controversy related to its safety. Consumer organisations in the U.S. and Canada raised concerns based on reports that children had become entangled in the drop mechanism, opened it by themselves, and fallen out of the cot, slid between the drop side and the cot, or otherwise injured themselves. The issues were related both to original design and to at-home assembly, which was considered needlessly complex and likely to result in incorrect assembly.
As a result, more than 9 million of the cots were recalled in the two countries over a five-year period following 32 infant deaths in a decade and some 90 injuries. Although neither country has issued a regulatory ban, for all practical purposes this design is no longer manufactured for sale in these countries.
New Designs Under Consideration
The effort to create safer cots that still allow parents to reach their child easily is requiring some imagination on the part of furniture designers. Ironically, one model being considered is the old fashioned stationary cot, where the four sides simply remain in place. Another being reconsidered is the drop-gate cot. In this cot, instead of the entire side sliding down, the top portion of the side folds down like a gate to allow a parent more easily to reach the child. Another concept under consideration is simply to make stationary cots with much shorter legs, so the top of the cot is not too high for shorter parents to reach over.
Choosing an Affordable Used Cot Wisely
Depending on their age, used cots may be safe or may expose children to certain risks. Older cots may have lead paint, which is of concern when the child becomes old enough to begin teething on the crib rails. The slats may be too far apart, posing a risk that the child may catch its head between the bars. Metal bars or rails may be bent or damaged, making the cot less stable than it should be. Furthermore, used wooden cots may have splinters.
That being said, a used cot may still be a good choice for the family seeking an affordable solution. Newer cots that meet current safety regulations are frequently on offer by families who do not expect to have additional children. Likewise, families where employment is requiring a move overseas may find it more practical to sell and replace many household goods than to transport them. It is simply important to ensure that a used cot meets safety standards that protect the child. Cots made before 1973 should be avoided, and a better choice is a cot made since 1995.
Conclusion
A cot is a safe, secure bed for children up to the age of two or three. Even newborns are comfortable and safe in a cot, especially when well swaddled. Several kinds of cots accommodate different family lifestyles, including the bedside cot for parents who prefer co-sleeping, the convertible cot bed that grows with a child, and the familiar drop side cot. The latter may start to give way to the even more traditional stationary cot as a result of safety concerns in the U.S. and Canada, where the drop side cot is no longer marketed.
In the meantime, European parents may best make sure that the affordable cot they choose is safe for their child by paying attention to regulated safety features. Many stationary cots, bedside cots, drop side cots, and convertible cot beds are among the affordable ones offered on eBay, where parents may find both new and used cots to meet their family budgets and their baby's need for a safe night's sleep.