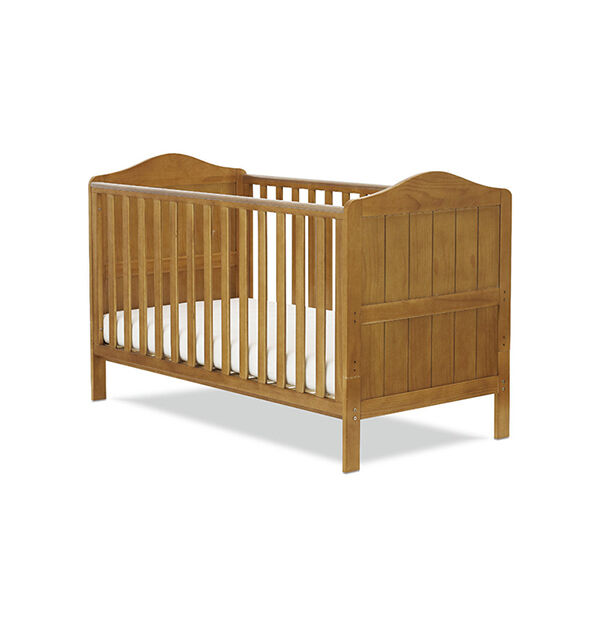 Often referred to as infant beds, cotbeds are the British version of beds specifically designed for infants and toddlers. Cotbeds are designed for toddlers who are capable of standing, and thus, placing themselves at risk for serious injury from falling or entrapment. Cotbeds derive from the English word crib, which can mean manger, trough, or stall. Cotbeds evolved from bassinets, which were small, ground-level places where small infants slept. Because most noxious fumes hover near ground level, infant bed designers began to develop infant beds that were raised off of the ground. Cotbeds, which provide protective sides, evolved from the first infant bed prototypes.
Parents have many design and shape options when it comes to purchasing cotbeds. They also have numerous outlets to find the right cotbed for their infant or toddler. Parents can find cotbeds at big box retailers or small specialty shops that sell infant-related products. The best way to find an affordable cotbed is to shop on the leading online auction site, eBay. First, parents should perform a little groundwork to prepare for the cotbed buying process by learning the difference between a cot and cotbed, know the factors that they should consider before buying a cotbed, and know what to look for in an affordable, secondhand cotbed.
The Difference Between Cots and Cotbeds
Longevity represents the primary difference between cots and cotbeds, but the issue is not durability, but years of practical use. Cots are suitable for infants from the time they are born to around two years of age. They are available in myriad shapes and designs to match the decor of almost any bedroom. While smaller than cotbeds, some cot shapes, such as sleigh cots, possess curved ends that enlarge the cot's size. However, cots work best for younger infants who sleep in small rooms.
Cotbeds can provide soothing comfort for up to seven years after an infant is born. Starting out as a cot that contains four high sides to provide security, the two long sides are removed to extend the cot into a cotbed when an infant outgrows the cot. The size extension typically occurs when infants reach two years, although cots suffice for infants who experience slower than average growth. Some parents purchase cots first for smaller rooms, and then purchase a cotbed when they move an infant into a larger room. Other parents purchase a cot that has the capability to turn into a cotbed for an infant that remains in the same room.
What to Consider Before Buying a Cotbed
Buying a cotbed requires parents to first determine the proper size for their infant or toddler. Cotbeds that fit standard-sized cotbed mattresses are a few centimetres less in width than cotbeds designed for continental-sized mattresses. Most cotbeds possess similar lengths, although manufacturers have recently broadened their length measurements to accommodate parents who want to utilise cotbeds for longer periods. Look for cotbed measurements on labels that most manufacturers prominently display on the sides of cotbeds. The following are some other factors to consider before making a cotbed purchasing decision.
Adjustable Base
Look for cotbeds that have the capability to adjust for height as the infant grows. Adjustable bases also allow parents to reposition sides for easier access to their babies. Cotbeds typically possess a two or three position adjustable base, although parents can find cotbeds that have more adjustment options. In most cases, a two position adjustable base cotbed is all that is needed.
Fixed vs. Drop Sides
This may seem like an irrelevant debate, since most cotbeds utilise drop sides to provide parents with easy access to their infants. However, due to infant deaths caused by faulty drop sides, the United States federal government has introduced rules to limit, or to outright ban, drop side cotbeds. British cotbeds fall under European safety standards, which have not changed cotbed drop side regulations. Therefore, parents must decide on cotbeds that have one drop side, drop mechanisms on both sides, or a "nudge and lift" mechanism that pushes a cotbed into position before the sides can be lowered.
Teething Rail
Infants teethe on virtually anything that appeals to them, including the wooden side rails that protect them from falling out of a cotbed. Manufacturers offer parents cotbeds that include teething rails, which are protective coverings that line the side edges of cotbeds. Not only do teething rails protect cotbeds from damage, they also protect infants from gum or tooth damage.
Casters
Some manufacturers construct cotbeds to include casters, or mounted wheels, that provide parents with more portability. Casters are an important buying factor to consider if parents want to move their infants into other areas of the home or simply push the cotbed a few feet away to clean under and around the cotbed area.
Mattress Size
Most manufacturers and retailers offer mattresses with cotbeds to ensure accurate measurements. Parents who purchase cotbeds separately from mattresses must consider correct sizes. Cotbed mattresses should snugly fit inside of a cotbed, with no noticeable gaps. Search for cotbeds that allow for a wide range of mattress heights.
Storage
Parents should consider two storage factors. The first storage factor involves cotbeds that contain one or more storage drawers underneath the cotbed for storing infant toys and cotbed accessories. Parents should also consider the ease of cotbed storage, especially if they plan on growing their family.
Affordable Cotbeds
Parents of newborns typically operate on tight budgets, which means they shop for infant product bargains. Secondhand, or used, cotbeds can provide parents with affordable cotbeds without having to sacrifice on quality. Many retailers offer near mint condition cotbeds at used cotbed prices because they have an inventory of returned cotbeds that parents rarely used or did not use at all. Parents who consider buying affordable used cotbeds should consider a few important points.
Avoid family heirlooms that most likely do not adhere to contemporary safety standards. Check to ensure the side bar spacings are no more than 6.5 cm apart. If a mattress comes with a secondhand cotbed , make sure there are at least 50 cm between the top of the mattress and the top of the cotbed. Operate the drop side mechanism to verify reliability. The cotbed mattress should be clean and the correct size for the cotbed. Finally, check for protrusions on the top rails that can snare an infant's clothing or cause serious injury.
Cotbed Safety
The final, and most important, cotbed buying consideration concerns infant safety. The British Standards Institution (BSI) number BS EN 716:2008 mandates cotbed safety standards. Moreover, the Foundation for the Study of Infant Deaths recommends a few tips to ensure infant safety.
| | |
| --- | --- |
| Safety Tip | Description |
| Room temperature | Between 16 and 20 degrees celsius |
| Safest sleeping position | On the infant's back |
| Feet position | At the foot of the cotbed |
| Cotbed bedding | Tucked in no higher than infant's shoulders |
| Sunlight | Keep cotbed out of direct sunlight |
Parents should search for cotbeds that prevent falls, strangulation, suffocation, and entrapment. Falls occur when infants attempt to climb out of cotbeds. Infants can suffocate when their clothing catches on a cotbed part that sticks out or when they become trapped in the gaps between the cotbed and cotbed mattress. These gaps can also cause infants to become trapped and suffer injuries to their arms and legs.
Buying Affordable Cotbeds on eBay
eBay offers parents a fertile marketplace to find the right cotbed that matches their purchasing criteria. Utilise eBay's powerful search engine to find the right cotbed seller. For parents who do not know what to look for in a cotbed, type "cotbed" into eBay's search engine, and then click on the links to the various cotbed brands, materials, and features. You can also specify the type of cotbed seller you want by typing targeted keywords into the search engine. For instance, type "Mothercare cotbed" or "pink cotbeds" to reduce the number of search results, and hence, shorten the amount of time you have to spend on an eBay search.
One of the biggest misconceptions that consumers have about eBay is that eBay is only an auction site. In fact, eBay offers buyers a number of direct purchasing options. The key is to establish a business relationship with an eBay auctioneer. After consummating an auction, ask the auctioneer if he or she runs an eBay Store where you can buy products directly. This is especially relevant for parents who must ensure high-quality standards for purchasing infant and toddler products.
Conclusion
Parents must be meticulous in their research and diligent during the buying process when they shop for infant products. Perhaps no infant product requires more scrutiny than buying a cotbed. Derived from the earliest bassinets, manufacturers produce cotbeds for parents whose infant has outgrown cots. Cotbeds typically possess taller rails and more interior room to prevent growing toddlers from incurring serious injuries. However, parents have many factors to consider that determine infant and toddler safety.
Parents should first determine how many drop sides they want for their cotbed. Drop sides allow easier access to infants and toddlers. Then, parents must consider whether to purchase a cotbed that comes with casters, a teething rail, or drawers to store infant toys and accessories. Parents must also ensure the cotbed they choose perfectly matches the size of the cotbed mattress. Any size discrepancies can lead to gaps between the mattress and cotbed where infants can become entrapped or suffocated. Once parents find a cotbed that matches their shopping criteria, they should consider buying an affordable cotbed by searching for the right seller on eBay. Many eBay sellers offer near mint condition cotbeds at affordable prices.