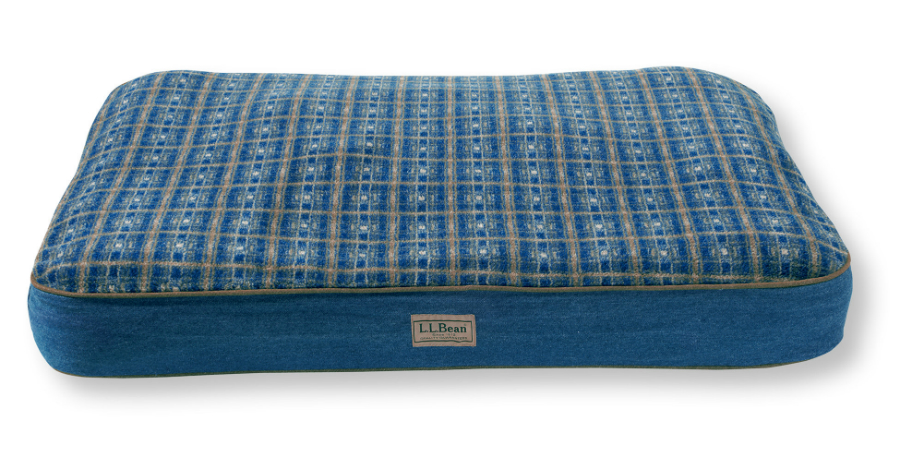 Buying a dog bed can seem like a challenging proposition, especially for a dog with special needs, but the good news is that with only a small amount of research and knowledge it is easy to find the right solution and purchase it on eBay. With many different types of dog beds to choose from on eBay, choosing the bed which works best is a breeze.
Type
The first consideration is to decide what type of bed is the right fit for the dog, this goes beyond just selecting a small bed for a small dog, and a big bed for a big dog. There are many types and styles such as:
Bolster dog beds: Built like a couch with sides and arms, these beds are just right for the dog that likes to lean against something when he naps, or likes to lie with his head propped on a pillow to watch the family in between naps. There's even a corner shaped bolster bed for dogs that like to wedge themselves into a corner of the room.
Dog bed furniture: Items such as soft mattresses in frames are available in a variety of different materials, for example, choose from wicker (not good for dogs who chew), or a leatherette "sofa" complete with buttoned back, arms, and legs and a wooden bed frame that looks just like a human bed.
Dog mats and pads: Mats and pads are much thinner than regular dog beds. They are made to be rolled up and carried, as well as being placed on the owner's bed to keep the dog to one area, or to tuck into the sides of a sofa or car seat to protect those surfaces. There is a wide range of covers (soft or vinyl, for example) and thicknesses to suit all needs and many are very reasonably priced. A regular bath mat with a non-skid bottom can also make for a great training mat.
Doughnut dog beds: Circle-shaped with a deep, soft rim, these dog beds let the dog cuddle in the middle or drape himself over the pillow-like rim. Some dogs like to curl up in small bed, so they have the feeling of being surrounded by pillows, while others like to stretch out when they sleep. These beds are a bit like bolster beds, but the rim is not as firm as the sides of a bolster bed.
Nesting dog beds: A search for nesting dog beds will produce everything from several beds that fit inside each other to beds with tall sides. A "nesting" bed is one in which the dog feels hugged by the sides. They are often the favourite bed of small, nervous dogs.
Cave dog beds: If the dog likes to sleep under a blanket, a "cave" bed can be a good choice. Some cave dog beds have a cover sewn to the top of the bed so the dog has to nose their way under the cover and can curl themselves up in their own hidey hole. Other cave beds have a firm "roof" over half the bed. This style is good for a dog that likes to sleep under the coffee table or other furniture.
Orthopaedic dog beds: Older dogs need more support for ageing muscles, joints, and bones. Many older dogs suffer from arthritis as well. Orthopaedic dog beds usually feature deep foam bedding. It is important to pick medical grade memory foam, as regular foam does not offer the support needed. There's a wide range styles and sizes of orthopaedic dog bed, including bolster and mat. Make sure the bed has at least one low side so it is easy for an older dog to get in and out.
Outdoor dog beds: Outdoor dogs have special needs, depending on the climate. Some outdoor dogs will need a heated bed for a cold climate. Others need a raised bed to allow cooling air to circulate. All outdoor beds need to be sturdy to cope with the surfaces on which they will lay. Many outdoor dogs are larger breeds with long, tough nails, so the surface of these beds needs to be tough as well to prevent tears when the dog "nests" for the night. An outdoor mat can be used for an indoor pet so they have a clean place to lie while enjoying the garden.
Pillow dog beds: Pillow dog beds are just that – a big pillow for the dog. They come in all sorts of materials, sizes, and colours, and have no sides to climb over.
Heated dog beds: For the cooler climate, consider buying a heated dog bed. Choose a bed that has the option to regulate the temperature or to turn if off completely when the weather warrants. Be sure the heating element is well insulated to protect the dog.
Cool dog beds: Raised platform beds are a good choice if the weather is very warm or hot. On a raised bed it has the advantage of allowing cooler air to circulate under the dog while they nap.
Size and Shape
Once the type of bed is decided upon, consider the size needed; how big the dog is and where the bed will be used. A different size of dog bed will be required for use in the house as opposed to when the dog bed will be used in the car. Jotting down the measurements required is a good way to have information on hand to check with the product specifications on eBay and possible to ask the seller if more information is required.
Materials
Dog beds come in many materials and a choice will often be down to personal preference as well as practicalities. Some dogs have special needs (an older, incontinent dog needs an easily washable and stain resistant bed; an allergic dog needs a bed made of hypoallergenic materials). For some people, buying a bed that is eco-friendly is a top consideration. Others want fabrics that are easy to vacuum (for dogs that shed a lot) or that match their décor.
Compare Features
Note several products to compare, and see what materials the beds are made of to give an idea of how long it will last, and check factors such as whether the bed comes with a guarantee. Check the shipping and handling charges for each purchase.
Other Buying Factors
Several factors are important to bear in mind when comparing dog beds on eBay.
ñ Is a more affordable bed required, for a growing dog perhaps, with the intention of replacing it in a few years, or is it more sensible to buy a bed that will last a long time? It's often more cost effective in the long run to buy a more expensive, better-quality bed that will last for a good length of time than to buy a replacement bed every few years. It's also important to consider if the dog has destructive habits such as chewing or digging. It may be that even a better-quality bed needs to be replaced after a while, so a better option may be to look for a less permanent solution.
ñ Will this bed get a lot of use, or only occasional use? The dog may be on the go all day, only using the bed at night. On the other extreme is an old dog that spends most of their day in bed. This will all affect the durability of the bed required, as well as the shape.
Buying Second Hand
There are many perfectly good dog beds on eBay that can be snapped up at a good price and still have plenty of life in them. When buying a second hand dog bed, be sure to check the listing on eBay thoroughly. Remember it is possible to ask the seller to send more pictures or ask for more information before placing a bid if necessary.
Buying a Dog Bed Online
eBay offers many different types of dog beds with a huge variety of designs, sizes and budgets. eBay sellers are well known for their competitive pricing and wide range of products, alongside the flexible payment options available by buying on eBay.
To search for dog beds, visit the Pet Supplies portal category on the home page. From there, navigate to Dogs and select the Beds and Baskets section.
Alternatively, type in specific search terms into the search box provided on every page. Type in specific searches such as "cave dog bed, "waterproof dog bed" or other terms required; using the search feature helps the right item to be located.
When searching through listings, carefully review all the data; look over the photographs a couple times, and feel free to ask the Seller a question. When ready to buy, either place a Bid, Buy it Now, or put down your Best Offer. Buying with PayPal will ensure the transaction will go smoothly. eBay users are protected by the Buyer Protection Program.
Conclusion
There are dog beds made for every type and age of dog and for every sort of dog owner. To get the best price for the best bed, plan on doing a lot of comparing and be willing to wait for a sale. eBay has many dog beds available and offers a great range of choice for many needs. Each requirement will be different, and whether new or second hand, for inside or outdoors, a great purchase can be made on eBay.