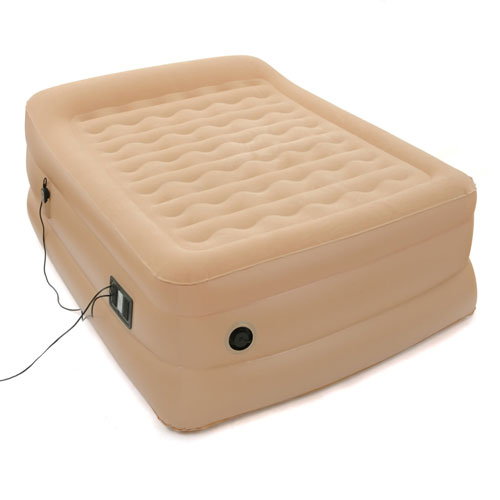 A good part of an individual's time is spent in sleep, an average of one-third of one's entire life, actually. Sleep is when the human body repairs and grows muscle tissue as well as restores the individual's energy. It is important that sleep be uninterrupted and comfortable, relaxing states to which the mattress and other bedding contribute. There are many types of mattresses, and the air mattress is one of the more comfortable.
Everyone's productivity is affected by how much relaxation and rest they get in their off-hours. A lumpy mattress can interfere with restful slumber. Sleep is important not only for physical growth, but for mental and emotional health as well. Unfortunately, the cost of a top-quality mattress can be more than people want to spend these days. But affordable double air mattresses can be acquired handily at local shops, or on online marketplace platforms, like eBay, if the buyer is looking for more than what a physical bed and linen shop can offer. Many shoppers are more likely to find deals if they know important elements like air mattress material, which air mattress features to look for, or the types of double air mattresses available to the buyer.
Looking for a mattress that can provide sufficient comfort can be challenging. Any department store has a selection of affordable mattresses of various kinds. For that matter, the question to ask is why buy an air mattress?
Type of Mattress

Advantages

Disadvantages

Air Mattress

Expected longevity for mattress is better than some

No innersprings means less chance of lumps and better comfort and contouring

Adjustable firmness

Lightweight

Does not need flipping or rotating to avoid sagging or lumps

Has good motion isolation and is easy to move about on

Easy to put into storage

Can alleviate back pain problems, dust mite problems, and allergies

Many are portable and multi-purpose

Can be mechanical, therefore needs more work to setup and is not as durable as some

Not ready to use as assembly is required

Air pumps are noisy

Inferior warranties when compared to other mattress types
Air mattresses are becoming more popular, as they tend to provide similar levels of comfort as mattresses made of memory foam or latex. That said, the double size is probably one of the best choices for the general shopper looking for a deal. It is large enough that a couple does not feel too crowded, getting enough space without the expense of splurging for a king size, and small enough that the average bedroom is not overwhelmed.
Types of Air Mattresses
Air mattresses have been in use for years, and a buyer can find a number of types that can be used for different needs. There are three basic types of air mattresses based on the use that people generally have for them.
Permanent Double Air Mattresses
These are air mattresses that are used in bedrooms as permanent furniture. Recent innovations in air mattresses have given rise to the air bed, which has more accessories and feature than the typical air mattress. Raised air mattresses are examples of the permanent type, as they usually come with a frame that raises the mattress off of the ground.
Permanent mattresses are more expensive than the other types because they can come with supports and accessories more suitable for full-time use, like collapsible frames. Some models require the buyer to purchase the frame separately. Still, there are affordable permanent air mattresses that can be found online. A buyer may also visit the mattress shop for sales or discounts on different types of bedroom furniture.
Temporary Double Air Mattresses
Temporary-use air mattresses are good back-ups for the nights when there are unexpected guests, or when children have slumber parties and overnight stays. Air mattresses of this type can be used in a variety of situations, as they are easily stored and, more often than not, are portable.
Most air beds are actually more affordable than those made of memory foam and other more popular materials. Still, the cost depends upon the features that the mattress contains. It is easy to find affordable temporary air mattresses on Internet retailers, though some offline shops do carry a good selection of them, too.
Sleeping Pad
These are also called camping air mattresses, due to the frequency with which they are used in that regard. They are narrower, thinner, and can be more lightweight than other types, which is why they are used for a lot of outdoor activities, like camping and backpacking. They can be used in a pinch during situations when regular mattresses are unavailable or unusable. Many have foam insulation, in addition to the air chambers and can be useful even when not pumped.
They are, arguably, the most cost-effective of all the types of air mattresses and are available from a wide variety of offline and online shops.
Features of Air Mattresses to Consider
Searching for affordable air mattresses can be a challenge, but as long as the buyer knows what he or she wants, the process goes more smoothly. Not to mention that knowing the desirable features of an air mattress, the individual is in a position to pick and choose the ones more optimal to personal use and discarding the superfluous ones, therefore, cutting down costs.
Outdoor Air Mattress
Outdoor air mattresses are more rugged and made of materials that can stand a beating. Durability has always been a problem with air mattresses, so these can be expensive. However, most outdoor activities needing a mattress are well served with camping air mattresses or sleeping pads.
Portability and Storage
If the buyer wants to install an air mattress as permanent bedroom furniture, there are many mattresses that come with bed frames that can last years. For bedroom items that are more transient though, like an extra sleeping place for when relatives and friends visit, air mattresses that have easy storage options are more desirable. There are also double air mattresses one can purchase for planned camping trips or extended road trips.
Portable mattresses are inexpensive for the most part, but depending upon the material and design the cost can be high. Still, many people think the added comfort on trips is well worth the expense.
Air Mattress Material
The air mattress chambers are usually made of rubber, nylon, and PVC. Mattresses made primarily out of nylon are less elastic and that causes shorter lifespans; that is problematic for those who cannot gauge the pressure and pump too much air into the air chambers. Rubber and PVC mattresses, on the other hand, are long-lasting and the material ensures that air leaks are less likely to occur.
Air mattresses generally have a foam upper layer to maximise the comfort of the sleeper. The foam is one of the elements that can increase the cost of the mattress. Some of the more expensive air mattresses have memory foam layers, or are made of better quality materials. Air mattresses without foam are still comfortable, though, and may help the buyer save cash.
Air mattresses are also used as flotation devices, and waterproof materials are used in their construction. There have been a few health concerns regarding PVC vinyl air mattresses, so they are not recommended for children's beds.
Air Pump
Air mattresses may or may not come with an air pump. Most air pumps that are packaged with mattresses are fully functional and work well enough, but those sold separately are often of better make and quality.
There are two types of air pumps available: manual air pumps and electric air pumps. With electric pumps, the buyer gets out of the hassle of pumping by hand and the air mattress also fills out faster. Manual pumps are more cost-effective. Despite the fact that it requires more effort to operate, the manual air pump can be sturdier and does not rely on electric power to work.
Buying an Affordable Double Air Mattress on eBay
Online retailers, like eBay, are sources of some of the better bargains for any item, including mattresses. The site, itself, is easy to use. Simply navigate to any eBay page and type in your keywords into the search bar. Keywords help you to locate the most appropriate air mattresses of your choice. Specific descriptions, like "blue inflatable double air mattress and pump" result in a more streamlined selection than just entering "inflatable mattress" into the search bar. On the other hand, a less specific keyword offers you the chance to browse through the options available. It is also possible to narrow down your results by using the site tools and options arrayed on the page.
There are many designs in which a buyer may be interested, like air beds that can be transformed into couches, expandable air beds, and remote-controlled mattresses. Remember to evaluate the product thoroughly and check that you are buying from a reputable seller.
Conclusion
Air mattress design has remained relatively similar since it was first offered to the public in 1889. But it has also retained its popularity as a portable sleeping item that can be stored in a relatively small space. Good-quality air mattresses are generally more affordable than many other mattresses that use other materials to achieve the same level of comfort, and that is one of the reasons the air mattress is sought after today. A double air mattress can be permanent, or deflated and rolled up for use in the future. If the buyer wants to get the most out of the mattress, make sure it is clean and dry before storing, as damp can cause mildew, which damages the mattress material.
The best buy for your money is most likely the double air mattress, though the size depends upon the buyer's preferences and needs. There are many shops that sell air mattresses both offline and online. eBay is only one of the online shops that sell them, though starting there is always a good idea because of the variety of products and sellers present on the site.