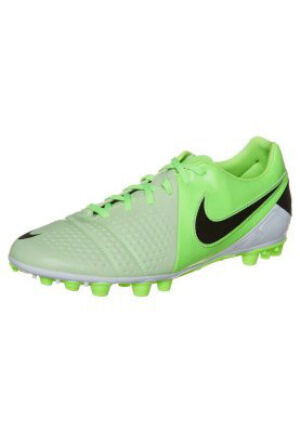 The UK football boot market is plentiful and there are many different styles and designs to choose from; picking out the right pair can be a tricky decision. This guide will advise the reader on all the considerations that can help to make that decision a bit easier. It will also look at the benefits of shopping on eBay and how to safely secure a purchase by using it.
First-Steps of Buying Football Boots
The very first aspects to consider are very simple but important to buying a pair of affordable boots. First of all consider:
What Size Boots are required?
As opposed to buying normal shoes or trainers, football boots should provide a sort of tightness and firmness around the foot. This lets the player 'feel' the ball better, providing higher precision when coming to control or strike it. The player has more confidence when trying to make the ball do what's intended. There's a fine line between having ideal fitting boots and ones that squash the foot however. Ensure the boots are the right size but also consider the prospect of wearing two pairs of socks which some players prefer.
The Potential Cost?
Set a budget and try to stick to it as closely as possible. Of course spending extra for top of the range boots may have its benefits but it may be unnecessary for how much they will be used or whether they will enhance your game at all. Browse the boots within the selected price range and check out eBay in case they are listed at a more affordable price.
Is the Design Important?
There are a few alternative designs to the boot which may suit certain players. Traditionally leather was used as the main material, but modern innovations of synthetic fibres like the carbon-made Nike Mercurial Boot have enhanced this even further. Asymmetrical laces – that is on the side of the boot and not in the centre as normal – provide an increased ball contact area. Selections of different colours are available as well, apart from the traditional black.
Which Type of Sole will be Best?
The next aspect to consider is what type of studs to purchase. The options available are between moulded studs, metal studs or blades. There are also flat astro turf boots to deal with the high participation in 5 and 6 a-side games. Each kind has its advantages and disadvantages which make the suitable for certain conditions. Below is a table that highlights their characteristics:
| Stud Type | Description |
| --- | --- |
| Moulded | Moulded studs are made from rubber and are attached to the bottom of the boot. They are softer and provide better cushioning, reducing the chance of blisters. They are most suitable for use in dry conditions on harder ground and can also be used on astro turf pitches. |
| Metal | Metal studs are generally longer and fewer in the number. They are not attached permanently to the boot and are changeable if some become detached. They are suited to wetter conditions or pitches with longer grass. |
| Blades | The latest stud type is Blades, which are either made from metal or rubber. They are longer in width providing greater traction when running. However, they come with safety concerns and can cause serious injuries when used for tackling. |
| Astro Turf | Small sided football is now played by more people than the 11-a-side game and suitable footwear is required for the artificial pitches. Astro turf boots are flat soled but are designed just like a normal football boot. They have plenty of grip on the bottom to provide traction. |
Different Brands of Football Boot
All the top sports companies have plenty of football boots available and are constantly updating their products in line with the competitive market. The shape tends to differ with each company so it's important to try on as many as possible to find the right fit. They will usually offer the same boot with all the different stud types too, but different companies offer different solutions:
Nike for example offer their Maestri III boots in different formats to suit playing on hard ground, soft ground and also artificial turf. This might not be the case for all designs however so be sure to check if thepreferred stud comes with the selected boot.
Adidas kicked off the fashion of designer boots in the 1990's with their predator range. Rubber strips were attached onto the forefoot as to increase tension on the boot - in theory increasing the speed and altering the trajectory of the ball when kicked.
Nowadays, technology has developed to the point where the manufacturers have claimed their respective boot can enhance every part of a players' game from their touch, speed and shooting prowess.
The top-end boots such as the Nike Mercurial Vapour can now weigh below 200g – a similar weight to a sprinter's spikes. In addition, the Adidas adiZero F50 miCoach come with an in-built computer memory chip which records the performance of a player in terms of their speed and distance travelled.
These high-quality types of boots are expensive however and can cost in excess of £200. If in the market for one of these then be sure to check out eBay to see if they are available at a more realistic price.
Just type in "football boots" in the search bar and browse the selections by using the preference bar on the left hand side. You can narrow the search down by size, brand, condition, stud type and colour all within a selected price range.
Advice on Buying Football Boots
If confident which design, stud type, size and price to pay for a pair of boots then it is good to explore all the options of where to make a purchase from. Here are some tips that can help with making a decision:
Sports shops on the high street have a wide range of boots and present the option to try them on there and then.
Try on different designs from different manufacturers as some may suit the shape of your foot more than others. If they are a bit too big or there is rubbing then ask the attendant if the shop does half sizes and adjust accordingly.
Always keep in mind what they will be used for. Playing once in a while with friends down the local park will probably not require an expensive top of the range pair. Also remember to consider what surface they will be used for and what time of year it is. If buying in the summer then a pair of moulded studs will be best as they suit the harder ground better.
Don't be put off by the expensive price-tag on some boots, the leading football brands such Nike, Adidas and Puma all offer decent pairs for under £40.
Be sure to check online to find better deals than on the high-street. Football boots will generally be less expensive online and save trudging through lots of shops in search of the right pair.
Some brands sponsor star players to wear their boots. It doesn't mean they will be the right boots for an amateur player and may push the price of them up unreasonably.
If opting for the old-fashioned leather material then a degree of care may be needed after playing with them in muddy conditions. They will need cleaning and polishing to help maintain their shape.
If buying online then certainly check out other reviews of boots and specifically the ones you are interested in. This will give a first-hand account of the pros and cons of the boots from other amateur players.
Find the desired and boots and check eBay to see if they can be purchased at a more affordable price. Remember, just because an item is second-hand doesn't necessarily mean it is inadequate. However, there are a few safety aspects to look into when to safeguarding a purchase.
Buying Affordable Football Boots From eBay
Ask the seller to see a picture of the actual boots – not just a stock photo of them from the internet.
If the boots arrive and you are unsure of their authenticity then the box is a good give-away sign. For example, a pair of Puma King boots should come in an authentic Puma box. It is easy to tell the difference between quality leather and plastic material so check the feel of them as well.
Compare the picture of the item from eBay when it was purchased with the boots when they arrive. Look for any differences, i.e. the design, colour, studs.
If they are well below the recommended retail price then again be cautious.
There are measures to avoid any of these problems if you follow eBay's safety guidelines and follow these basic steps:
Read the item description carefully.
Check the seller's rating and feedback comments.
Check if the seller accepts PayPal.
Ask the seller a question if unsure over any aspect.
Find out if there is a returns policy.
Conclusion
When coming to buy a pair of football boots then remember they won't turn a player into Cristiano Ronaldo or Lionel Messi overnight. The main consideration is if they are comfortable and a good fit. A top class player will never wear a pair of football boots if they feel painful or disrupt their game, no matter how good they look.
Last season's range from the big makes of Nike, Adidas, Puma and Reebok will all still be more than adequate for use this year. eBay will certainly have plenty of second hand boots at affordable prices for the amateur player. Make sure the size is correct so there is no discomfort. Also consider how often the boots will be used and what surface they will be used on before making a purchase.