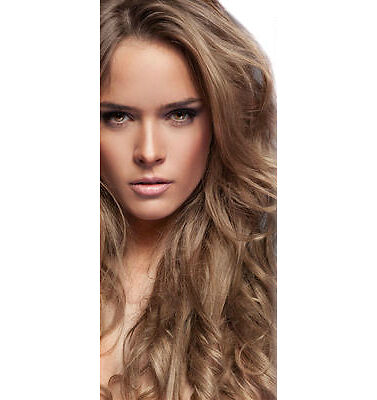 Hair extensions are used to add length and fullness to existing hair. Extensions are attached to the wearer's hair in a number of ways, each with its own advantages and disadvantages. Hair extensions are classified according to the materials that they are made from and how they are applied, and their cost varies widely. Hair extensions are available in human or synthetic versions. Human hair tends to be the most expensive option, and strand by strand application is the most costly application method, due to the nature of the process. Clip in and synthetic extensions are usually the most affordable option.
When choosing affordable hair extensions, it is important to know what is available in terms of materials and application methods. Some materials can be styled, while others cannot be changed, and having hair extensions applied in a salon can increase their cost significantly. However, the savings made have to be balanced against the effect that the wearer desires and the performance of the extensions. It is helpful to learn how to select the right colour and style before buying affordable hair extensions. Hair extensions are available from hair salons, specialist suppliers, and online, from sites like eBay.
Materials Used in Hair Extensions
Human hair and synthetic materials are used to create hair extensions. Human hair can be styled and coloured in a similar way to the wearer's own hair, but synthetic extensions cannot.
Human Hair Extensions
High quality human hair extensions last longer and look more realistic than synthetic hair. Remy hair is 100 per cent natural human hair that is harvested from a single donor. Remy does not refer to a specific brand, but to the quality and type of hair. All of the hair cuticles in Remy hair are intact and the hair is kept aligned in the direction that it lay in when it was cut. This means that it is less likely to tangle or become matted, and it remains glossy for months if it is cared for properly. However, this is the most expensive option and real Remy hair is not a good choice for those looking for an affordable solution.
Human hair extensions that are not classified as Remy hair are more affordable, but may not look as good for as long. However, wearers can style the extensions with their own hair, and the extensions can be coloured, provided the dye is darker than the original colour of the extensions. In some cases, the hair follicles have been stripped and replaced with a layer of silicon. This means that the hair looks good until it has been washed for a few times. It is wise to research brands and suppliers before buying.
Synthetic Hair Extensions
Synthetic hair extensions are made from manufactured materials. As a result, they cannot retain oil or moisture, making them more prone to damage from the sun and heated styling appliances. Synthetic hair is a good option for those who want to experiment with their hairstyle, and are not particularly concerned with durability. These extensions are the most affordable and come in a range of colours.
Hair Extensions Application Methods
In addition to the materials used, the application method that secures the hair extensions affects their cost. Some methods are labour intensive and require special equipment, while others rely on simple clips that can be applied and removed at home.
Strand by Strand Hair Extension Application
The strand by strand application method is used to insert hair extensions in salons. Extensions are attached to strands or small sections of the wearer's natural hair, making this a time consuming process. However, the results look very natural. Bonding methods include glue, heat bonding, weaving, and metal clamps. It is important to choose the application method that is the least damaging to the wearer's natural hair. Strong glues and heat bonding may cause damage. Low heat bonding or cold fusion, clamps, and weaves are the least likely to cause lasting damage to natural hair.
Weft Hair Extensions
Weft extensions are strips of hair that are woven together at the top, with hair strands flowing from the top of the weft. These are usually woven or sewn into the natural hair by a salon technician. Some salons use glue to attach the weft to the hair near the scalp.
Clip In Hair Extensions
Clip in hair extensions are the easiest to use and can be applied at home. They are also the most affordable option. Their quality varies, so extensions range from inexpensive synthetic pieces to high end human hair extensions. They are available in a variety of colours, including natural shades and bright fantasy colours. The clips can be inserted or removed easily as needed, making it easy for the wearer to change her look and to remove the extensions while swimming or spending time in the sun. Clip in hair extensions may slip out if the wearer has particularly fine or thin hair.
Choosing the Right Colour and Style of Affordable Hair Extensions
For the budget conscious shopper, choosing the right hair extensions is the best way to save money. Before shopping, set a budget and try to keep to it. The colour chosen should match the wearer's hair as closely as possible for the most natural look. Extensions come in different shades, so black extensions, for example, may not be an exact match unless the right shade is chosen. When buying online, always check with the seller to confirm the hue. Even if images of the extensions are available, all computer screens do not display colour in the same way. This means that the colour on the screen may not be a true reflection of the item's colour. It is best to buy from a seller with a returns policy in case the colour of the extensions is not an exact match. Human hair extensions can be coloured, but colouring them a lighter shade could cause damage and decrease their durability.
The texture of the extensions should also be taken into account. People with fine hair should opt for fine extensions, while those with coarser hair should opt for coarser extensions. Similarly, those who wear their hair straight most of the time should choose straight extensions, while those with curly hair should choose wavy or curly extensions. Matching the texture and the style creates a more natural look.
Buying Affordable Hair Extensions on eBay
Due to the number of hair extension products available on eBay, prices are competitive, and finding the right match is easy. Simply type a search phrase, such as "Remy clip in hair extensions", into the search field, which is located conveniently on every page, to see the items available from eBay sellers. Choose the most appropriate category and item features to refine your search. For additional search features, such as searching by price range, use the advanced search feature.
Before You Buy on eBay
Before buying on eBay, take a moment to learn about the product and seller. All of the information that you need to do this can be accessed via the item listing page, which is viewed by clicking on an individual listing. Included here are details about the buying options, the item and its condition, postage and packaging fees, the seller's returns policy, accepted payment methods, and the seller's feedback information. If you have any questions about a listing, click on the "Ask a question" link to contact the seller.
eBay's seller feedback feature allows you to see what other buyers have to say about a specific seller's products and customer service. Click on the number next to the seller's username on the item listing page to see this information.
Conclusion
Hair extensions are becoming increasingly popular with those who want fuller, longer hair. This means that hair extensions are becoming more affordable, with relatively inexpensive items looking more realistic and natural. The type of extensions and the application method both affect the cost of extensions. Salon application and Remy hair are the most expensive options. However, clip in hair extensions, which are available in human or synthetic versions, offer an affordable alternative. They are easy to insert and remove, look natural, and high quality extensions are durable if they are cared for properly. Those who prefer extensions that are bonded to their hair should discuss their options with their hairdresser. Choosing human hair that is not classified as Remy could make strand by strand application more affordable. Synthetic hair extensions remain the most affordable option, but they cannot be coloured or styled like the wearer's natural hair.
Choosing the right extensions keeps the hair pieces affordable. Match the colour, texture, and style of the hair extensions to the wearer's natural hair for the best effect. Those who are accustomed to having short hair should consider shorter extensions so as not to be uncomfortable while wearing them. However, it is also possible to make a dramatic change to create a brand new look. A wide selection of affordable hair extensions, suited to every budget and hairstyle, are available from eBay sellers.