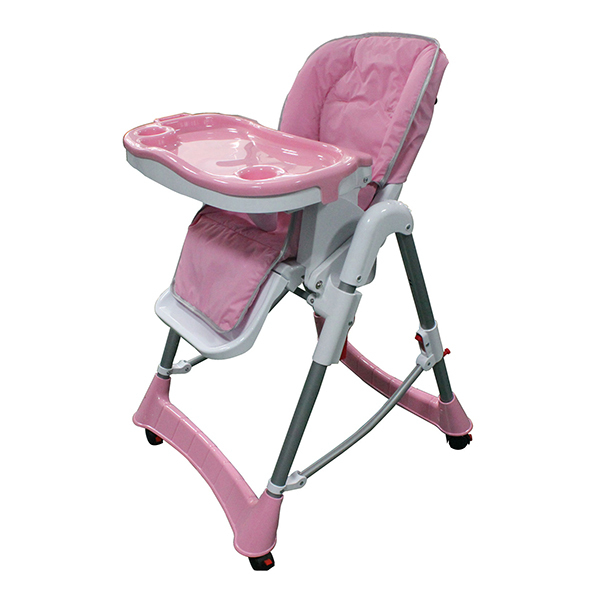 When it comes to feedings, many options for affordable high chairs make it easy to select a satisfactory baby seat. The new parent should consider a high chair that fits the space in the flat or house and perhaps one that can fold down to be put out of the way when not in use. Easy clean-up is always an advantage.
If the family travels frequently to visit relatives or stay at the shore, a high chair that is more portable may be desired. An attractive appearance is a pleasure not to be discounted. Other features to consider include the ability of a chair to "grow" with the child into toddler booster seats or recline should the child nod off after lunch. These latter features tend to boost the price of a high chair, but many families find that extra features are used less often than expected. Recently made used chairs are also available that meet safety standards and fall readily within a family's budget. Therefore, buyers should learn about the various features of high chairs, decide which are essential, and prioritise in order to find affordable high chair options. An excellent source for new and used affordable high chairs is eBay, where sellers across the UK offer baby gear at very affordable prices.
Issues to Consider in Selecting High Chairs
Contemporary chairs are available in designs from traditional to futuristic. Some are simple folding chairs in metal and plastic while others are elaborate egg-like pods atop pneumatic stalks. Some of the features most frequently found of value even in affordable high chairs include those noted below.
| | |
| --- | --- |
| Chair Feature | Advantage to Family |
| | Easy to move |
| Foldable | May be put away between uses; easily packed for a trip |
| | Easy to clean, preferably dishwasher safe; if child is ready to sit at table, can remove tray and pull chair to table |
| Easy to Clean | Materials are typically non-porous plastics and metals that wipe clean easily |
| Padded Seat | Provides comfort; those made of vinyl clean easily |
| Safety Harness | Keeps child from slipping to floor |
| Certified Safe Design | Newer chairs are certified safe according to safety standard BS14988 |
| Grows with Child | Many designs allow chair to become toddler booster seat or separate into small table and chair as child grows |
Families with budget priorities should be assured that many low-cost chairs include some of the most practical and safest chairs. Safety certifications and easy-clean designs are all to be found in very affordable chairs. Some families have even discovered that the lightweight and portable chair they thought they had purchased for a holiday house was exactly what they desired for every day.
A High Chair to Fit the Space
Contemporary high chairs are designed with a range of footprints. If the legs stick out too much, it can be an issue in a small flat where parents or siblings might find themselves likely to trip. Pedestal type pneumatic high chairs have the smallest footprint, of course, but most hardly fit the "affordable" category, and at lower price ranges, some reviewers have raised questions about the safety of some chairs.
Safety Features in Modern High Chairs
Safety features are broadly covered by the applicable British and international codes, including BS14988 for the chair itself and BS6684 for the safety harness. Specific safety features to be sought include the following: a crotch bar to keep baby from slipping out, locking mechanisms on any wheels to keep the chair in place, and a three- to five-point safety harness. The three-point harness is considered sufficient when the seating is completely bounded by the chair and the tray. If there is not a tray in front of the child, a five-point harness is advised.
One safety feature parents may not always consider is the location of tray release buttons. Infants as young as nine months have been reported to release tray buttons that are located on the side, creating minor calamities as they release their meals and potentially themselves from their chairs. Therefore, consider trays that are otherwise attached.
Foldable, Portable High Chairs
Foldable chairs are helpful when space is at a premium or when a family frequently visits relatives. Make sure the design has no pinch-points to catch the parents' or baby's fingers. For convenience, look for chairs that have their own storage bin, basket, or tote.
Easy to Clean High Chairs
High chairs today are often designed for ease of cleaning. The primary materials are often wipe-clean plastic and aluminium. They have smooth surfaces instead of food-trapping decorative grooves in the design. The chair covers are most often made of vinyl instead of cotton or other natural fibres that stain.
Moreover, many chairs have a second tray or a tray insert that may be popped out of the chair and into the dishwasher while the baby is still seated safely. One chair element that is sometimes still a spill-trapper is the safety harness. Even when made with a synthetic fibre, the weaving of a web harness can catch soft foods and crumbs.
Other Convenience Features
Other features that may add to the convenience of a high chair include those noted in the chart. These features may add to its price, which make them features to be prioritised for a family seeking an affordable high chair.
| | |
| --- | --- |
| Convenience Feature | Benefit to Family |
| | May offer several positions for bottle-feeding baby or a child who falls asleep after eating |
| Special Trays | May be removable with one hand; compartments for food and utensils or even a toy tray after the meal is finished |
| Reconfigures as a Toddler Chair | As a child grows, the chair may convert to a toddler table and chair |
| | As a child grows, options may allow the seat to be lowered or the tray to be removed to allow for use at table |
A family seeking an affordable high chair may prioritise such convenience features as these when deciding among available options. One possibility is to select a used high chair in good condition. This may make it possible to obtain many features at a lower price than would be otherwise possible.
Feeding Chairs That Are Not Technically High Chairs
Especially when traveling, many parents use a variety of feeding chairs that are not technically high chairs to help their young children reach the table. Some of these may also be used in the home to conserve space.
Hook-On Chair
These seats hook onto the edge of the table and are held in place by the combined pressure of the child's weight on the upper and lower clamps. They may be used where the table is thick enough to support the clamp.
Foldable Booster Seats
These booster seats are designed to give a child a lift while sitting in an adult chair. They may be built with a frame or may be constructed entirely out of fabric that hangs from the chair frame. Both kinds depend on the chair being of an appropriate height to allow the child to reach the table.
Popular Brands
Many popular brands offer colourful, safe high chairs. Some brands tend to offer posh products at premium prices, but even these brands may be found by the lucky searcher at affordable prices from time to time. Some of the brands many families often choose include those discussed below. Other popular brands in high chairs include Bumbo, Cosco, Evenflo, and phil&teds.
Chicco
The Chicco high chair offers sleek aluminium frames, contemporary colours, and patterns on the seat covers. Some offer an extra tray or designs that adapt as child grows.
Cosatto
Cosatto high chairs are generally amongst the priciest of the popular brands, especially when the pneumatic pedestals are considered. At the same time, the occasional bargain may be struck with someone who lives near at hand and is clearing the nursery to make room for big boy things.
Fisher Price
Cushions on Fisher Price chairs tend to have colourful character designs. Foldable designs are available. It is no surprise that replacement trays with built-in toys and plastic play mats for beneath the chair are available from this toy manufacturer.
Graco
Generally conservative in colour, chairs from American company Graco typically offer foldable designs made of washable synthetic materials. The "Grow with Me" line converts from high chair to booster seat as the child reaches toddlerhood. Standard chairs offer reclining backs for bottle feeding and multiple height options.
Mamas and Papas
"The Loop" is Mamas and Papas well-known pedestal offering. At the top end of the line, a wooden chair is also available. Most others are foldable designs on aluminium and plastic frames, which may have multiple seat height and reclining positions. Some have two trays for immediate clear-away.
Mothercare
High chairs and boosters from Mothercare are known for the range of available options and price points. The line includes simple chairs that would do for the holiday apartment and convertible chairs that turn into toddler table sets. Most are sturdy, cleanable models in plastics and aluminium with extra trays. A wooden chair is also offered.
Stokke
Stokke's stock in trade has long been fine contemporary wooden chairs designed to pull up to the table at multiple seat heights so the chair may grow with the child. Their Z shaped chair, developed in the 1970s by a designer for his own son, is still unique.
Consider Used High Chairs
Recently made used high chairs can also help meet the goals for affordability, safety, and functionality. When selecting used chairs, check the manufacturer's site or review sites to confirm that the specific chair is recent enough to conform to applicable safety standards.
Finding Affordable High Chairs on eBay
As families decide they have had as many children as they plan, they often look for convenient ways to sell their baby goods. New baby goods also are marketed on eBay by national and local shops. That offers the prospective parent a wide selection of affordable high chairs, both new and used, on the eBay marketplace. A simple search for high chairs turns up many options. The selection may be ordered using the sort by feature to show the lowest price first.
"Collection Only" Chairs Close to You
Once a chair has been unpacked and assembled, the original owner may prefer not to disassemble the item for shipping. As a result, some high chair sellers indicate that the item is available for "collection only". To locate chairs nearest your location, use the "Sort By" menu to organise the listings by "Distance: nearest first". This allows you to focus your search on the listings closest to your location.
Conclusion
The wooden high chairs made today are designed for better child safety than the wooden high chairs our parents and grandparents used. Even so, many mothers and fathers looking for affordable high chairs prefer lightweight, foldable chairs made of aluminium and plastic. Contemporary designs take up less space and cost less. They also meet current safety standards and are designed for easy clean-up.
A wide range of manufacturers offer baby feeding chairs in a range of designs from contemporary wood to retro pod-on-stem designs with pneumatic lifts. Families can choose from pastel seat covers, cartoon character covers, vibrant retro prints, and subtle colourings that match the most conservative dining room. When affordability is the goal, it is important to prioritize what features are most important in a high chair. Still, those focused on affordable choices are likely to find a selection much to their taste in the diverse and extensive eBay marketplace.