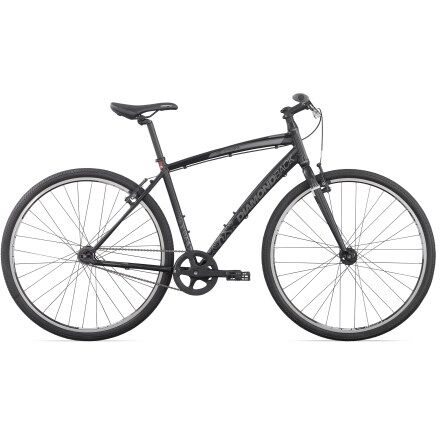 The hybrid bike is an innovation that blends together the features of the more customary road and mountain bicycles. The improvements in their robustness, handling and speed have made them a popular acquisition with bike enthusiasts for recreational use and also the daily commute. They are a multi-use bike in the respect they are suitable for tarmac as well as on rougher surfaces. With the market full of many different kinds of hybrid bicycle, eBay provides the best way to scour the different models available and acquire them at a more affordable rate than on the high street.
Features of a Hybrid Bike
Some of the recognisable features of a hybrid bike are listed below:
They have a quite thin tire width and a bigger wheel circumference, so the bike will travel faster without as much effort.
Hybrids are usually fitted with the same gear systems as mountain bikes, with between 21 and 27 gear options.
They're built with a more upright frame that allows for a more proficient and comfortable riding position.
Flat and straight bars on hybrids also help with maintaining this more comfortable seating position.
The suspension is strong enough to absorb constant vibrations.
They usually use the 700c tyre (a measurement of the outside diameter of a tire in millimetres) which is good for accelerating on tarmac and climbing.
These tyres have a smooth centre line for faster and easier rolling on tarmac but also have the vigour to deal with off-road conditions.
Accessories such as mud-guards, luggage racks and child seats can be added with ease onto a hybrid bike.
To get a further idea of hybrid bikes then below is some of the characteristics they have derived from more conventional bicycles. For example, from mountain bikes they have taken:
A stronger frame that can handle increased weight.
A frame that is useful for handling rougher terrain.
A more comfortable riding position.
This is combined with some of the features of road bikes which are:
Their increased speed due to lighter components.
Their suitability for use on roads and pavements, such as the thinner tyre.
Why Choose a Hybrid Bicycle?
Bicycles are a brilliant way of travelling and keeping fit at the same time. They can be used for recreational use and also as part of a healthy workout regime. Their environmental advantages are favourable as well, reducing the carbon footprint of the user. Quite obviously, the financial savings over buying and maintaining a vehicle can be highly beneficial. Other reasons to choose a hybrid bike are highlighted below:
If youare on the lookout for a bike, then the hybrid model is the safest way to go to guarantee an efficient purchase due to its multi-purpose nature. One of the most common uses of bikes is for commuting and whilst the hybrid is more than capable for this, it is also valuable for any lightweight off-road activities the user may participate in during holidays.
The hybrid bike is also generally more comfortable than the road bike due to its more relaxed seating position. In addition, it takes the powerful braking system and hill-climbing gears from mountain bikes to provide the perfect bicycle for most general cyclists.
They usually have a good selection of gears which can maintain control on different surfaces. Lightweight frames and the slimmer tyres can allow for a freer and smoother ride.
There a few limitations to hybrid bicycles that must also be considered. Although they are suited to more subtle off-road terrain, riding on extremely uneven or rocky surfaces are possibly not within its capabilities. Keep in mind though that the tyres can be changed to suit these conditions.
Advice on Buying a Hybrid Bike
There are a few basics to consider when purchasing a new hybrid bicycle. Before parting with money then take into account the following and spend accordingly.
How often will the bike be used?
What sort of journey will it be used for on a regular and occasional basis?
What kind of surface will the bike be used on?
Are there any concerns over where to store the bike, either at home or work? Is a folding hybrid bike necessary?
Will any accessories be needed for the bike, i.e. a child seat?
Will there be other people who may use the bike? What are their requirements?
Will the bike be suitable for the riders' body physique?
Would a road, touring or mountain bike be more suitable anyway?
Is there a budget set in place?
Is customisation of the bike a consideration? For example, the wheel size can be adjusted from the traditional 700c size suitable for road riding to thicker wheels better appropriate for mountain biking.
Is the bike for a male or female rider? Women's hybrid bikes may have a more feminine appearance in their appearance and thinner frames, but there isn't much difference between the two. Look out for women's bikes from companies such as Ridgeback, Trek, Marin and Cannondale which all make models suited for the female market. Saddles with added padding can also be bought as an extra.
The frame size is also something to consider. Typical adult bikes have frames of between 12" and 26" which converts to between 31 and 65cm. (You can find out the frame size by measuring the top of the seat fame to the centre of the bottom bracket.) Different bike frames will be required depending on the size of the user. As an example, an adult with a 32 inch leg will require a frame between 17 and 19 inches. Adjust accordingly to meet smaller or taller riders. Certain websites can inform of which size frame to purchase.
After all of these aspects have been taken into consideration, it's crucial to think about the price you are willing to pay for a hybrid bike. As is usually the case with buying any item, the higher the price of the bike will mean better the quality of it. Evaluate how much it will be used and plan accordingly – a bike that may only be used sporadically will not need an investment of up to £1000 as some hybrid models at the top end will cost.
Where to Buy a Hybrid Bike From?
Check out specialist cycling shops that can offer first-hand advice on what sort of bicycle is most appropriate within a certain price range. It also allows for the shopper to try out the bike there and then, giving a first-hand account of such aspects as the size and seat position.
If looking online then eBay has a wide-range of hybrid bikes to cater the UK market. All the different top brands are on offer such as Boardman, Carrera, Trek and Sirrus– usually at more affordable prices than would be found from other cycling outlets. eBay allows for the user to browse through the options and check out any second-hand deals that are on offer from the comfort of home surroundings and at the buyers own pace.
Advice for Buying Hybrid Bikes on eBay
If deciding to make a purchase online, then eBay is the best option to find a decent hybrid bike at an affordable rate. Below are some common tips to help with finding the right bike and secure a transaction safely.
First of all, use the search menu and type in "Hybrid Bike" or "Hybrid Bicycles." This will bring up all the listings available and should all be within the Cycling subsection of the Sporting Goods section on the left-hand side.
By clicking on Cycling from the preference menu, more options will come up as to narrow the search even further. There are a few options such as 'Bike Parts' and 'Cycling Accessories' but to find the listings of hybrid bicycles then just click on 'Bikes.'
Again look at the options on the left hand side of the page. Narrow the search down by selecting a brand, such as Ridgeback, Raleigh and Viking, or choose a model by what size frame is needed. Other preferences are frame colour, wheel size, condition and price.
Click through the bikes that are most suitable and read their description. Some listings will be listed as 'Buy It Now,' which means the bike can be bought immediately for the asking price. Many of these items may have been listed by actual cycling companies who are using eBay as a platform to sell their bikes. These can be very useful for buyers as expert advice about the bike will be on hand if choosing to 'Ask the Seller a Question.'
Make sure the item's description is carefully read and the sellers' history checked out. This can guarantee a safe transaction.
Conclusion
Hybrid bikes are popular with commuters and recreational cyclists alike as they are easy to ride and are comfortable – perhaps the two main considerations the general rider will look for. Mountain bikes tend to be quite heavy and can be a pain for daily road use. Road bikes may not be suitable for the daily commute as high speeds aren't necessarily required. Check out hybrid bikes on eBay to find the best deals make sure the purchase is the right one for you and your budget.