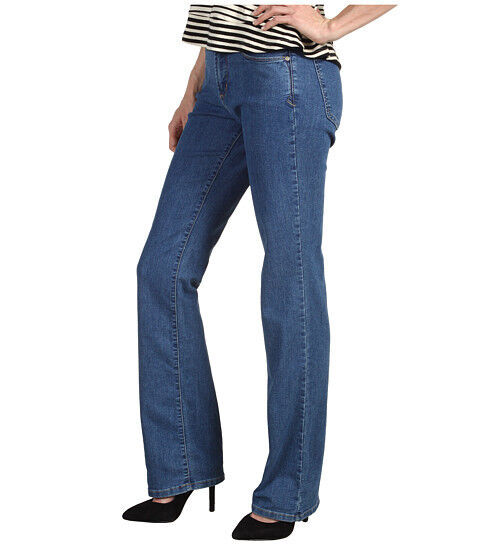 In the past, stylish jeans came with designer price tags. With newer, more efficient methods for creating jeans, women are no longer relegated to coarse, shapeless jeans when looking to purchase affordable jeans. Today, there are many styles of women's jeans available at affordable prices. When looking for a new pair of jeans, begin by looking for affordable brands as well as sales. The first thing women should look at is the price tag so that they are not tempted by jeans out of their desired price range. After determining the price, women should look at the style, size, and wash to make sure the jean they select is flattering to their figures. By learning what types of jeans are available to purchase, women will be able to decide on what style works best for them, and investigate brands that are affordable while remaining stylish. Women should consider looking on eBay, where a large selection of gently used and new jeans are listed at competitive prices.
History of Jeans
Modern jeans are made out of denim, however the original jean and denim fabrics were two entirely different materials. Jean material has roots in 15th century Genoa, while denim comes from 16th century France. In late 19th century America, Levi Strauss partnered with Jacob Davis to create the waist overall, a pair of workmen's pants made out of denim with rivets on the pockets for added durability. By the 1960s, teenagers were unanimously referring to waist overalls as jeans and Levi Strauss and Co. adopted the moniker as their new product name even though the pants were made from denim and not jean material. Expensive designer jeans entered the market in the 1980s. Because the natural state of denim is rough and coarse, it requires processing to make it soft and flexible. As technology becomes more advanced, this process becomes more affordable, making lower cost jeans soft and supple.
Styles of Jeans
There are many styles of women's jeans which are best suited to different body types and settings. Some styles of jeans are more professional than other styles, with the straight leg being one of the most professional. Before selecting a style of jeans, women should consider their body type, as some styles of jeans better flatter certain body types than others. However, the professional straight leg jeans will work on most women. Many affordable brands will carry an assortment of jean styles. Some of the more prevalent styles include straight leg, boot cut, flare, skinny jeans, and jeggings.
Straight Leg
Straight leg jeans receive their name because they are as wide at the knees as they are at the thighs and ankles, creating a tailored look. Straight leg jeans in a dark wash can be worn in business casual situations. This style can be fashionably worn by most body types.
Bootcut
Bootcut jeans are designed to fit over a pair of ankle boots. The trouser leg gradually widens from the knees as it approaches the hemline. This style flatters women who are curvier as it helps draw attention away from the hips by balancing out the silhouette.
Flare
Flared jeans are similar to bootcut jeans in that they contour to the thighs and widen from the knees. However, the widening is more dramatic in flared jeans than in bootcut jeans. This style works well on tall women; shorter women may wish to consider wearing them with heels to help elongate the leg.
Skinny
Skinny jeans are closely cut and taper to contour to the legs. This style of jeans works well when worn tucked into boots, with heels, or with sandals. Pair skinny jeans with a long tunic to lengthen the torso. Because of the tight nature of these trousers, skinny jeans are most flattering on slender women.
Jegging
The jegging is a derivative of the skinny jeans. This style of jeans is made out of a stretchy denim that hugs the curves of the body. A belt may be required.
Rise
The rise of the jeans refers to how high they sit on the hips and waist. There are high-rise jeans which come up to the natural waist, usually right at or above the navel. While this style was popular in the 80's, it is considered a fashion-forward trend when paired with a modern style of jeans. Mid-rise jeans sit a couple of centimeters below the belly button. These jeans eliminate the appearance of a muffin top as they rise high enough to cover it but are not as restricting as the waist-high jeans. Finally, there are also low and ultra-low rise jeans. These jeans sit several centimeters below the navel, with the ultra-low rise showing drastically more skin. Low-rise styles will make muffin-tops more pronounced and may dip down in the back when bending or squatting if a belt is not used.
Washes of Jeans
The wash refers to the colour of the jeans. There are many wash patterns available, including dark washes, light washes, coloured jeans, and distressed styles. Select a wash that works well for your body type and desired level of professionalism. Dark washes can be worn in business casual settings, while light washes are more appropriate for casual events. The various styles of distressed jeans should be reserved for an evening with friends or going out partying, as should coloured jeans.
| Type of Wash | Description |
| --- | --- |
| | Dark blue jeans are the most professional wash of jeans. The blue should be crisp and uniform |
| Light Wash | Light wash jeans are not faded dark washes, but rather a lighter dyed material. These can be anywhere from a medium blue to almost white |
| | There are many types of distressed jeans from whisker marks to acid washed, to stone washed, to frayed or destroyed |
| | Retailers will frequently offer jeans in the colours that are in style that season |
One wash of jeans is not typically more expensive than another wash. However, rather than purchasing a pair of coloured jeans every season as the styles change, it will be overall more affordable to purchase classic styles of jeans that can be worn year after year and only occasionally purchase the trendier jeans of the season.
Choosing the Correct Size
Many women are tempted to buy jeans because of the brand. However, it is more important to purchase jeans that fit well over a brand preference. Jeans should fit comfortably around the hips and not gap at the waistband. Ideally, a pair of jeans that fits properly will not require a belt to stay in place. Purchase a pair of jeans that is adequately long enough, but not so long that the hems drag on the ground. Decide if the jeans will be worn with or without heels before making a purchase, as the lengths will differ.
How to Care for Jeans
When properly cared for, jeans will enjoy a longer life. Jeans should only be washed in cold water as warm water may cause the fabric to shrink and the dye to bleed. When washing dark or coloured jeans, consider adding vinegar to the laundry cycle to lock in the colour. Another way to increase the life of the jeans is to hang them or lay them out to dry rather than putting them in the dryer. If the jeans material becomes unwieldy, consider adding a fabric softener to the wash cycle.
How to Buy Affordable Jeans on eBay
Once you have decided to purchase your jeans through eBay, your first stop should be the homepage. In the main search bar, begin with a search for 'women's jeans'. At this point, you can either use the categories options to narrow down styles of jeans or you can add additional specifications to the search bar, such as searching for 'skinny jeans' or 'stone washed jeans'. Being overly specific with your search terms will limit the number of results you receive, so it may be in your best interest to use generic terms.
Before placing a bid, check the seller's return policy. As not every pair of jeans will fit the same, even within sizes and brands, it may be necessary to return the first pair of jeans that is ordered. Knowing the seller's policy in advance will help eliminate confusion. Also be sure to pay attention to where the item is being shipped from. Local items will have a shorter shipping time and a local pickup is also a possibility if both you and the seller are comfortable with one.
Conclusion
There is no need to spend exorbitant amounts of money on designer jeans when there are high quality jeans at affordable prices. Historically, inexpensive jeans were made out of rougher material and did not have as many options for styles, but with the advance of technology, budget-friendly jeans no longer suffer a reduction in quality. There are many stylistic choices for women's jeans and women should know which styles of jeans best flatters their body type, as different styles of jeans look better on different women. After selecting a style of jeans, women should decide on a wash, whether it is dark, light, distressed, or coloured. The jeans should fit comfortably without gapping at the waistband. If the jeans are properly cared for, a pair of inexpensive jeans will last as long as designer jeans. If designer jeans are desired, women should consider shopping on eBay to find them at discounted prices.