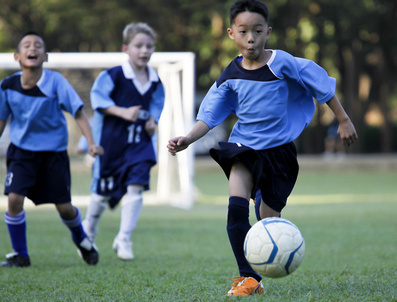 The vast majority of adult football boots are available in kids' sizes to accompany the popularity of youth football within the UK. Choosing the correct pair for a child may be tricky with the extensive selection on offer but this guide will offer advice on what types are available and where to buy them at an affordable rate. There are many sports shops that will offer football boots but may not have the biggest selection in kids' sizes than can be found on the internet and particularly on online marketplaces such as eBay.
There are four different types of football boot on the market in respect to the sole. There are three different types of stud which can be found – moulded, metal and blades – as well as the astro-turf style for use on flat surfaces. Boots are often listed as either SG or HG which signifies if they are suitable for hard or soft ground. Below is a table highlighting the different characteristics of football boots available for children:
| Stud Type | Description | Use |
| --- | --- | --- |
| Metal Studs | Metal studs are interchangeable at the bottom of the sole. There are on average around 6of them and the stud is quite long. A stud key is required to tighten and loosen them if need to be changed. An example of metal studs that can be found in kids sizes are the Puma Esito SG series. | Moulded studs are suitable for softer surfaces and thus wetter conditions. |
| Moulded Studs | The popular alternative is the moulded stud. They are made out of rubber and are a bit smaller in length. There are a fair amount of individual studs which provide a bigger surface area which usually adds to the comfort of them. An example of a moulded stud boot is the Umbro Turbine HG pair. | Best suited for harder ground and dryer conditions. Decent for the UK climate. The studs can be changed to suit the conditions. |
| Blades | The more modern type of stud is the blade, which are usually moulded to the boot and not changeable. They are longer in width than the more traditional studs to help with balance and turning. There is debate about their safety in regards to tackling. An example of bladed studs can be found with the Puma Evospeed 5 FG series. | Blades are best suitable for harder pitches but can be used on softer ground too. They help minimize ankle injuries of firmer surfaces. |
| Astro Turf | Due to the popularity of small sided football on artificial pitches, flatter soled football boots have been designed to meet the demand. They have the same characteristics of a normal boot but without the studs. They have ridges on the bottom to help with traction that is required for the quick turns needed in football. An example of astro-turf boots are the Nike Mercurial Victory pair. | Astro-turfs are suited for flat surfaces as they cannot damage the fibres that make up the artificial pitch. |
Advice on Buying Kids' Football Boots
Often children will want to emulate their football heroes by copying what boots they wear. Many of the big sporting brands such as Nike, Adidas and Puma bring out junior versions of these boots so there is no need to worry. The Nike Mercurial Vapour VIII set of boots are available in adult sizes as well as in smaller sizes suitable for children.
So when it comes to making a choice of which pair to buy, know what stud type is required and follow the instructions below to assist with the purchase.
An important aspect of buying kids' football boots is to set a budget and stick to it. There is no need to overspend on a pair of boots if the child is not a regular player for example. Only if they are particularly keen young players is it worth spending a fair larger sum. After all, children's feet may grow at such a rapid rate that they are no longer needed after a year. Due to their smaller nature, the top priced junior football boots should not cost over £70 but they can be found at a much more affordable rate, especially from online marketplace sites such as eBay.
In respect to the actual boot itself, the main concern should always be the comfort and fit of them for the child. No matter what they look like, if they are causing pain or rubbing persistently on the foot then it will affect the players' game and cause blisters. It may even have lasting damage for the child's feet if they use them extensively for long periods. Make sure the correct size is known and purchased.
There may be the temptation to buy a size too big as for the child to grow into. This may save money in the long-run but may have an affect on the pleasure of running and playing. A poor fitting boot can put off someone from playing in the first place and affect their performance. After all, playing at youth level should be about enjoying it more than anything else.
Although many young children will more than likely want some of the top named brands such as Nike, Adidas, Reebok or Umbro, some of these brands may seem to be on the expensive side for your budget. Some lesser known brands such as Joma or Uhlsport may supply boots which do the job perfectly and be available at a cheaper price.
Most brands will offer their boot in different formats suitable for hard, soft and indoor pitches. If the budget is available, it may be worth to buy the same boot twice but with different studs that suit different conditions. Starting in pre-season the pitches may be firmer so will require moulded studs, but as the weather gets worse metals studs may be the better option to suit the British climate. Having both types gives more flexibility.
Different Design of Kids' Football Boots
Sometimes the laces will be in different positions. For example the Puma V5.08 model has the laces placed down the side of the boot as to increase the striking area.
The material of boots will either be either synthetic or leather. A good pair of synthetic boots may be a bit pricier but are strong, durable and waterproof. A less expensive substitute version may rip easily so be wary of spending too little in this respect. The higher quality the boot will mean the higher quality the leather. Keep in mind that more advanced leathers can stretch out and mould to the players' foot.
Just like the adult market, different kids' boots are designed and manufactured as to improve a players' game. For example some Nike boots such as the CTR360 model are advertised as improving first touch and control of the ball. To what extent a younger child may need a fad like this debatable but may well be beneficial to their game. If a child is keen on a certain pair of boots which are on the expensive side then be sure to look on eBay as there is a chance they will be available at a better price.
Buy With Confidence
A crucial consideration if buying from eBay is the sizing of the boot as the child will be unable to try them on before the purchase is made. Make sure the foot measurement is known before-hand. Any worries in this department can be countered, however, if the seller offers a return policy. Look into this when reading the item's description. This can also be a good indication of the seller's authenticity. Check their seller rating and feedback comments as well as a further precaution.
Check if the photo of the boots is a genuine one of the actual pair being sold and not just a stock photo. Compare the price to other models of the same boot listed – if one is listed are at a greater price variance then proceed with caution. Also, a pair of Adidas boots should come in an Adidas marked box so be wary if this isn't the case. One of the benefits of eBay is that you can ask the seller a question if unsure about any aspect of an item so be sure to do so.
Conclusion
The most important aspects to consider when buying junior football boots are the comfort factor and price. The boot should fit snugly to the foot but not be too tight as it may cause discomfort. Overspending may not be worth it for children's boots that could be outgrown in the short-term. Equally, however, an affordable but insufficient pair may also be a waste of money, and need replacing very quickly. The key is to find the right balance for your child's needs.
If choosing to buy online then make sure to look on eBay for more affordable pairs then would be found on the high-street. Just because a pair of boots are listed as second-hand and available at a knock-down price does not mean they will be inadequate.