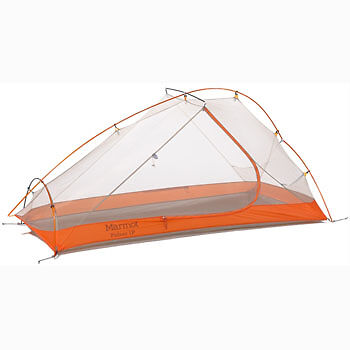 In this eBay guide, buyers will be given information on how to select a great
lightweight tent
based on a number of different factors as well as advice on how to find the perfect lightweight tent in a quick and easy manner using eBay.
What Lightweight Tent Designs are Available?
When looking for a lightweight tent, campers will commonly be presented with three different options to choose from, a tunnel tent, a dome tent or a pop-up tent. These three designs all have their own advantages and disadvantages that buyers must be aware of before they make a decision on which one is right for them, listed below is a brief description of these three designs outlining these positive and negative aspects.
This particular design is probably the simplest tent available to consumers on the current market; this simplicity is what makes tunnel tents great examples of a perfect lightweight tent design.
A tunnel tent is usually just a long, thin tent, which is supported in the middle by two or more tent poles. What this does mean is that these tents are not particularly stable when compared to other models that are available, yet what they do provide is a much greater deal of headroom across the whole of the tent, rather than just giving campers one high point in the middle where they can stand up.
Tunnel tents are usually favoured by either lone campers or those sharing with one or two other companions, they rarely come in sizes large enough to accommodate five or six campers are a time.
These designs provide users with fantastic flexibility as they can be disassembled and moved to a different pitch in a matter of minutes due to their simple construction and lightweight design.
Those planning on camping alone or with a small group are likely to find that a tunnel tent suits their requirements for a simple lightweight tent and are likely to get a lot of usage out of the equipment they have purchased.

Whilst a tunnel tent represents a somewhat more traditional form of camping equipment, dome tents have emerged more recently and they instantly became a popular choice for both experienced and novice campers due to their lightweight design and ability to be constructed and deconstructed quickly.
Dome tents are usually designed to incorporate two flexible poles within their structure, although it's common to find designs that use an additional pole that can create a porch area at the front of the tent. As already mentioned, they are incredibly quick and easy to build, a factor that has made them so popular with casual campers, and they have the ability to fold up into a small bag which can be carried with one hand.
These factors certainly add to this kind of tent's appeal as a lightweight camping accessory. As the name suggests, a dome tent is roughly dome shaped with a high point in the middle where campers can stand up and lower points towards the sides of the structure.
This is one disadvantage of the tent, with users often finding it difficult to perform tasks like changing clothes or washing. That being said, these tents are very affordable and provide a more stable structure for users than a tunnel tent can, for these reasons they make very good lightweight tents.

These are the most recently innovated lightweight tents that are featured n this guide and their lightweight nature and clever design has already made them a favourite amongst some campers.
These tents will literally unfold and construct themselves once taken out of their packaging, this is sort of mechanism has made pop up tents extremely popular with casual campers and people attending music festivals.
If people find one disadvantage with pop up tents, it is that once they have been unpacked, they are often difficult to fold up again and put back into their bag. Although these tents are not usually used by experienced campers and they have a slight reputation for being ineffective, this isn't that case at all.
Many would be surprised to know that pop up tents are often developed with a double skin to provide extra protection from the elements, an extremely positive factor bearing in mind that the tent still manages to retain its lightweight status while providing this sort of protection.
Pop up tents are widely available in two and four man varieties and six man versions can also be found on occasion. They are a fantastic option that should certainly be considered by anyone who is looking for a quality lightweight tent.
What Tips are there for Choosing the Right Lightweight Tent?
Although finding the right tent design for the job is an important task and something that campers should spend a considerable amount of time thinking about, there are also plenty of other factors that must be considered if buyers want to ensure that they are selecting a good tent which is going to work well when used for the purposes they intended. Here are some general tips to bear in mind when looking for a lightweight tent.
It is important to think about what season the tent will be most used in. Although tents do normally come with a guide that will state what season they are intended for use in, it's often a good idea to take personal circumstances into a decision as well.
Any camper planning to camp in mountains and hilly areas for example, may require a winter tent to protect them from the elements regardless of what time of year it is. Use some common sense to make a decision on how much protection from the weather is going to be required, based on the conditions that the tent will be most used in.
How much space will be required within the tent? Whilst a two man tent might be ideal for two people who are simply camping overnight, it is unlikely that the same tent will be suitable for two people to share for a fortnight or more. Think about the amount of equipment that will be taken on the camping trip and ensure that the tent bought for the trip is going to be large enough not only to accommodate the campers, but to hold their equipment also. Sometimes it's a good idea to upgrade to a tent that is built to hold more people than will be staying in it, so there will be plenty of room to store luggage.
How much room will be required in order to pitch the tent and then keep it standing afterwards? This is something that has to be taken into account in certain camping conditions. For example, a tent that requires a lot of guy ropes to keep it stable is rather inconvenient for a music festival, where tents have to be pitched closely together, as there is a high chance that many people walking past the tent could trip over the ropes and cause damage to the tent and injury to themselves. In this case, a pop up tent is often the safest option available.
If campers are intending to use one tent to sleep a large number of people, it is worth searching for a tent that has a number of sleeping chambers. These sleeping chambers are cut off from the rest of the tent to allow everyone on the trip a certain degree of privacy when they are sleeping, changing clothes or trying to relax. They are an extremely useful feature that can avoid unnecessary arguments caused by people on the trip having to spend every moment in each other's company.
Tips for Buying a Lightweight Tent Using eBay
Luckily for internet shoppers, eBay has literally thousands of lightweight tents listed on the site at any one time. When searching for the perfect lightweight tent on eBay, campers should always remember:
eBay's handy search filters allow users to select options from a menu on the left hand side of the page to rule out any tents with undesirable features, for example, users can search specifically for 2 man tents, used tents or tents with a dome design.
Most eBay sellers are helpful enough to list an extensive product description along with the tent they are selling. Be sure to read through any product description given before purchase to ensure that any tent purchased lives up to expectations.
Conclusion
One of the most attractive qualities that many campers look for in a tent is that it is as lightweight as possible. When embarking on a camping trip, it is often the case that campers find that the supplies and equipment that they carry with them to the campsite is much heavier than they thought it would be whilst they were packing. Having to carry an extremely heavyweight tent is likely to be a burden that few people will enjoy, so a lightweight tent is a must for an enjoyable and comfortable trip.