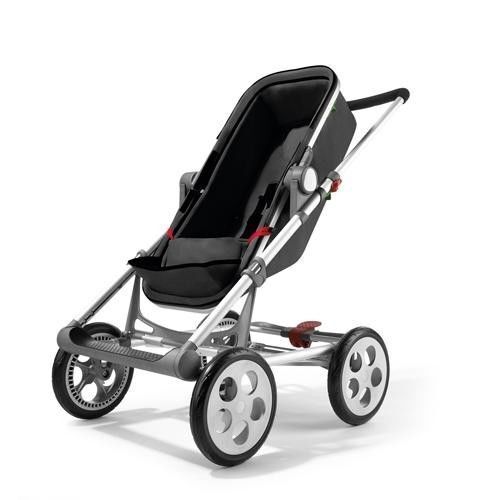 Buying a pram can be a daunting task given the number of alternatives on offer; however, when getting around with a baby, or babies, owning a pram is more of a necessity than anything else. A pram, not to be confused with a buggy or pushchair, comes with a flat base upon which a baby can sleep. When buying a pram, a parent needs to address various aspects other than its appearance. The "different strokes for different blokes" saying certainly holds true in the pram buying world, in which what may work well in a city may not have the desired functionality in the countryside.
Buying a pram is not at all difficult and a parent does not have to spend an exorbitant amount of cash. Affordable prams are available in a number of retail establishments that house baby products, and buyers also have the option to search online through sites like eBay. The lifestyle one leads needs to be taken into account when buying a pram and so should aspects like the pram's features, durability, comfort, and style.
The Role of Lifestyle When Buying a Pram
The lifestyle of the parents plays a crucial role when it comes to choosing the right pram. If a parent uses public transport or has to deal with stairs on an ongoing basis, investing in a compact and lightweight model is suggested, and the same is also the case if a parent suffers from space constraints at home. If a pram is to be transported in a vehicle from time to time, having the dimensions of the vehicle's boot ahead of time is helpful.
For people who walk a lot, opting for a sturdy design, ideally one that comes with lockable swivel wheels, is suggested. The type of terrain that is treaded upon also plays a role. While smooth wheels are best for city streets, when it comes to dealing with terrain like cobblestones, it is best to look for wheels that are sturdy and offer some level of shock absorption. If more than one person is to move the pram around, adjustable handle heights can help.
Pram Features
Pram designing has come a long way since they were first used in the 1700s. Modern prams have gained popularity because they are much lighter than their predecessors, many come with foldable and detachable designs, and they offer some level of suspension. A number of models are now available on the market, and most vary in terms of the features they offer. The features that parents should look for depend on the intended use of the pram, for example, the features mentioned below.
Suspension
Most pushchairs and prams in today's world offer some level of suspension, which helps deliver a fairly smooth ride. Some prams also offer adjustable suspension levels, which allow users to deal with different types of terrain while still offering a baby a smooth ride.
Pram Wheel Types
When it comes to wheel types, the basic options include swivel and fixed wheels. Swivel wheels offer great manoeuvrability, and prams with swivel wheels can normally be used on narrow streets and small spaces quite easily. However, parents should watch out for inferior models that tend to veer to one side from time to time. Some models also come with locks.
Fixed wheel prams are ideal when dealing with rough terrains, and also work well when dealing with snow covered roads. Fixed wheels are known to come with better suspension, they are more traditional in appearance, and are generally considered more reliable alternatives.
Parents also have the option to choose between air tyres and foam tyres, although this is more of an aesthetic choice. When it comes to functionality, air tyres are known to work well on different terrains, while foam tyres are lighter.
Brakes
Brakes for prams should be simple to use, easy to find, and reliable. Newer pram models come with centralised braking systems that can lock both front and rear wheels, simultaneously.
Storage Space
Most prams come with some amount of basic storage space, generally in the form of a shopping basket, which is normally found under the seat. These storage spaces vary in size, and parents should ideally establish just how much space they are looking for at the very onset. Another aspect to consider in this regard is accessibility, wherein the storage space should be easily accessible even when the seat is flat.
Reclining Backs
A number of prams offer users backs that can be reclined as, and when, the need arises, and are designed to cater to the comfort of babies. While not so much a requirement with newborns since their fragile backs favour flat surfaces, an adjustable back rest is definitely useful as a baby ages.
Different Types of Prams
Pram designing, as mentioned, has come a long way since prams first came into being, and parents now have various types of prams from which to choose in today's world. Given the number of alternatives on offer, looking for one based on personal requirements is suggested, and some of the more commonly available types are discussed below.
Two-in-One Prams
These prams double up as pushchairs without the need for an external unit. These prams can be used for newborn babies when fully reclined, given that they need to lie down flat, and they work well as the babies grow older, given that the pram can convert into a pushchair quite easily. Some two-in-one models can be converted to travel systems, which is done by adding a car seat onto the pram's chassis.
3-in-1 Prams
3-in-1 pram models incorporate a cot, a pushchair, as well as a car seat. These can come with forward, as well as backward-facing, pushcart functionalities, and these combination systems normally come with detachable pushchair units, which can be converted into a pram or travel system, used along with a car seat, quite easily.
Twins and Triples
Twins and triples, as the name suggests, are designed to carry two or three children, and a number of models come with the capability of converting from prams to push chairs. These are typically bigger and heavier than conventional prams; they tend to come with larger and sturdier designs; and they also incorporate features like storage space, brakes, suspension, and so on. Designs on offer also include a choice of seating arrangement. While parents can look for models that come with side-by-side seating, they can also look for models that come with tandem seating, in which one child sits behind the other.
Since twins and triples can be quite large, it is best to measure the dimensions of the doors in the home as well as the parents' vehicle's boot space, and match them to the pram's regular and folded dimensions.
Speciality Prams
Parents can come by prams designed to be used for specific reasons, and the primary driving factor behind these designs is offering babies higher levels of comfort. Although the range is diverse and can also include bespoke prams, the table below should serve as some indication.
| | |
| --- | --- |
| Purpose | Features |
| | Lightweight, foldable, sturdy, manoeuvrability |
| Outdoors | Storage space, shade hood, big lockable wheels |
| Hot weather | Ventilation, shade hood, UPF protection |
Even when looking at speciality prams, a parent does need to pay attention to what is on offer. For example, when looking for a pram with a shade hood, a parent should look at fabrics that offer some level of warmth to battle the UK's winters, while also offering a good level of breathability.
Extras
Prams come with a number of extras, and what parents should look for varies in accordance to their needs. Some of what parents can expect to find include a five-point harness, an assortment of hoods, cosytoes, which are quite like sleeping bags but work better than blankets, rain covers, mattresses, mosquito nets, baby bags, food and drink trays, and many other matching accessories.
Buying Affordable Prams on eBay
Buyers have the option of browsing through a plethora of alternatives when looking for prams on eBay, which include two-in-one prams, three-in-one prams, travel systems, twins and triples, as well as three-wheelers. The choice is also comprised of models that come with hoods, shopping baskets, adjustable backrests, adjustable handles, rain covers, lockable swivel wheels, and more. In addition, buyers have the option to look for used prams when buying through eBay, and given that prams are not usually used for very long, they manage to find a number of takers.
Buyers should take into account that eBay is home to multiple sellers, and sellers who have similar products at varied prices is not uncommon. From a buyer's perspective, this calls for a comprehensive search, as this can result in saving some money. Keeping price as a decisive factor, however, is not suggested, simply because a parent should pay due attention to aspects like quality as well. Looking for local offers can also help, as this can help bring down shipping costs.
Conclusion
Parents have to invest in various products through the course of a baby's growth, and investing in a pram in today's world, can certainly help simplify moving around with a baby. Parents should take into account that a pram can go through a fair amount of abuse on a day-to-day basis, which is why the durability factor should not be ignored. How a pram handles is also something that needs a parent's attention, simply because some cheaper models can be quite difficult to manoeuvre. It is also crucial that a pram is comfortable from the point of view of the pram's primary user, the baby.
Looking for added features is something that varies from parent to parent. For instance, if the heights of both spouses vary significantly, investing in a pram that comes with adjustable handles makes sense; if one intends to spend a lot of time outdoors, looking for one that comes with a big enough storage compartment or bag is the way to go; and if traveling in the car is a norm, looking for one that comes with a car seat is helpful.