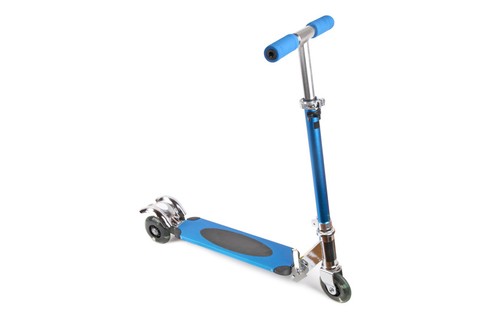 Push scooters have become much more popular for both adults and children. Buying pre-owned on eBayis the most obvious way of finding an affordable push scooter. Look out for the most up-to-date versions, if your budget permits; they are lighter and smaller than older models.
Push scooters are now so widely used that it is quite norm al to find 'scooter only' parking racks at schools. Travellers unfolding push scooters as they exit tube, metro and rail stations are a common sight. Besides being fun, push scooters make for a convenient and environmentally sustainable means of getting about.
Watch out for aluminium push scooters with small wheels and handles. Their smaller components make it easier to fold them up and stow in a backpack. These models are held to be the original push scooters (sometimes called 'kick scooters').
You will also come across stunt scooters. These have fixed handlebars, known as 'bars' which do not fold. They tend to come with exciting paint-jobs. These push scooters owe much to the culture of the skate park.
Search for the Best Value Push Scooter
If you are looking to buy a push scooter at the more affordable end of the budget scale, it's worth researching the market so that you can know what price levels to expect. A quick scan of eBay auctions that have ended recently will give you a good idea of price levels in the market. You can do this by clicking the Search button, selecting "Advanced" and then searching for the type of push scooter you are looking for, taking care to tick the "Completed Listing" box.
What Is a Push Scooter?
"A child's toy consisting of a footboard mounted on two wheels and a long steering handle, propelled by resting one foot on the footboard and pushing the other against the ground." (The Oxford English Dictionary)
Things have changed a fair bit since that definition was written.
In 1996 the head of Swiss firm Micro Mobility Systems was trying to find a way to help his sister get about; one of her legs was shorter than the other. Although she could not ride a bicycle, he thought that she could probably manage a scooter. He developed a compact but robust push scooter with inline skate wheels. Micro continues to produce push scooters to this day. Confusingly, in the UK we often call the entire push scooter product category as 'micro scooters.'
The Razor push scooter was invented by Gino Tsai, boss of Taiwanese firm J.D. Corporation, to help him move around his bicycle factory faster. It was manufactured with:
aircraft grade aluminium, designed to bear a weight of 500 kilograms
steering handle with short bars
urethane wheels with almost silent bearings
rear brake engaged by pressing down on the mudguard.
In the year after its 1999 launch, Razor sold 500,000 units. Razor is still the global brand leader.
How Much Does an Affordable Push Scooter Cost?
The scooter market is very broad; you should be able to find a good brand within your budget by searching the wide range of push scooters on eBay.
Prices for something like the JD Bug Eco start low at around £10 for a pre-owned version or look for a new one for about £30. JD Bug Eco is the aged 4-plus range from Razor. £20 should get you a better all round specification in the shape of something like the JD Bug Original. This is the most widely used scooter in the UK as it costs about £45 new.
Another way of keeping things more affordable for push scooter fans is to buy the main components separately and assembling the machine yourself.
Overview of Push Scooter Parts
A push scooter is made up of:
handlebar or 'bar' and grips
headset between the bars
steering tube or stem
quick release for the steering tube
front fork containing the compression suspension system
All of this is secured with a collar clamp, to a deck or platform to stand on and push from, wheels and a rear brake.
Folding scooters have a mechanism which allows the bars to be folded against the platform. Freestyle scooters are rigid; there is no hinge to worry about when stunt riding.
Decks or Platforms
Freestyle push scooter decks can be either one-piece or two-piece. One-piece platforms come with deck and headset welded to each other; the Madd Gear curved down-tube is welded to the deck. Two-piece models connect the head tube to the deck with bolts, like the Lucky Evo 2. Both styles are just as strong as each other. If you are buying a used scooter, you would be wise to check that the bolts are still tightly fastened.
Madd Gear decks are generally thought of as hard-wearing. The Razor Ultra Pro deck is something of a benchmark. The latest decks from District and others have all-in-one head tubes which allow you to slide in bearings and caps.
Bars
The original Razor A folding scooter and JD Bug scooters have handlebars that adjust to suit riders of different heights; if you are buying pre-owned, check that these still function properly. The Swiss-built Micro folding scooters for adults have handlebars that adjust and fold down for storage; again check with the seller that these parts are working if you are buying a more affordable pre-owned model.
Most handlebars are made from 4130 chromoloy or 6160 aluminium for strength. Handlebars for rigid freestyle push scooters are usually between 18 and 24 inches high and 14 to 24 inches across. When buying a used push scooter, bear in mind that bars can be custom-made so be sure to check with the seller if you are not sure.
You can buy grips to fit separately so do not worry if these appear tired or worn.
Forks
The fork bear the brunt, whether stunt riding or in everyday use; strength is crucial. For this reason, forks are usually made of steel. Forks for push scooters are either threaded or 'threadless'.
Threaded forks used to be the industry standard as they provided an easy way to attach bars to forks.
In recent years, the 'threadless' forks has grown in popularity. They get around the problem that threads, by their nature, weaken a fork's tube. Threadless forks also provide a better 'feel' between forks and handlebars.
Brakes
Brakes mostly come fitted to decks. As with brakes of all types, push scooter brakes wear down over time. Check the brake condition with the seller. Check it again when your push scooter is delivered.
If you are buying a pre-owned push scooter, bear in mind that you can buy a separate flex brake. This is a piece of metal which you press down on with your heel so that it rubs on the rear wheel to slow the scooter down. Flex brakes are made by Blunt, Phoenix, Razor and others. You can find them conveniently on eBay.
Wheels
Modern wheels tend to have an aluminium inner core with a hard-wearing urethane outer surface. Most scooter manufacturers produce wheels in a wide range of colours. Replacing worn wheels can make a big difference to ride quality; search for new wheels on eBay.
If you are buying a used push scooter, bear in mind that wheel bearings also wear out over time. You can replace them with skateboard bearings, which are the same size. You will usually find them on sale in packs of four.
Headsets
Headsets on freestyle scooters are the same as those on BMX bikes. Only use a threaded headset with a standard threaded fork. Threadless headsets are used with a compression system on threadless forks such as SCS (standard compression system). These look like large clamps but operate much like a bicycle stem.
Variants include the ICS (inverted compression system) and the HIC (hidden compression system or hidden internal compression). Each of these needs a specific number of bolts on the clamp – two, three or four. When buying a clamp, whether new or used, look out for the reference for the relevant type of compression. Clamps are often branded; selecting the right clamp is important to fashion-conscious riders.
Searching Out Affordability
You could start your search for a push scooter by clicking the 'Used' box, under 'Condition'. Alternatively, use the Price boxes in the left hand navigation bar to indicate your budget.
The range of push scooters on eBay makes it the perfect place to find one at a price and specification that suits you. Do your research first and learn about price levels in the market. Search for your target brand or model on eBay and you can compare items and prices in moments. There are so many push scooters on the market that it makes sense to spend a little more time doing your research. That's what this guide is designed to help you with.
Remember that one option is to custom build your push scooter, selecting each part individually. You can also build a custom scooter using pre-owned components. EBay allows you to choose from categories including bars, grips, clamps/compression, decks, headsets, forks and wheels.
Buying Push Scooters on eBay
While you shop, don't forget Tricycles & Trikes, Ride-on Cars, Garden Games & Activities, Other Outdoor Toys/ Activities and Pogo Sticks. To start shopping, go to the Sports and Leisure category. Click the Sporting Goods portal and click Scooters.
Categories
The Categories list on the left side of each page will help you narrow down your listings by item type. You'll find links for Electric Scooters, Petrol Scooters, Pocket Bikes, Push Scooters and Other Scooters. As you refine your search you'll be able to narrow down your choice by subcategory.
Product Finder
Use the Push Scooter Finder to quickly narrow down item listings by brand, model and condition (new or, in this case, used).
Keyword Search
Search eBay listing titles for specific words. For example, if you want to find a new push scooter, type the keywords "push scooter new" (without quotation marks) into the Search box. Click, "Search title and description" to expand your results. Visit eBay's Search Tips page for more tips on searching with keywords.
If you can't find exactly what you want, try browsing eBay Stores or tell the eBay Community what you're looking for by creating a post on Want It Now, or save a search on My eBay and eBay will email you when a matching item becomes available.
Buy Push Scooters with Confidence
Make sure that you know exactly what you're buying and understand how eBay and PayPal protect you.
Know Your Item
Read the details in the item listing carefully.
Remember to add delivery costs to your final price. If you're buying a high value item, check that the seller will insure it until it is delivered to you.
If you want more information, click the "Ask seller a question" button on the seller's profile or the "Ask a question" link at the bottom of the item listing page.
Always complete your transaction on eBay (with a bid, Buy it Now or Best Offer) otherwise you will not be covered by eBay Buyer Protection.
Never pay for your eBay item using an instant cash wire transfer service like Western Union or Moneygram. These are not safe ways of paying someone you do not know.
Know Your Seller
Research your seller so that you feel safe and positive about every transaction.
What is the seller's Feedback rating?
How many transactions have they completed?
How many positive responses do they have?
What do buyers say in their Feedback?
Are they positive about the seller?
Most top eBay sellers operate like retail shops and have a returns policy.
Do they offer a money-back guarantee?
What are their terms and conditions?
Buyer Protection
In the very unlikely event that you do not receive your item or it is not as described, eBay Buyer Protection covers your purchase price plus original delivery cost.
Conclusion
Push scooters have seen huge developments over the years. The choice today is wider than ever before. Price depends on the materials and brand and this tends to be dictated by the materials used in their construction and the perceived quality that the brand offers.
Affordability in the end comes down to your opinion of whether the goods are worth the money. Push scooters are robust, simple to use and fun. They are easy to store and transport (thanks to the folding handlebar assembly). This works for everybody from kids to commuters, so the consumer base is also very diverse.
eBay is the ideal place to research the market and buy a new or used push scooter. This guide will help ensure that you make good use all the tools available and get the most from using eBay.