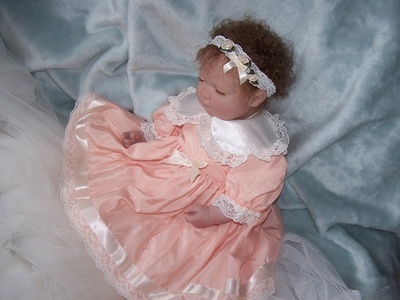 Reborn dolls are dolls manufactured with the intention of resembling human babies as realistically and in as much detail as possible. Some dolls can be of extremely high value due to materials used and the level of realism they are made with.
Reborn dolls are made for a variety of different buyers. They are popular amongst parents who may have lost a child, as well as those who cannot have one of their own. They are also widely used with Alzheimer's patients and there is a specific corner of the reborn doll market for these, known commonly as 'memory dolls'.
Whatever the reason behind the purchase, this guide will explain how to buy a reborn doll at an affordable price.
Reborn Doll Ages
Reborn dolls are available for purchase at a number of ages. To get the best deal possible for a reborn doll, one should know beforehand the age brackets available so as they know what to look for.
Whilst they can be adopted as exact representations of a certain child upon request, there are stock manufactured reborn dolls that come in the following ages:
| | |
| --- | --- |
| Reborn Doll Age | |
| Premature | There is a market in the reborn doll world for dolls made as though they were born prematurely. Smaller in stature and weight than older reborn dolls, replica premature babies are used commonly in the grieving process for parents who may have lost a child at a similar age. There are also the applicable accessories available such as incubators and other relevant medical equipment. |
| 1-2 Years | These are the more commonly purchased reborn dolls. They are mainly bought by those who wish to recreate the experience of having a baby of their own of a similar age without the hassle that comes with it. The majority of buyers are those who wish to have a child that doesn't need feeding and teething and one who doesn't disturb sleeping patterns. Reborn dolls created to resemble babies of this age all come with extremely accurate detailing, such as hair, eyelashes and even skin blemishes. |
| Toddler | There are also reborn dolls available to buy affordably from eBay that resemble children of a toddler age. They are bigger in size than most reborn dolls and they are made to match up to the weight of human children of the same size. Clothes and accessories can all be purchased for reborn dolls of this age. |
Reborn and Newborn Dolls
There are two types of doll available to buy, both of which are equally as reasonable in price. This section of the guide will explain both of the types that can be purchased:
Reborn Dolls
These are the dolls that come ready made and fully intact. They require no assembly from the buyer. However, the adopter of a reborn doll can personalise their doll through the buying of clothes and accessories made especially for the specifications and limited movements of a reborn doll. The dolls of this category come in a wide selection, with differing hair colours and skin tones. A ready made reborn doll that suits every circumstance and requirement can be acquired from auction sites such as eBay.
Newborn Dolls
Newborn dolls are essentially unassembled reborn dolls. Those who wish to take part in the assembly process of their reborn doll purchase them. This process allows for a more specific personalisation, tailored to suit the adopter's exact requirements. Individual and spare parts can be purchased through sites such as eBay.
Newborn dolls can be personalised via hair colour, skin tone, eye colour and even skin blemishes. These modifications are all made during the doll assembly process. Paints, varnishes and glues are all also available separately yet may come as part of an inclusive reborn doll assembly kit.
Other Reborn Doll Considerations
There are plenty of other considerations one should take into account before purchasing a reborn doll. It is not just the aesthetic nature of a doll that should be the total basis of a decision. Here are some more considerations that a buyer should take in before settling for a doll:
Softness: There are some reborn dolls made available to purchase that are softer than others. Areas such as the torso are made from polyfil so as to make them more realistic and truer to the torso of a human baby. These may be made for human children who wish to cuddle their reborn doll as opposed to treating it as an ornament or as part of a collection. 'Soft' reborn dolls are available from the likes of eBay at just as affordable prices as those that are have harder exteriors.
Weight: Some reborn dolls are heavier than others, also. Due to this fact, be wary of the doll's weight before purchasing it. A selection of reborn dolls are filled with craft pellets or glass beads to give them a more realistic weight, whereas others are made to be much lighter.
Reborn Doll Enhancements
Reborn dolls are available to purchase with a number of special enhancements that serve to make the doll even more lifelike. Here are some of the more common reborn doll enrichments obtainable to the doll buyer:
Veins: Either during the assembly process of a newborn doll or as part of a reborn doll, veins can be painted on various parts of the body as to make the doll appear more convincing.
Hair: Whilst most reborn dolls come with hair, there are wigs and hair attachments available of a higher, more realistic quality. These wigs come in a variety of different colours and styles.
Manicured Nails: Both the finger nails and toe nails of a reborn doll can be painted with a certain type of polish to as to ensure that the nails of a doll look as realistic as those of a human baby.
Glass Blown Eyes: Some reborn dolls feature eyes that are not true to the look of human baby eyes. There are dolls available that feature glass blown eyes so as to achieve a level of realism that does not necessarily feature all reborn dolls available.
Heartbeat: An electric pulse can be installed within a reborn doll so as to create the effect of a heartbeat.
Magnetic Scalp: Whereas a number of reborn dolls have vinyl scalps, others can be modified. Magnetic scalps are available to buyers who wish to place accessories in the hair of a reborn doll without it appearing unrealistic.
Buying Reborn Dolls Online
Reborn dolls have only recently become a phenomenon. This means that there has also been a recent growth in the online resources available to find out more about the world of reborn dolls.
There are online retailers who provide recommended retail prices for specific kinds of dolls. There are also dedicated reborn doll forums that discuss everything there is to know about reborn dolls. These sights are used by marketplace authorities who may give away advice on preferred brands, types of doll and doll accessories.
It may be a good idea to thoroughly browse these specialist sites in order to gain a full understanding of the views and recommendations for reborn dolls from the perspective of long time collectors.
Look out for frequently asked question (FAQ) pages or 'Beginner' forum threads, especially if one is a first time buyer as these may hold some extra trade secrets that may make the search for an affordable reborn doll even easier.
Buying Used Reborn Dolls
The purchase of a reborn doll may be a lot more affordable if the buyer is prepared to buy a used reborn doll. However, when buying second hand, there is one thing that the buyer should take into consideration and that is the reborn doll's condition. Here are some things to look out for when buying a used reborn doll:
Scratches: Whether it's on an eyeball or on the vinyl, scratches on a reborn doll can devalue a reborn doll enormously. Make sure that the price being paid for a scratched reborn doll is faithful to its realistic value.
Missing parts: Some reborn dolls may be being sold as limbs or parts are missing. There are replacement parts available to buy separately but it is wise to make sure they are specific to the reborn doll in question before settling for a purchase.
Buying a Reborn Doll on eBay
Regardless of whether a reborn doll is being purchased as new, as a newborn kit or second hand, eBay offers facilities that can be of an enormous help in the search procedure.
Use the filter tabs at the side of the page to ensure that the only search results visible are relevant to your search. Also, make use of the keyword search bar to make individual searches in specific categories applicable to the search.
When buying from eBay, use a checklist such as this to ensure that the transaction goes well:
Has the seller in question sold reborn dolls before?
Does the seller seem to be knowledgeable about reborn dolls?
Is the seller specific in his description of the product?
Does the product description match up to the images provided?
Can the seller be contacted directly if there any further questions?
Also, be aware of the postage and packaging options given. Due to the delicate nature of reborn dolls, this is of extreme importance. Read eBay and PayPal's Terms and Conditions before committing to a final bid price.
Conclusion
There are a lot of choices and options that need to be recognised before buying a reborn doll. To ensure that a reborn doll is being purchased sensibly, take all the considerations given in this guide and use them to provide yourself with an advantage in the marketplace.
Being knowledgeable on reborn dolls can only enhance a buyer's chance of purchasing one at an affordable price.