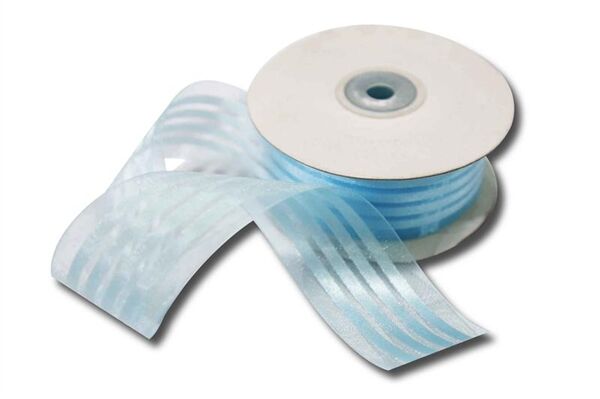 Ribbons are one of the everyday items that people take for granted all the time. They are used for scrapbooking, wrapping gifts, putting together packages, tying bags together, making bows, and decorating. There are hundreds of varieties of ribbons that can be used for any occasion. They come in many colours, patterns, as well as styles. It is even possible get custom made ribbons with specific phrases or pictures on them. Outside of the regular uses, ribbons are great accent pieces for home decoration as well as accents on clothing.
There are no wrong decisions when shopping for ribbons. Buyers can pick out any style or size of ribbon that they want to, and since there is nearly an unlimited selection, it is easy to find the perfect ribbon for any project.
History of Ribbon
Ribbons are one of the oldest forms of decoration. The use of them began in England during the Middle Ages and spread to the rest of Europe. Merchants would travel back and forth from England to the Middle East selling beautiful ribbons made from silk and other lavish materials. These ribbons were even mentioned in the famous book, Canterbury Tales.
The ribbons were a sign of nobility and they were a luxury that only the rich could afford. However, by the 1800s, ribbons became a popular fashion item for everyone around the world. During this time, the popularity of ribbon soared as women over-decorated their clothing, hats, and household items. Ribbons were even given as gifts and greatly appreciated.
In order to keep up with the sudden demand, manufacturers had to increase their production rate, which they did had little trouble doing as industry boomed. From ribbons, manufacturers branched out and began producing cords, bookmarks, and fringes as well.
Today, ribbons are seen as more a decorative utilitarian item. They are no longer an item of high fashion, but are still used to decorate clothing and hats.
Ribbon Categories
Ribbons come in one of two categories: woven and non-woven. The woven ribbons are narrow with finished edges and non-woven ribbons are made with fibres that are bonded by adhesive. These are also commonly made with plastics materials. The woven ribbons are flexible as well as durable, making them ideal for decorating clothing, homes, and craft projects. Non-woven ribbons are great for temporary decoration because they are inexpensive and can be curled as well as shredded for a unique look.
Types of Ribbons
Ribbons are classified by the materials they are made out of. They have different textures, durability, and weights. For example, the ones made with plastic materials are very lightweight and can break easily. Therefore, they are best used to tie small things together or to decorate a package or gift.
Acetate Ribbon
Acetate ribbon is satin and is made from the fibres extracted from wood pulp. It has a shiny finish on one side, and is softer and less reflective on the other side. The ribbon is mostly water resistant and fairly durable. Acetate ribbons are particularly good for tying bows with because they will not come undone. However, once tied, they will be creased. For this reason they are considered to be disposable because they are really only good for one use. However, If covered with a cloth, they can be ironed. Most people just choose to throw the ribbon away after it is creased because they are inexpensive to replace.
Chiffon Ribbon
Chiffon ribbon, also called organza, is very lightweight and is made out of transparent nylon. Usually it comes in solid colours but occasionally it will have a simple pattern on it. Chiffon is wider than other ribbons at around 10 centimetres. Because of its delicate, fancier appearance, it is usually used to decorate for high class occasions such as weddings.
Cotton Ribbon
Cotton ribbon went out of fashion years ago, but is making its way back. It is a little more expensive than other ribbons but is also very durable as well as reusable. It can come in any colour and with any pattern. Since costs more, cotton ribbons are used for hair accessories as well as for decorating clothes and houses.
Curling Ribbon
Curling ribbons are made from plastic materials and are designed to curl when scraped against a sharp edge, such as scissors. The ribbon is narrow, lightweight, and disposable. One side of it is crimped and the other is smooth. It is the crimped side that causes it to curl when scraped.
Double Ruffle Ribbon
Double ruffle ribbon is one of the more expensive ribbons, but it makes up for the price with its gorgeous appearance. These satin ribbons have a regular, flat centre, with ruffles on both sides of it. Because of the ruffles it is popular for making bows that go in the hair or on clothing.
Grosgrain Ribbon
Grosgrain ribbon is heavyweight because it is tightly woven into ridges. It is very durable and will last a long time. The cost of grosgrain is average, and it is a highly popular decoration item for casual occasions such as birthday parties. Grosgrain is also often used for hair bows. Because it is a durable, wider ribbon, it is one of the most commonly printed on with patterns or custom phrases.
Jacquard Ribbon
Jacquard ribbons are embroidered with patterns. Because of the intricate work involved with creating them, they are among the most expensive ribbons to purchase. These often sewn onto clothing or furniture and are not used for decorating things like packages like the other ribbons are. Jacquard ribbons are also one sided, so they do not make good looking bows.
Polyester Ribbon
Polyester satin is one of the most popular ribbons available because it is durable, doesn't wrinkle as easily, can be printed on, is double sided, and is very affordable. The ribbon is very finely knit with a silky sheen appearance. They are very soft and used for any kind of decoration. However, since they do not hold their shape, these ribbons do not make great look bows.
Raffia Ribbon
There is a lot of debate as to whether or not raffia can be classified as a ribbon or not. It is more like a chord made from natural fibres from a Madagascan tree. It is pliable, but does break easily because it has a composition similar to paper. Raffia is affordable and is used to spruce up cards and packages in a unique way.
Taffeta Ribbon
Taffeta ribbon is considered to be a high class ribbon that is starting to appear more and more on clothing. Like grosgrain, it has a woven texture, but the weave is more more delicate and less pronounced. It is one of the more expensive ribbons and so it is not idea for disposable applications.
Save Money and Find Affordable Ribbon on eBay
Ribbon is one of those products with an unlimited amount of variety. There are all manners of colours, patterns, and prints to select from. Even a local shop dedicated solely to selling ribbon could not possibly stock every kind. There are also nearly as many price ranges as there are styles. The best way to see as many ribbons as possible in one place is to shop online at eBay. eBay is able to have so much variety because there are so many different sellers, each with their own selection of ribbons.
Start by using the eBay search bar tool to begin shopping. Type in something general, such as "ribbons", or enter something more specific such as "chiffon ribbon". As you will see, there are more ribbons for sale than any one person could possible ever look through. Because of this, you will need to narrow down the list. One way to do this is to be as specific as possible. For example, try "blue chiffon ribbon" instead of just "chiffon ribbon". You can also enter in your price range, and sort the products by their price. Sorting through this many items can get confusing. To help with this, add the ones you like to your Watch List as you go along. Once you have enough items that you're interested in, go to your My eBay page to look at the ones you saved and compare them.
Conclusion
Ribbons add character and life to the things they are decorating. A small splash of colour and texture can make a big difference. Anyone with a creative eye can put them to good use on packages, cards, decor, and clothing. There are numerous styles of ribbons with different materials, sizes, colours, patterns, and customisations. Shoppers can enjoy a very large selection to choose from, making it easy to find the perfect ribbon to match up with any project.
Shopping online allows buyers to compare many choices of affordable ribbon, while also saving time by not having to drive around town. Local shops cannot even carry a fraction of the available ribbon selection, and the shops that do sell ribbons have little to no competition, so they can sell them at a higher price. By shopping online, buyers can view more design options as well as bargain shop to find the best deals.