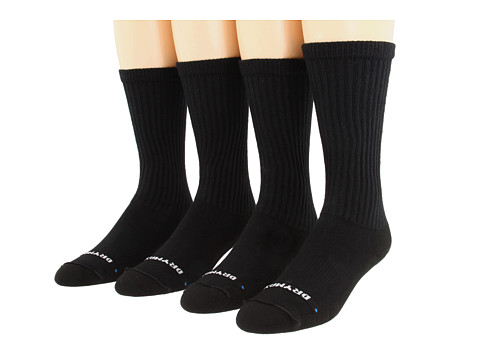 Wearing the wrong pair of socks with a suit or slacks looks unprofessional. With jeans or shorts, there is more leeway, but it is still important to ensure that the socks are a matching pair and free of holes and stains. This can become an issue as socks have a habit of disappearing in the wash. There are many times when the only mated socks in the drawer are full of holes. When socks are worn out or are no longer a matched set, it is time to toss the remaining sock into the rubbish bin and purchase a new set. Socks not only tie together the shoes with the pants to unify a look, but they also provide comfort and keep the shoe from chafing. Formal socks serve a different purpose than athletic socks, so it is important for men to decide what style of sock they are needing to replace before beginning their search. As socks need to be replaced frequently, many men are interested in looking for socks at affordable prices. Buying socks in bulk or through auction sites like eBay help cut costs.
History of the Sock
Crude forms of the sock can be traced back to the Stone Age where men would wrap animal skins around their feet as protection. Both the ancient Greeks and the ancient Romans wore a type of sock, but it was the Egyptians in the 3rd century C.E. who were the first to create a knitted sock. In 1000 C.E. garters were introduced to hold socks in place. In the 15th century, socks were first worn as fashion statements rather than protection. The invention of the knitting machine in the 16th century sped up the production of socks and in the 19th century, circular knitting needles were invented. Nylon became a popular fabric choice for socks in the 20th century because of its elasticity and strength. Argyle socks were a trend of the 1920s and while they have primarily fallen out of fashion for men, they did introduce a trend of socks with interesting colours and patterns. With many styles of sock available for purchase, it is up to men to decide which ones best suit their needs and sense of style.
Types of Sock
There are many styles of men's socks available to purchase. Whether men are replacing missing or worn out socks or buying a new style to add to their collection, they should be familiar with the styles available and their purposes. The main types of socks available for purchase are formal socks, athletic socks, and toe socks. Within these styles are different lengths of sock. Decide what types of socks are desired, then investigate different brands to find high quality socks at affordable prices.
Formal Socks
Formal socks come at least to the mid-calf, sometimes as high as the knee, and are made out of a thin material. The length is important, as when seated, the hemline will rise and a longer sock will keep bare skin from showing. Look for a formal sock in the same colour as the trousers rather than the shoe. This will elongate the leg. These should be high quality, as a low quality sock may ruin the image of professionalism. Never wear an athletic sock with a formal shoe, as they are made of thicker material and will bunch around the top of the shoe. Most formal socks are made with a stockinette stitch, which provides a smooth and uniform finish.
Athletic Socks
Athletic socks are a thicker sock designed to absorb sweat during exercise. These styles of socks should be the go to for men when they are not dressed in a suit or slacks. When wearing socks with jeans, it is advisable to look for socks in a darker colour. Most athletic stocks have a stockinette stitch above the ankle, which gives them a ribbed appearance and helps provide more elasticity.
Toe Socks
Toe socks are designed to be worn with toe shoes, though some men will wear them with flip flops. These socks have individual toes on them to allow a free-range of movement for the foot. As toe shoes are generally used for athletic purposes, some men may classify toe socks as a subcategory of athletic socks.
Length of Sock
As mentioned when purchasing formal socks, the length of sock is important. For formal socks, the shortest length purchased should be a crew cut, but knee socks are also common. Crew cut socks extend to the calf and help keep the ankle worn and protect against chafing when wearing a high-top sneaker or boots. Knee socks are mainly worn by men as formal socks. Ankle socks serve well as athletic socks or when worn with shorts as they do not peek out above the shoe.
Materials Commonly Used in Socks
Historically, socks were made from wool. Now, wool socks are considered a luxury item and usually are not competitively priced. However, for hikers, wool socks may be a worthwhile investment, as they are unparalleled in moisture absorption as well as keeping feet cool in warm weather and warm in cold weather. Cashmere and silk are two other quality materials used in socks. These frequently are found in formal socks. The most common materials for socks, though, are cotton, nylon, and acrylic. These provide elasticity and comfort while remaining affordable.
How to Wear Socks
Socks should match the colour of the trousers rather than the shoe, especially in the case of slacks and suits. When wearing jeans, a dark coloured sock should be chosen. The exception to this rule is when wearing shorts. Look for a pair of socks that is low enough to not peek over the shoe, or that matches the shoe. Choose the appropriate length of sock for the occasion, remembering that longer socks will look better for formal occasions.
Buying the Right Sock Size
Socks are typically sold in a range of sizes. While this works well for people who fall directly into the middle of the size range, men whose feet lie at either end of the range may find that their socks are either too large or too small. Men should learn which brands of socks fit their feet best and continue to buy socks in those brands as different brands may be sized to different ranges. A sample sizing chart is below.
| | | | | |
| --- | --- | --- | --- | --- |
| Sock Size | | | | |
| Shoe Size | 6-7 | 7.5-9 | 9.5-10.5 | 11-12 |
Another option is to look for higher quality socks that are sized to fit a smaller range of feet or a specific size. While this may be a more costly route, it will place less wear on the sock and they will last longer, thereby becoming more cost-effective down the line.
Where to Buy Affordable Socks
Affordable socks can be purchased from most shopping centres. Another option would be to shop for socks at shoe retailers as most of these specialty shops will also carry a selection of socks. If looking for a more unique sock, men may wish to look at online retailers, as they are more likely to carry creative socks than local shops. However, if looking for a wide variety of socks at competitive prices, men may wish to consider taking their search to eBay.
How to Buy Affordable Socks on eBay
Begin your search for affordable socks on eBay by typing 'men's socks' into the search bar on the home page. This will present you with a large selection of men's socks. From here, you can either modify the search phrase to something more specific such as 'men's formal socks' or you can use the categories options to narrow down your search. Searching for formal, athletic, or toe socks will help narrow down the options with less hassle, however being overly specific may limit the number of items that are returned. You can modify the search query or start a new search from any page, not simply the home page.
Before you place a bid, be sure to check out the seller's return policy. If the socks that arrive do not fit comfortably or the colour is not the appropriate shade for the pants, it is important to know how to go about returning the items. Another important consideration to make is where the item is shipping from, as items that are shipped locally will arrive more quickly. The last thing you should check is the seller's feedback score.
Conclusion
As soon as socks become visibly stained or form holes, toss them in the rubbish bin along with their mate. This will help solve the dilemma of missing socks as there will always be two socks kept together. As socks are thrown away, be sure to replace them with new pairs. Purchasing a new pair or new package of socks as old ones are tossed away will keep sock expenditures at manageable prices, as replacing an entire selection of socks at one time can become expensive. It will also allow time to search for deals or to wait on shipping times if purchasing through eBay which might not be an available luxury for men if they waited until they had worn through their last pair of socks.
Dress socks, athletic socks, and toe socks all serve very different purposes and should not be used interchangeably. Purchase dress socks in a variety of neutral colours so as to be sure to always have a pair on hand that match slacks and remember that higher quality socks typically last longer and therefore are affordable long-term.