Let's be honest, when it comes to that time of re-decorating, it's always dreaded !! So time consuming, all the mess, the days of takeaways because you're far too tired after all that graft to cook anything...

Here is a quick, handy guide to introduce you to potentially new, exciting, and much less hassle ideas that still look great!!




Mirrors...
Mirrors come in different shapes, sizes, and colours (frames) !
The best thing about mirrors, they go with everything, possess the potential to lighten up a room if positioned in a flattering place, and they always look great!
A home can never have too many mirrors, and since nowadays, mirrors come in things such as 3D butterflies, hearts, squares, circles, and pretty much any shape, they can break down plainness and make any wall look fantastic!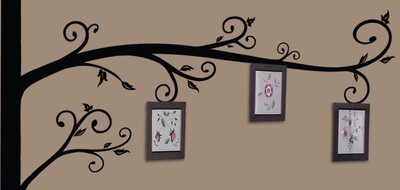 Wall stickers...
Wall stickers are becoming increasingly popular, why? Because they are unique, modern, stylish, leave no mess, can easily be removed without having to re-decorate and can be personalised 100% from patterns, to wordings, to colours! - And of course they look fabulous!!!
They're widely available online now, and just like the mirrors, can break down the plainness of any wall.
Why pay money to have a feature wall? Why not paint a wall plain, and decorate with your own personalised quotation sticker, any size you like, any colours you like.
The possibilities are endless when it comes to wall stickers!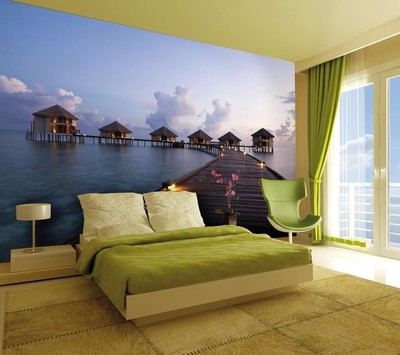 Murals...
Murals, murals, murals, where do I start with murals!?
Murals are pretty much like one big huge wallpaper photograph, that cover the whole area of a wall - Kind of like a feature wall would, just a million times better!
the best thing about murals? You could choose any photograph you want! If you want your favourite photo of your cat, dog, car, children on a wall in a room of your house, well you can !!!
If personal photographs is not what you fancy, there are thousands of designs available on EBay, all at reasonable prices and customisable sizes to suit any wall!!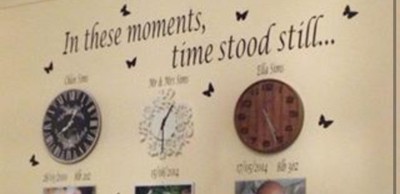 A combination...
If none of the above ideas tickle your pickle, how about a bit of everything!?
As you can see from the photograph to the left, such a clever idea, particularly if you are married, have children, or have lost special people in your life and want to keep them alive in your home...
Simply personalise a wall sticker, buy some clocks, and set them to the time you were married, or the time of your children's births, or even the time of somebody's death, with date wall stickers underneath, and then photographs of those special people or moments in your life.
Again, this is 100% customisable, and your guests will adore it!!!



I recieved the product as part of a promotion from the brand