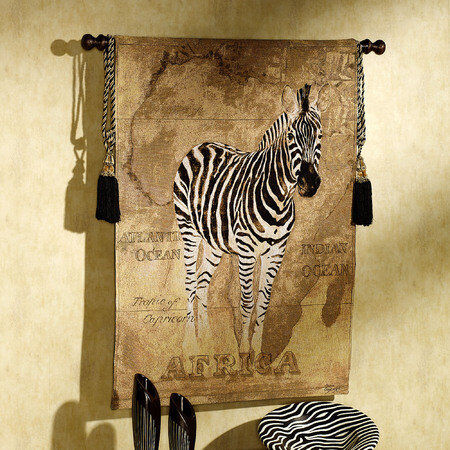 Geometric shapes and forms depicted in highly abstract style and designs characterise African art in textiles. The tables included provide names that may be linked to authentic artefacts or pay homage to originals, reproduced with attention to colour detail specific to regions. Knowing the origins of a design will help any research to discover its significance. The term 'African Art' traditionally referred to the work produced by 'Black Africa', though times are changing to include the artwork of non-black inhabitants in the north of the continent, Egyptian artefacts, and those from people living in the Horn of Africa.
Distinctive, Individual, Unique
Handwoven Akan cloths originate in Ghana, though there are many superb copies that capture the stories and symbolism which permeate every African artefact. Myths, legends and the movement of the sun from east to west represented by zig-zags are all available in fantastical fabric wall hangings. Many pieces are produced as handmade items and are unique with batik work from Mozambique, potato printed Kuba cloths, crochet work and beading that will differ from item to item. Woven articles and printed cloths from Africa have a distinctive image despite the volume and diversity of products coming from such a large continent. A heavy-duty cotton Boglan wall hanging will be as iconically African as a Kenyan Zebra or traditional village scenes. One way of hanging African fabric wall hangings is to drape them from a mounted curtain pole with ethnic finials or spear-shaped ends. Monochrome black and white carvings or simply with attractive tool marks in raw wood bring primitive chic into any home. Sculptures by Akan and Ewe(Ghana) artists are often black and white alleviated by red highlights or natural wood colouring. Most tribal masks from Ghana are made from Sese wood [Sasswood/Tali] and are made following traditional designs often used for ceremonial or symbolic purposes and to bring spiritual balance to their hanging place. The Spirit world, protection, intelligence and invocations for happiness, good fortune, courage, beauty and longevity among many others are represented in many forms of African art ideal for wall hangings as sculptures or fabric drapes. Names associated with various depictions include: Dagomba, Baule, Bundu, Bakota, Gye Nyame, Festac Adwen, and Bedu.
Tribes and Peoples of Africa by Geographical Regions
General Region (as identified by art collectors)

Countries/Areas

Tribes with notable sculpture contributions to African Art

Western Sudan

Burkina Faso (Upper Volta)

Bobo, Bwa, Ko, Kurumba,Lobi, Nuna, Mossi, San, Toussian

Mali

Bamana, Bozo, Dogon, Jenne, Marka, Segu, Songhai, Style

Niger Delta

Bura, Katsina, Nok, Sokoto

Western Coastal Region: Bissagos Island Guinea Liberia Sierra Leone

Bidjugo

Baga,Landuman, Nalu

Bassa, Dan,Grebo,Loma, Sapi Toma, We

Kissi, Limba, Mende,Nomoli, Sapi, Sherbro, Temne

Western Central Africa

Angola and Zaire

Chokwe, Katanga, Lwena, Ovimbundu, Songo

Binji, Biombo, Dengese, Eastern Pende, Hemba, Ikula, Kanyok, Kete, Kuba, Kusu, Kwese, Lele, Lega, Luba, Lwalwa, Mangbetu, Mbala, Mbagani (Chokwe influence), Mbole, Nsaponsapo, Pende, Pere, Salampasu, Siki, Songye, Suku, Tsotso, Tswa, Vili, Woyo, Yaka, Yombe, Zela

Cameroon: Central Grassfields Grassfields Southern Grassfields Highlands Northern Cameroon Southern Forest

Bamun, Wum

Bafo, Tigono, Tikar

Babanki, Baham, Bamileke

Kom

Mambila

Duala

Central Africa: Northern Zaire Republic of Congo Ubangi River Areas

Zande

Bwende, Kongo, Kugni, Yombe

Boa, Boyo, Holoholo, Ngbaka, Ngombe, Tabwa, Tetela, Zula

Gabon

Bieri, Betsi, Fang, Kota, Kwele, Mahongwe, Mbete, Mvai, Ogowe River Groups, Puna, Sango, Tsogo, Vuvi,

Republic of Congo

Bangi, Bembe, Hungana, Kuya, Teke, Tsaye

Ivory Coast

Along the Cross River

Anyang, Ejagham, Widekum

Benue River Area

Chamba, Jukun,Mumuye, Nupe

Chad

Bagirmi

Ghana

Ahanta, Akyem, Akuapem, Akwamu, Ashanti,Bono, Fante, Kwahu, Nzema,

Nigeria

Abua, Afo, Eket, Esie, Ibibio, Idoma, Igala, Igbo, Ijaw, Ijo, Isoko, Ogoni, Oron, Owo, Tiv, Urhobo, Yoruba

Northern Nigeria

Boki

On the Ivory Coast

Anyi, Attye, Baule, Bete, Dabakala, Dagarti, Grebo, Guro, Kulango, Ligbe, Nafana, Senufo, We

Republic of Benin

Edo, Fon, Royal Benin.

Eastern Africa

Ethiopia

Addis, Ababa, Gurage

Kenya

Ambeere, Aembu, Ameru, Giriama, Kamba, Kikuyu, Kisii, Luhya, Luo, Maasai, Mijikenda, Samburu, Luo, Turkana,

Mozambique

Bisa, Chemba, Makonde, Maravi, Noyonanyonga

Somalia

Merca

South Africa

Mahafaly, Malagasy, Ndebele, Nguni, Tembu, Sakalava, Zulu

Sudan

Bija, Bongo, Konso, Kushite, Omdurman, Shilluk

Tanzania

Jiji, Maasai, Makonde, Mbulu Nyamwezi

Zambia

Rotse, Lozi

Zimbabwe

Shona
West African Wood Varieties
| Wood | Alternative names | Appearance |
| --- | --- | --- |
| Acajou | Acajou Blanc, African Mohogany, Akuk, Deke, Eki kire, Heavy African Mahogany, Kaju, Krala, Ndolla Ngollon, Munyama, Ogwango, Zamanguila | Brown/dark red, occasional flecks, ripples Used for furniture |
| Ayous | Abachi, Arere, Bado, Obeche, Samba, Wawa, Xwetin | Pale yellow, irregular grain, ribbon bands Used for moulding, veneer, boxes/crates |
| Azobe | Akoga, Bongossi, Bonkole, Ekki, Eba, Hendui, Kaku, | Brown/dark red/purple; heavy wood Used for sleepers, carpentry, flooring |
| Bilinga | Akondo, Aloma, Badi, Bundui, Kilingui, Kilu, Kusia, Linzi, Mokesse, Ongolo, Opepe, | Golden/yellow/orange; heavy wood Used for bridges, posts, stakes |
| Bubinga | Akume, Ebana, Essinga, Kevasingo, Oveng, Waka | Dark brown/red/purple; heavy wood Used for top quality furniture and cabinets, musical instruments, luxury car interiors |
| Doussie | Afzelia, Apa igbo, Azodau, Bolengu, Chanfuta, Kpakpatin, Kpendei, Lingue, Mbanga, Mbembakofi, Mussacossa, Nkokongo, Papao, Pau conta, Uvala | Golden-light red/brown; heavy wood Used for top quality furniture and cabinets, flooring, stairs |
| Frake | Afara, Akom, Azinii, Kojagei, Korina Limba, Limbo, Noyer du Mayombe, Nganga, Ofram | Pale, light yellow; light wood Used for pallets, crates, veneer interior |
| Iroko | Abang, Kambala, Lusanga, Mandji, Molondou, Moreira, Moukongo, Mufula, Rokko, Semli, Simme, Sodoum, Tule | Warm golden, sometimes white flecked; heavy wood Used for top quality furniture and cabinets, veneer, flooring |
| Moabi | Adjap, Adza, African pearwood, Ayap, Dimpampi, Mfoa, Muamba jaune | Dark and fine veins on pink/brown-red/brown; heavy wood Used for top quality furniture and cabinets, flooring, stairs |
| Okan | Adadua, Adoum, African greenwood, Benya, Bokoka, Buemon,Denya, Edoum, Nduma, Oduma | Medium textured red/brown; heavy wood Used for bridges, sleepers, posts |
| Pachiloba | Afzelia, Apa igbo, Azodau, Bolengu, Chanfuta, Kpakpatin, Kpendei, Lingue, Mbanga, Mbembakofi, Mussacossa, Nkokongo, Papao, Pau conta, Uvala | Type of White Doussie, golden light, red/brown; heavy wood Used for ship building, top quality cabinets, outside stairs |
| Padouk | African padauk, Barwood, Camwood, Corail, Kisese, Mbel, Mongola, Mukula, Ngula, Osun, Padoek ,Palo rojo, Tacula | Brown/purple; heavy wood Used for top quality furniture and cabinets, veneer, inside stairs |
| Sapelli | Aboudikro, Assie, Lifaki, Mboyo, Muyovu, Penkwa, Sapele, sapelewood, Sapelli-Mohogany, Undianonu | Pink/brown – copper/brown, (cedar-like scent); light wood Used for top quality furniture and cabinets, veneers, joinery |
| Sipo | Ababay, Asseng-assie, Assi, Kalungi, Liboyo, Sipo-Mohogany, Utile | Moire-effect shading giving a purple effect on pink/red brown; light wood Used for top quality furniture and cabinets, moulding, glued laminate |
| Tali | Alui, Elone, Erun, Gogbei, Kassa, Makone, Missanda, Muave, Mwavi, Potrodom, Sasswood, | Orange/yellow/brown – red/brow; heavy wood (can be substituted for Azobe) Used for bridges, stakes, sleepers |
| Wenge | Awoum, Jambire, Mpande, Panga-panga, Wengue | Dark/light stripes brown and black; very hard wood Used for sculptures, cabinet work, top end furniture |
| Zingana | Allen ele, Zebrano, Zebrawood | Yellow-light brown, heavily veined with dark brown; heavy wood Used for cabinet work, modern furniture, veneers |
Dramatic Statement Pieces
Animal masks are also popular with Kenyan giraffe or zebra masks providing stunning colour for a wall or a Ghanaian large round bird mask representing some of the spectacular wildlife of Africa. Hung in pairs or groups, they make a dramatic statement in any room and as timeless pieces, will not date any decor. They can sit as individual pieces or be part of a themed collection, complemented by throws, cushions and lampshades. The best background for hanging African wall art is something neutral. Plain painted walls or a subtle textured wall covering such as hessian or a paper with a linen weave look, or a satin finish allow the detail of the wall hanging to be seen at its best advantage.
Take Care of Untreated Fabrics
Genuine or reproduction African wall hangings look spectacular and only an expert would be able to tell the difference between the two. Cotton fabric hangings will look best if they are starched and ironed for them to have a crisp look. If a fabric hanging needs laundered, be aware that many natural dyes bleed and some cottons shrink at hot temperatures, so handle with care and test areas before washing. Remove small stains or marks with a tightly wrung damp cloth wiped over the surface to lift dust or insect debris.
Conclusion
Africa is a huge continent with a prolific output of various amazing sculptures and cloths which are ideal as wall hangings. Such is the diversity an eclectic mix is easily collected and pieces from different regions will not jar against one another. If the object desired needs to match with an existing piece, the tables show regions where tribal art is produced and also different names of wood from Western Africa if authenticity needs to be checked. Having so many different names for things can be confusing. Knowing the alternatives avoids being misled by any blurb about a product.