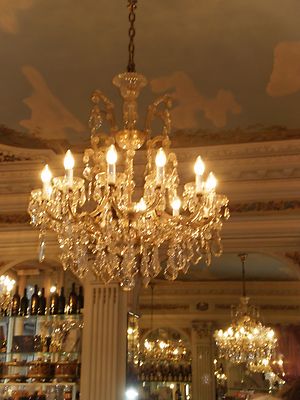 After the brocante....
Opened in the early 1900s Patisserie Mathilde is a wonderful decadent delight!! It has hardly changed since the day it opened in Bayeux. Twinkling chandeliers, white gilded marble pillars and beautiful painted frescos. The pictures of this sugar-filled paradise speak for themselves.



My cup of steaming hot, velvet smooth 'chocolat chaud' is usually accompanied by a "chalet" gateau. But it is always a tough choice !
Truffling for treasures is wonderful and I often cannot believe what I have found. But sometimes, after rising at 4am and truffling all morning, my brocante haul may be a little disappointing, so there is nothing better than a 'chocolat' confection to cheer you up. Well that is my excuse anyway! The hot chocolat is so thick you could almost eat it with a spoon - and if you are having so much chocolat intake in a liquid form I always think it will do no further harm to top if off with more chocolat! Well it would be rude not to, wouldn`t it?

I like to sit at the old cast iron table in the window so that I can watch the faces of people outside as they peer through the windows into the decadence inside.

I often wonder who sat in that very same seat when the patisserie first opened its doors over 110 years ago. Was it some waspie waisted mademoiselle wearing a huge bonnet with plumes ? Did she take hot chocolat and a gateau too? Did she have to unlace her corset after such a feast? Did she take home one of those ribbon-tied boxes in her carriage?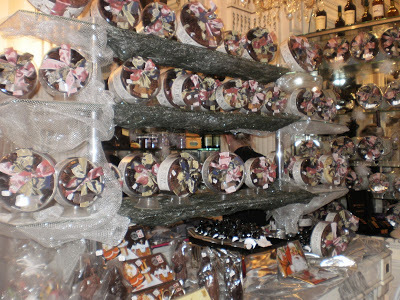 Sometimes I cannot resist taking home a little treat too. Purely for research you understand!
Macaroons,nougats,viennoiseries and marzipan fruits all tied with ribbons and looking almost too good to disturb in their perfect packaging.

May all your brocanting days be filled with delicieux treasures and also treasures of the edible kind!!

A la prochaine mes belles