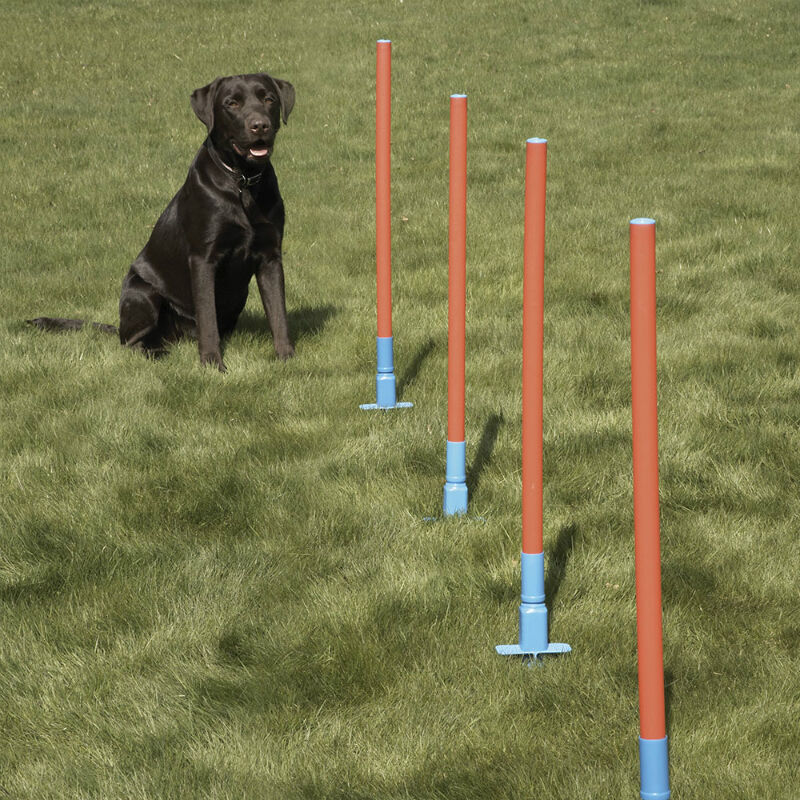 Buying Agility Equipment for dogs can be a tough purchasing choice, especially for a first time buyer. This guide will fully outline how to buy agility equipment for dogs that can be used at home, out and about, or in practice for major competitions. Some dog owners will visit a weekly agility class to keep their dog focused and in top shape while creating a stronger bond between pet and owner, so buying agility equipment for the home is a great way of making sure of continuing that inside the privacy of a home or garden.
eBay has a wide selection of agility equipment from a variety of different sellers and markets. This guide will give instructions on purchasing on eBay as well as what agility equipment is popularly sold on the website.
Agility Equipment
There is a wide range of agility equipment for dogs that can be purchased on eBay, many will be familiar for dog owners but they will all come with full descriptions and an image so buyers will be more confident. Unless otherwise stated, most pieces of agility equipment will either be stand alone, or come with a stand giving the ability to be used either indoor or outdoor with ease. Equipment that can be bought on eBay includes:
Agility Jumps and Hurdles
Very popular among all types of dogs, agility jumps are a key focus of any obstacle course, agility jumps can be purchased as a fixed bar or with an adjustable height system. The positives of a fixed bar is that they are extremely sturdy and robust and do not take time to assemble, while adjustable height jumps are good because they provide the user with the ability to move the bar so different dogs can jump and dogs can master better jumps and manoeuvers.
Hurdles are very similar to agility jumps but are shorter and have varied stanchions. All jumps and hurdles come in different sizes and colours as well as with designs such as bars, tyres and hoops.
Agility Tunnels
Agility tunnels can be bought either as a standard tube or as a collapsible tube making for easy transportation and storage as they fold away simply into a compact circle. Agility tunnels are generally made out of nylon and some come with a plastic see through window so owners can see their dog's progression through the tunnel.
Agility tunnels are good for keeping dogs fit as dogs enjoy running through the straight or curved path. Some come with pegs to keep tunnels stationary while being used outside, and some will come fitted with a stand or straps so they can be easily moved to be used both indoor and outdoor.
Poles and Pole Weaves Set
Stand-alone poles can be used to train for a variety of agility courses including obstacle and music courses. They are free standing and can be dismantled with ease, while in many cases they are sold either be themselves or in packs of three or more. They are either made with a metal framing or with solid wood with a painted coating meaning that they will not rust if left outside for an extended period of time.
Pole weave sets are a series of stationary vertical poles spaced evenly out, letting the dog run in and around the poles stretching key muscles and teaching valuable focusing skills. They can be adjusted across the steel frame to any specifications to fit any type or size of dog. They come collapsible or in two sets meaning storage is simple.
See-saw
Agility see-saws are the perfect introductory equipment for contact aspects of agility. Most of the time they are free standing but some heavier models may need to be assembled after purchase and then attached to the ground. Some models also have an adjustable height, and therefore letting different heights and weights of dog attempt the see-saw.

Being wooden, they are mainly weatherproof, but that will not mean they are not maintenance free as they may need to be repainted occasionally. The negative with a see-saw is that they are a rather large piece of equipment meaning storage is not easy and it cannot be transported with ease.
Pause Rectangle or Mat
A pause rectangle or mat is ideal for both expert agility dogs and young dogs as it teaches valuable sitting and staying techniques. An inexpensive choice, a pause rectangle consists of four straight, metal tubes that have tiny legs attached to the base to keep it raised above ground. They are easily placed together and simply parted.
The robust tubes of a pause rectangle are easy to store and transport due to their small lengths and are a great way of teaching a dog to wait and stay. A pause mat on the other hand is a great starting point for training and is a lightweight, cost effective choice that is easily to store and can be simply be taken to any other area. They are easily secured to the ground and have the positive of being both superbly tough and weather resistant. They come brightly coloured and are great to take to a park due to their weight and effectiveness.
What to Consider when Purchasing Agility Equipment
When buying agility equipment there are key factors that should be considered as it is important to get the right equipment for the right dog.
Is The Equipment the Correct Size For The dog? - Some equipment sold on eBay is much larger and in turn more suitable for larger breeds of dog. So when purchasing fully read the size of the equipment to know if it is correct for the dog that is bought for.
What Is The Budget?- There are many pieces of agility equipment available and when put altogether creates a full obstacle course, but some items, especially new items will be more expensive and it is important to consider a budget. However there are plenty of affordable choices on eBay that are completely functional.
Is There Space And Storage? - Most pieces of agility equipment will need a large expansive space to get the best out of them, such as a large garden or field. Buyers must consider if they possess enough room to accommodate such equipment as well as finding somewhere to store them as not all items fold away or are easy to store.
Conclusion
When buying agility equipment for a dog, eBay is a fantastic choice as the website offers unlimited time to search, along with detailed descriptions and images with items meaning a potential buyer can shop hassle free. Along with equipment, buyers can also purchase other supplies that they may need such as whistles, leads, cones and collars meaning there is no need to shop anywhere else.
Experienced sellers on eBay can guide potential buyers though all any worries and also customer support will offer further advice if it is needed.