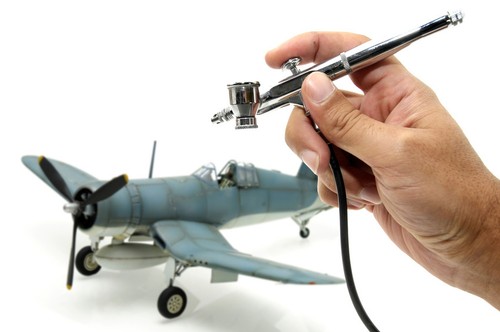 Airbrushes are used for more than simply painting t-shirts at a booth in a popular holiday spot. Artists use airbrushing techniques for painting cars, illustrating storybooks, or even painting an entire house. Airbrushing is a technique that works by combining air and paint together, and then shooting the mixture through a hollow needle. Interestingly enough, an early version of airbrushing was used by Neolithic peoples for cave art. Berries were used as the paint, and were chewed until the mixture was fine enough to use. The artist then blew the dye from his or her mouth, using the tongue as a needle to direct the design.
Modern airbrushing techniques require purchasing an airbrush, an air source such as a compressor, and airbrush paint from a local shop, or online at a store like eBay. There are many different airbrushes and the wide selection can easily overwhelm beginners who do not understand terms like double internal airbrush, or PSI. By doing a bit of research beforehand, buyers can find an airbrush that fits their artistic needs.
Airbrush Parts
Before buying an airbrush, customers need to understand the different parts of the entire airbrush system. The airbrush itself is a metallic tube that is connected through a hose to an air compressor. This air compressor controls the air pressure that passes through the airbrush. The tip of the airbrush holds a nozzle (sometimes called a brush) that directs the flow of air via a needle. Nozzles and needles come in different sizes depending on the paint application. For example, an artist doing commercial illustrations uses a very fine nozzle that emits little paint, while a house painter uses a larger nozzle that releases more amounts of paint. Wider nozzles spray paint over a larger area than do smaller ones.
Basic Airbrush Types
All airbrushes use either a single-action, or double-action air control mechanism. Choosing the right one is a matter of personal taste and artistic application. For most artists, the single-action airbrush is all they need. Those who prefer more detailed work often choose a double-action airbrush.
Single-Action Airbrush
The single-action airbrush uses the same basic spraying application found in spray paint cans. The artist pushes a button to get the paint to spray through the needle, and how much comes out is controlled through a knob located near the tip of the airbrush. Because the air and paint mix in front of the needle, this type is sometimes called an external airbrush.
Single-action airbrushes are a great choice for beginners because they are so easy to maintain. They are less complex than double-action, which means they can quickly be taken apart, cleaned, and placed back together. The downside to this type is that it is not as precise as a double-action airbrush. However, since many airbrush artists do not require extreme precision, the single-action model is ideal.
Double-Action Airbrush
The double-action airbrush is a little more complex than a single-action, but this results in greater control. The artist pushes one button to control the airflow, and another to limit the amount of paint being used. Because the air and paint are mixed behind the needle, this type is sometimes called an internal airbrush.
One advantage of the double-action airbrush is the ability to shape and craft very fine lines. Freehand artists and t-shirt artists often select this type because of the added precision control. The downside to double-action models is that they are more expensive than single-action types, and more difficult to maintain.
Airbrush Feeds
The airbrush feed mechanism refers to how paint is mixed with the air. There are two methods: the syphon-feed and the gravity-feed. The main difference between these two mechanisms is how much paint the airbrush holds before it needs to be refilled.
Syphon-feeds
The syphon-feed method uses a colour cup that is attached underneath the airbrush. The air pressure from the compressor syphons the paint out of the cup and mixes it with the air. While the colour cup can only hold around 0.25 ounces of paint, the syphon-feed method allows the cup to be replaced by a bottle that can hold up to three ounces. Therefore, the syphon-feed airbrush is ideal for artists who work with a single colour over long periods.
Gravity-feeds
Gravity feeds place the colour cup on top of the airbrush, and use the principle of gravity to supply the air stream with paint. These models have a slightly larger colour cup than do the syphon-feeds, but even the largest do not hold more than 2 ounces of paint. The cup cannot be removed as it can with syphon-feed models. Therefore, gravity-feeds work best for artists who need to change out colours frequently while painting.
Airbrush Air Supply
The most expensive part about buying an airbrush is not the tool itself, it is purchasing the air compressor that goes along with it. In fact, the air supply mechanism usually costs more than the airbrush and all of its accessories put together. Therefore, it is worth taking some time to understand the different air supply types so that buyers can make a wise investment.
| Type | Pressure Level | Noise Level | Electrical | Price Range |
| --- | --- | --- | --- | --- |
| Aerosol Can | Low | Low | No | Low |
| Air Tank | Medium | Medium | No | Medium |
| Air Compressor | Low | High | Yes | Medium |
| Oil Lube Air Compressor | High | High | Yes | High |
| CO2 Tank | High | Low | No | High |
An artist needs to evaluate all component parts to select the right model. Choosing one with the right PSI level is important, but if the artist plans on working in public, then the noise level is another serious consideration.
Aerosol can
Aerosol cans are the least expensive method of supplying the airbrush with air. The main benefits of choosing an aerosol can are that they are remarkably quiet, and easy to carry around. While this model does provide constant air pressure, the overall PSI levels are exceptionally low. The air also tends to run out very fast.
Air Tank
Air tanks are another affordable option. Though they are slightly more expensive than aerosol cans they are also refillable, which helps keep their operating costs down. Some air tanks are very small and can easily be used anywhere, but again the air runs out somewhat quickly. Larger tanks hold more air, but they are not as portable as the smaller models. While this method provides moderate pressure levels, as the air begins to get low, the pressure falls.
Air Compressor
Air compressors have three main things in their favour: longevity, small size, and affordable cost. However, for many artists these positive attributes do not outweigh their many drawbacks. Air compressors are extremely loud, and they require electricity to work. These factors limit where the artist can work while airbrushing. Furthermore, the air pressure tends to drop off while the airbrush is being used, resulting in very low pressure overall.
Oil Lube Air Compressor
The oil lube air compressor is more expensive than the previous types, but in return it provides higher levels of steady air pressure. It comes with a reservoir tank and a built-in regulator system that shuts off the system when it is not in use. The downside to an oil lube air compressor is that it needs to be oiled, and the oil can sometimes get into the air line. It is also noisy and uses electricity as a power source.
CO2 Tank
Professional artists often opt to go with a CO2 tank. It is an expensive purchase, but some companies offer CO2 rentals which helps offset their high costs. CO2 tanks are quiet, do not use electricity, and come with plenty of air. One downside is its high refilling cost, which may be more than artists want to pay. These tanks can also be dangerous because they hold compressed inert gas, and can explode if not handled properly.
How to Buy Airbrushes on eBay
Buyers who want to experience airbrushing for themselves can quickly find everything they need to get started through eBay. This massive website sells airbrush parts separately, or all together in a kit that is an ideal purchase for beginners. Getting replacement parts and brushes are also easy since buyers can purchase these items directly from sellers for below-retail prices.
It is best to start looking for airbrushes by typing 'airbrush' into eBay's search engine. This retrieves all listings that relate to airbrushes, including their separate parts. If you are just starting out, then you might want to type 'airbrush kit' into the search box located on any eBay page. A kit comes with everything you need to get started airbrushing. If you are buying your parts separately, then you can search for 'airbrush tubes', or 'airbrush paint bottles', to get the specific parts you need. Take the time to completely read the item listing and make sure to ask if you have any questions. Sellers are usually quick to respond to any buyer interest in their products.
Conclusion
Airbrushing is a popular hobby enjoyed by amateur and professional artists alike. It can be a little intimidating to get started with airbrushing simply because of the high cost, and multiple parts of an airbrush system. However, if a buyer does his or her homework, they can purchase an affordable system that lasts for a long time. The first step is for the buyer to decide what type of artwork he or she wants to make. This affects the type of airbrush, such as the broad single-action, and precise double-action.
Another factor to consider prior to purchase, is either the syphon-feed, or gravity-feed method, used for loading the paint into the airbrush. Finally, customers also have to purchase an air supply system that provides pressurised air; otherwise the airbrush cannot work. All of these parts are readily available on eBay so that customers can do all of their shopping right from home without having to go to the store.