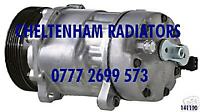 When you need to replace Car Aircon Compressors and other AC parts you will be asked by your chosen supplier for various details about your vehicles age/engine etc.
Please have the following information to hand:
Manufacturer
Model
Engine Size
Year of Registration (& month where possible)
Fuel Type (Petrol/Diesel)
Transmission (Manual/Automatic)
Driver Position (Left or Right Hand Drive)
Any Original Part Numbers ( These can in some instances be found on the old unit)
Your name, address, postcode and telephone number for the delivery.
You can order all of your Car Air Conditioning Compressors, Condensers and other Air Con Parts using the links below.
Aircon Compressors - Aircon Condensers - Aircon Evaporators - Aircon Expansion Valves - Aircon Pressure Switches - Aircon Receiver Driers