So what should you look for when buying Omega 3 DHA EPA Essential Fats for brain, muscle, cell and heart health?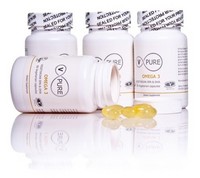 High Street shops and malls health product shelves are awash with omega 3 supplements but just how good are they for our health?

Truthfully? Mostly better than nothing! The most popular omega 3 product is Cod Liver Oil - is that any good? lets take a closer look at cod liver oil fish oil vsAlgae

Cod Liver Oil
Is it guaranteed to be free of mercury, PCBs, fire retardants and other toxins? No!
Is it from a sustainable source of fish? No
Is it a pure source of Omega 3 DHA EPA? - No
Does it come in a dose that matches the dose given in clinical trials? No
Is it good value for money? No
Is it suitable for vegetarians, vegans and those with religious beliefs that forbid them to eat animals? No
Does it contain toxins - yes - The sea is full of toxins, fish live in the sea.
Is it a good source of saturated animal fat and dietary cholesterol ? yes
Algae DHA Oil
Is it guaranteed to be free of mercury, PCBs, fire retardants and other toxins? Yes!
Is it from a sustainable source of fish? No it's 100% fish free
Is it a pure source of Omega 3 DHA EPA? - Yes
Does it come in a dose that matches the dose given in clinical trials? Currently 400mg of DHA per2 capsules
Is it good value for money? Yes
Is it suitable for vegetarians, vegans and those with religious beliefs that forbid them to eat animals? Yes
Does it contain a cocktail of toxins - No every batch is tested for safety
Is it a good source of saturated animal fat and dietary cholesterol ? No