As with all popular brands, counterfeit clothing is a huge problem.
It has now come to my professional attention that All Saints menswear clothing has began to be replicated at a far cheaper cost.
Savvy eBayers like myself have been picking up cheap used or factory seconds All Saints menswear for a long while now and have been very happy to do so. But I'm afraid that you now need to worry about picking up a cheap counterfeit instead of the eal deal!!
Below is a photograph of a counterfeit All Saints jumper: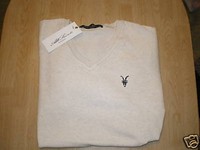 I will now describe how to spot a counterfeit All Saints jumper:
1. The Ramskull - The Ramskull is always of a continous high quality and will always be the same as all of your other All Saints clothing and will never change. (There may be the ocassional case in which a factory seconds ramskull may be the fault)

2. The Tags - These are nothing like the genuine tags that All Saints use, which are made of cream card and is distressed all over. They are also attached via string and NOT A PLASTIC TAG!! This is a clear sign that you have purchase a counterfeit.

3. The Quality - All Saints price their items high for a reason and that is the time that goes into making each item and the quality of the work and the quality of the materials. All Saints are famous for their use of high quality MERINO WOOL and will never use inferior materials.

If you have purchased an All Saints item recently and are unsure whether it is genuine, then I urge you to take it into your local All Saints store or EMAIL ME and I'll be happy to help you..
BOUGHT A FAKE?! -
CLICK HERE TO SEE HOW TO DEAL WITH THE ISSUE
If you found this guide helpful, then please help others by voting YES below to get this guide noticed and to help in the fight to make eBay a safer place.