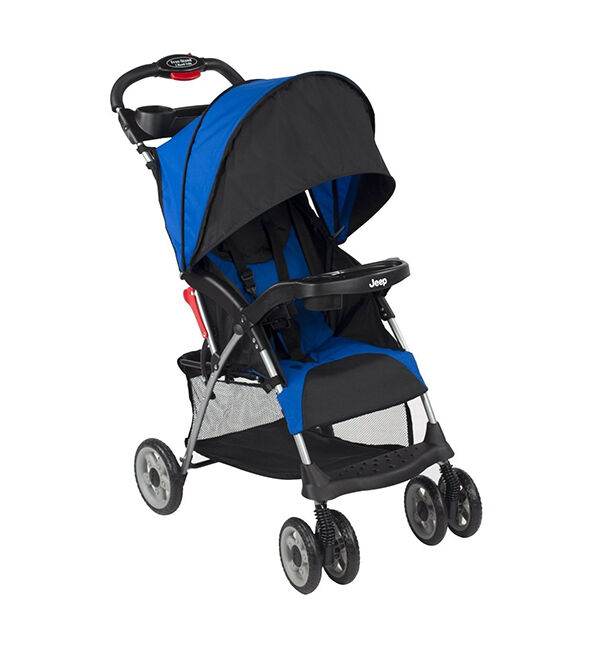 All-terrain pushchairs, sometimes also called jogging push chairs, are those which have wheels large and thick enough to be safely pushed over unpaved areas. They generally also feature shock absorbers and thick padding to protect the children they carry. A wide variety of all-terrain pushchairs feature three wheels, rather than four, to help improve their maneouverability. Since these wheels are generally larger, and these pushchairs are fitted with more padding than traditional pushchairs, these varieties generally require more space to store than more traditional pushchairs.
All-terrain pushchairs can be quite expensive, especially when shoppers consider the fact that more than one may need to be purchased to accommodate the increased weight and height of a growing child. Many shoppers find that they can easily save on the cost of all-terrain pushchairs by shopping for them online at venues such as eBay. When shopping for an all-terrain pushchair, parents should select the age range suitability for the pushchair, the appropriate pushchair size, and determine what features are most useful in their case.
All-Terrain Pushchair Age Ranges
All-terrain pushchairs are constructed for use with different age groups in mind. Though the majority are produced for use with older children, there are many also rated for use with younger babies. These are often smaller, with improved shocks and more padding to reduce potential jostling. Most all-terrain pushchairs are manufactured in age ranges categorised to be used with newborns, babies at least 3 months old, children at least 6 months old, and those older than 9 months.
Newborn Rated All-Terrain Pushchairs
As the name implies, newborn rated all-terrain pushchairs are rated for babies under 3 months old. Because newborns are particularly fragile, sensitive, and cannot support their own heads or bodies, these pushchairs generally have additional cushioning formed to act as extra support. Shoppers who are considering purchasing these types of pushchairs should do so with the understanding that they are likely to need to purchase another pushchair rated for an older child as their infants grow.
All-Terrain Pushchairs from 3 Months
All-terrain pushchairs rated for babies at least 3 months are suitable for those babies who are beginning to support their own weight and move well on their own. For this reason, these pushchairs are larger, generally have slightly less padding, and feature shocks rated to the additional weight. Parents should still look for a pushchair with enough formed padding to properly support their baby comfortably.
All-Terrain Pushchairs from 6 Months
All-terrain pushchairs from 6 months are larger and potentially more difficult to store and transport than those for younger babies. Parents are encouraged to measure the storage space available for their pushchair before making a purchase. At this age, babies begin to reach out of their pushchairs, so walls are likely to be higher, and the general size of the pushchairs increase in this and following age brackets to safely accommodate larger children.
All-Terrain Pushchairs from 9 Months
All-terrain pushchairs produced to be used with children aged 9 months or older are also sometimes classified as toddler-suitable, all-terrain pushchairs. These are generally the largest of available options, and typically designed to be used for children throughout their toddler years until they can comfortably walk on their own. These pushchairs are typically quite large, and may be difficult to store or transport in small vehicles. Before purchasing a pushchair rated for this age bracket, parents should measure their available space for storage and car transportation before making a purchase.
All-Terrain Pushchair Sizes
The different age range categories of all-terrain pushchairs are generally found in several size ranges. In some cases, this allows parents to purchase an all-terrain pushchair which can be used for a child as he or she grows through several age ranges. View the chart below for the most common all-terrain pushchair sizes.
| | |
| --- | --- |
| Size | Description |
| Standard | The most common size option; a balance between size and strength |
| Lightweight | Lighter, generally less-wide pushchairs meant for those with less storage or car space |
| Heavyweight | Tougher, wider pushchairs often built to accommodate more than one age stage |
| Twin | Specifically designed to hold two babies at once |
| Triplet | Specifically designed to hold three babies at once |
Shoppers should critically assess their specific size-related needs before purchasing a pushchair. The importance of measuring available storage and car space before making a purchase cannot be overstated.
All-Terrain Pushchair Features
The different manufacturers and brands of pushchairs often include a battery of features or options in their specific pushchair models which are meant to increase baby comfort or safety, increase the ease or safety of a particular model's use, or offer additional benefits to the caregiver. Relatively few pushchairs have all of these features, so shoppers should determine which are most important relative to their needs.
All-Terrain Pushchairs with Hoods
Most all-terrain pushchairs are manufactured to include hoods. A hood is an extendable piece of fabric over a plastic frame which can be moved to protect one's baby from bright sun, wind, loud noises, or environmental overstimulation. In some cases, a hood may also be used to protect a baby from light rain. When looking for an all-terrain pushchair with a hood, parents should ensure that the hood is easily adjustable and sturdy before making a purchase.
All-Terrain Pushchair Travel Systems
All-terrain pushchair travel systems are those which convert to become separate car seats. This not only reduces the cost associated with purchasing a separate car seat, but also minimises jostling a sleeping, tired, or colicky baby. This also serves to maximise one's available storage or car space compared to having a separate car seat and pushchair. However, shoppers should note that the initial upfront cost of an all-terrain pushchair travel system is typically greater than that of a standard all-terrain pushchair.
All-Terrain Pushchairs with Rain Covers
Some all-terrain pushchairs are produced to include rain covers in place of or ancillary to hoods. Rain covers are generally fashioned with clear plastic, which either pull down from the hoods or snap into place, and rain covers are used to protect babies from light rain. Where possible, parents are encouraged to test a particular model's rain cover to determine how quickly it can be correctly and safely placed. In general, the quickest and most reliable rain covers are those which pull down from the hoods.
All-Terrain Pushchairs with Lockable Wheels
Many all-terrain pushchairs feature wheels which can be made to lock into position. This is meant to prevent a pushchair from rolling off when not in use, or allow parents to be briefly hands-free. In most cases, the wheels must each be locked separately, though some models have an easy button-touch locking system. Lockable wheels are especially recommended for those who prefer pushchairs with swivelling wheels.
All-Terrain Pushchairs with Baskets
Some all-terrain pushchairs feature baskets, which help to hold purses, changing bags, or other items while on the go. These baskets are made of either formed plastic or stitched fabric, and are meant to help parents throughout their daily activities. In some cases, these additional baskets may even be able to stand up to the rigours of grocery shopping.
Buying an All-Terrain Pushchair on eBay
Buying an all-terrain pushchair on eBay is simple and easy, especially for those who have relatively little experience shopping online. First, go to either the eBay home page or any of eBay's internal pages. Find the search bar located there and click it. Then type in the words which collectively describe the type of pushchair you are interested in purchasing. Some good examples of this include "all-terrain pushchair with shopping basket", and 'all-terrain pushchair for babies from 3 months". When you finish typing, press enter to view those listings which match your search description. These results can then be refined based on brand, price, and location.
Asking a Question
Asking a question may be necessary in some cases to clarify specific details about an item or to request additional photos. To ask a question about an item, or otherwise communicate directly with a seller, simply search the item's listing page for the "Ask a Question" link, and click it.
Conclusion
Shoppers looking to purchase an all-terrain pushchair should take stock of their needs and budget before beginning to search for a pushchair. While the vast majority of all-terrain pushchairs are categorised based on the age of child they are safely designed to carry, some are available in sizes which accommodate a range of ages. This allows parents to purchase only one rather than several pushchairs to last through the growth of their child. Parents should also determine which options commonly found in all-terrain pushchairs they should look for in the one they intend to purchase.
All-terrain pushchairs can be quite expensive, especially when shoppers consider the fact that they are likely to need to purchase more than one over the different growth stages of their baby. Parents can mitigate this high cost by doing their shopping online at websites such as eBay. There, not only are they able to choose from a wide selection of all-terrain pushchairs, but are also likely to find a pushchair available at below-retail prices.