Add a caption
A selection of 5mm Superbright Clear LEDs available from Quartertosix Ltd - choose colours and quantities…
What are LEDs?
Diodes will only allow electricity to pass in one direction. LEDs are a type of diode that emits light when electricity passes through it - Light Emitting Diodes.
Types of LED
The most common electronic component LEDs are 5mm or 3mm lamps with two wires ('through hole' connectors) for soldering into circuits. It's also possible to buy surface mount devices on a strip (smd), but these are generally impractical for building circuits at home and are used industrially.

Component LEDs are usually Diffused or Clear.
Diffused have a coloured lamp, so are easily identifiable when off and give a gentler illumination. Clear LED's all look the same, regardless of colour, until they are illuminated - they also tend to be brighter.

Larger lamps are available, some as big as 25mm across, but these will require higher voltages. There are also other shapes, square or flat on top, usually used as indicator lamps built into enclosures.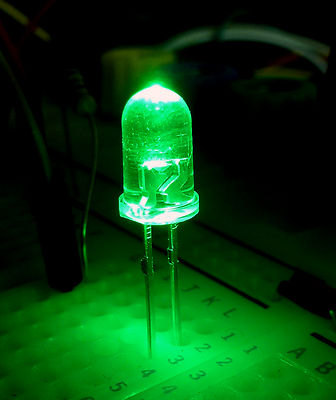 Add a caption
A green Superbright, WaterClear LED (they are very difficult to take photographs of!)
Colours and Brightness
Component LEDs are now available in a range of colours, the most common being Red, Green, Blue, Yellow/Orange and White. It's also possible to get combination LEDs that can create a range of colours by changing the three different elements within the lamp.


The colours vary in brightness, so if you want them to match, you may need to vary the series resistor values (see below).

White and Blue are generally brighter, followed by Green, Red and Yellow. Manufacturers will give a value measured in MCD - 'millicandela' - a thousand of which is equivalent to the brightness of one candle.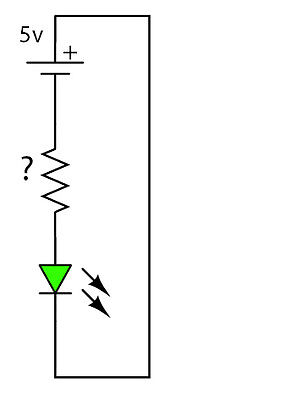 Using LEDs in circuits
As the current can only flow in one direction (the forward current), LEDs have polarised leads. The long lead is the Anode (+) and the short lead is the Cathode (-).

Manufacturers specify a voltage and typical current, so it is important to add a series resistor in most circuits to limit the current. Without this, the life of the LED can be shortened and your circuit may suddenly start eating batteries!
Calculating the series resistor value…
To work this out, we need to know how much current we want to flow through the circuit, along with the voltage of the supply (Vs) and the voltage across the LED (the forward voltage or Vf). Subtract the LED voltage from the Supply voltage (Vs-Vf).

In the example above, Vs is 5v.
If the supplied LED requires 3.4v (Vf) and the current wanted is 20mA then we can use Ohms Law to work out the resistance.
Firstly, Vs - Vf = 5-3.4 = 1.6v
Resistance = Voltage/Current, so R=1.6/0.02 = 80 ohms

In practice, resistors are supplied in fixed values, so the nearest value is likely to be 100 ohms (its best to choose the next higher value).

You can use LEDs in all kinds of circuits, from simply showing that something is on/off to sophisticated displays of information or entertainment. If you're into programming, maybe with Arduino, an LED Cube is a brilliant way to test your skills, and easy to assemble. All you need now is some LEDs…