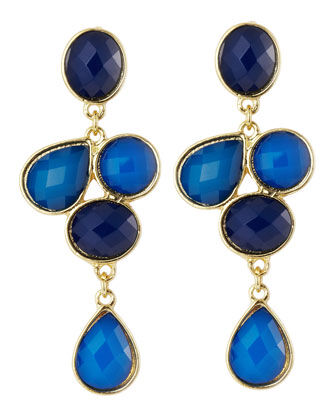 Many metals are not true metals. In fact, most metals, even gold and silver, are alloys of one or more metals. True noble metals, such as gold, silver, and platinum are very soft in their purest form. They are too soft for most types of jewellery, including earrings. Most metals are mixed with something, which is from where the term "alloy" comes. These noble metals are generally mixed with a variety of different metals depending on the manufacturer. Most of the metals that they are mixed with are very inexpensive and stronger than the noble metal, itself. Once the alloy is known, then a person can confidently purchase a pair of alloy earrings from a jewellery shop or eBay.
Some of the metals that are used to make an alloy are nickel, pewter, and copper. In fact, the act of mixing some of these metals is how jewellers came up with metals like white gold, rose gold, blue gold, and sterling silver. There are a few things that a consumer must know before purchasing alloy earrings. Consumers must know whether or not they are allergic to any metals, which metals are in the alloy earrings they are purchasing, and which earrings are safe for them to wear.
Allergies to Alloy Earrings
Many people are allergic to certain metals. These metals can be irritating to the outside of the skin, or to the inside of the skin, such is the case with some earrings. Normally, most metal allergies do not cause a problem unless a person wears jewellery, particularly earrings, that are made of a certain metal or an alloy of the metal, which happens frequently with gold, white gold, and sterling silver..
The most common metals from which to make gold, white gold, and silver alloys are nickel, zinc, copper, and sometimes other less known metals. Many earrings are made from these metals because they are less expensive and easier to work with than most of the noble metals, which makes them desirable for jewellery manufacturers.
Unfortunately, approximately 12 per cent of women and six per cent of men have a nickel allergy. Nickel is very common in alloys for earrings and a variety of different jewellery, clasps, and zippers. Most people are not actually allergic directly to the metal, but to the salt that is produced when it is combined with sweat.
Another metal that is often found in a lot of jewellery is zinc. Although not as many people have this metal allergy, it can cause contact dermatitis, which is an itching of the skin. Some people are very bothered by it, while to others, the allergy is only mild.
If there is a metal allergy involved, many can get around it by purchasing earrings that are made from surgical steel, pure noble metals, or alloys that do not contain an allergy-inducing metal. There is also a term that companies use to indicate that people are not allergic to their earrings. The term is "hypoallergenic". Unfortunately, unless the metal is pure, surgical steel, or coated there is no guarantee that the metal should not react with skin, causing an allergy.
A good way to tell if a metal allergy exists is to wear something made from the metal for a short period of time. If it starts to itch or cause irritation, then remove it. Usually metal allergies are not severe, only uncomfortable and annoying. It is not like an internal allergy that can be life-threatening, it is merely irritating.
Metals and Their Alloys
Many metals are common alloys used for common purposes, while others are used in industrial applications. Most of the alloys made for jewellery are some form of high or noble metal bonded with something that is less expensive in order to lower the cost or make it stronger. Many of the noble metals are soft by nature, and although beautiful, do not make good jewellery by themselves because they bend or break.
| Metal | Common Alloys | Common Alloyed Metals |
| --- | --- | --- |
| Gold | Electrum | Gold, silver, copper |
| Gold | Tumbaga | Gold, copper |
| Gold | Rose gold | Gold, copper |
| Gold | White gold | Gold, nickel, palladium, or platinum |
| Damascus steel | Stainless steel | Chromium, nickel |
| | Damascus steel | Chromium, nickel |
| Surgical stainless steel | Surgical stainless steel | Chromium, molybdenum, nickel |
| Silver | German silver | Nickel, copper, zinc |
| Silver | Argentium sterling silver | Silver, copper, germanium |
| Silver | Britannia silver | Silver, copper |
| Silver | Platinum sterling | Silver, platinum |
| Silver | Sterling silver | Silver, copper |
| Zirconium | Zirconium | Zirconium and tin, sometimes with niobium, chromium, iron, nickel |
This is not a full list of alloys that are used to make earrings. When purchasing earrings, make sure that they are checked against a list of known alloys, such as the one above. Knowledge of an allergy and knowing which metals are combined to make a specific alloy prevents a person from having a reaction to an earring.
Alloy Earrings That Are Safe for Most People
Knowing what a person is allergic to is an excellent idea when purchasing alloy earrings. There are some earrings that are usually hypoallergenic or safe for those with a variety of metal allergies. Most of these are safe even though they may have traces of other metals in them. Most metals, even those that are considered pure, have a tiny amount of another metal or element contained in them.
24 Carat Gold
24 carat gold is generally safe for those with metal allergies, unless they are allergic to gold, since 24 carat gold is the highest per cent of gold to other metals. Usually, this is safe for people with metal allergies, except when the allergy is extreme. Since there is such a low percentage of other metals contained in it, it is unlikely that skin reacts to it.
.999 or Fine Silver
Fine silver or .999 silver is the highest percentage of silver that one can purchase, even though it is likely to have another element in it. The commonly acceptable percentage is 0.001, which means that in order to be called fine silver the silver have an extraordinarily low amount of another element.
Surgical Steel
Even though steel is a combination of other elements, surgical steel is made so that it has a natural hypoallergenic outer layer, which is why it can be used in medical scenarios, such as hip and knee transplants. It is extremely unlikely that the body reacts to surgical steel. Earrings made from surgical steel should not cause an allergic reaction.
Other Hypoallergenic Materials
Although most earrings are made from alloys of some kind, there are other alternatives. Some of the alternatives to an alloy earring are ceramic, noble metal earrings, and alloy earrings that are coated with an enamel or ceramic coating. Many of the truly hypoallergenic alloy earrings have this coating on them, since the different enamels bond easily with most alloys.
Buying Alloy Earrings on eBay
When purchasing earrings that are made from an alloy on eBay, all you have to do is go to eBay's website. Then, in the search box, input the search terms for the alloy earrings that you want. For example, if you wanted "surgical steel earrings" use that as a search term, and then simply click on search.
A list of all of the products matching those search terms appear. From here, you can browse through the different types of surgical steel alloy earrings that are available for purchase. Once you select one in which you are interested, then you can go to the individual listing and click on it. When you do this, the detailed listing should appear.
The detailed listing has a description of the item, the seller's name and information, as well as their policies. Check the shipping and return policies to make sure that if something happens during the shipping process, or you need to return the item, you can remedy the situation. Also, take a look at the seller's feedback. Most sellers have positive feedback, but it is always nice to see what other buyers are saying.
Conclusion
There are many things to remember about buying alloy earrings. The most important thing is that many people are allergic to certain metals, and therefore, cannot wear many of the different alloys. When purchasing earrings for someone, or for yourself, it is good to know if those earrings are going to cause an uncomfortable reaction. There are many alternatives to purchasing a pair of earrings that contain a certain metal. Although they are still considered alloys, certain types of gold, silver, and steel are hypoallergenic. They only contain trace amounts of an element or are coated to prevent an allergic reaction. When purchasing alloy jewellery, pay close attention to the metals from which it is made.
Alloy earrings come in many different materials. It is worth the time to check into what those materials are made of, particularly when many people have a metal allergy. They also come in just about every earring style that is imaginable. They come in all colours, shapes, and characters. An alloy earring can be found in many different marketplaces, including the popular auction website, eBay.