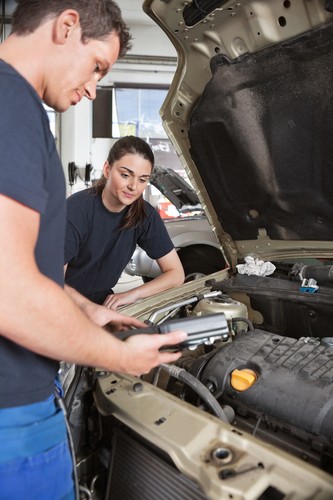 Automotive diagnostic tools can be used to evaluate nearly all aspects of a vehicle's performance, including oil levels, emissions, brake systems, and ECU performance. Code readers are the principal diagnostic tool, and can be plugged into ports located throughout a vehicle to connect with the OBD. Code readers may diagnose a single aspect of the vehicle, or several all at once. Diagnostics tools can be supplemented with computer software, which allows users to record and track changes over time, so it is important to consider a unit's computer interface. Several other diagnostic tools are available, and can be used to measure the parts of a vehicle not governed electronically. Many diagnostic tools are designed for specific vehicle types, so buyers should also verify compatibility.
Diagnostic tools and equipment can be purchased from auto part stores, department stores, and online retailers. Some websites specialise in vehicle accessories, and can provide diagnostic tools for nearly every vehicle on the road. Marketplaces like eBay also have a high number of listings from private and commercial sellers, and can be used to shop for new and used items. Compare sellers to find the best prices and products, and choose diagnostic tools to improve vehicle performance and functioning.
Types of Diagnostic Tools and Components
Diagnostic tools are designed to assess a variety of functions within an automobile. Code readers and scanners are the primary component of a diagnostic system, though buyers can also purchase tyre pressure gauges, circuit testers, compression testers, and battery testers. Learn more about the function of each tool to begin choosing items.
Code Readers
The primary component for vehicle diagnosis is the code reader. These handheld units allow users to diagnose, adjust, and reset all major systems on a vehicle. Products can be designed to assess one or two aspects of a vehicle, such as its emissions, or it can be capable of reading almost every part of a vehicle's performance governed by the OBD.
On-Board Diagnostics (OBD)
All modern vehicles are designed with software that controls engine functions and monitors the vehicle's performance. This software is called the on-board diagnostics, or OBD. Most passenger vehicles in the UK use a form of the OBD called the EOBD (European on-board diagnostics), which is equivalent to the OBD2 used elsewhere. OBD software can be accessed by a code reader through ports and sensors located throughout the vehicle. Different ports provide access to different types of information.
Other Diagnostic Tools
Several other types of diagnostic tools can be purchased. These do not interface with the vehicle's OBD, but instead interact directly with the component of the vehicle being tested. The following table provides a brief description of other common diagnostic tools, including tyre pressure gauges, circuit testers, compression testers, and battery testers.
| | |
| --- | --- |
| Diagnostic Tool | Description |
| Tyre Pressure Gauge | Tyre pressure gauges can be used to quickly take a reading of the air pressure in a tyre through the tyre stem. |
| Circuit Tester | Circuit testers measure voltage and electric current over a range of values. |
| Multimeter | Multimeters are similar to circuit testers, but are usually designed with several measurement functions, including ones for electrical resistance. |
| Compression Tester | Compression testers plug into the hole for a spark plug to assess the amount of compression in an engine cylinder. |
| Battery Tester | Battery testers reveal the amount of power remaining in a battery. |
Other, less common diagnostic tools can be purchased to perform checks across a range of vehicle functions. Look for brake fluid testers, fuel injection testers, and borescopes.
Other Considerations
In addition to the specific item type being purchased, buyers should consider vehicle compatibility and the price of a unit. If the diagnostic tool is used with a computer, it is also important to check its computer interface. When possible, look for product reviews to find the best products on the market.
Computer Interface
The computer interface determines which types of computers the tool can be connected with. Most modern units are designed with USB compatibility. These can be either 1.1. or 2.0. USB 2.0 is a high-speed connection, and is preferable to 1.1.
Vehicle Compatibility
Before committing to a purchase, it is important to verify that products are compatible with a vehicle. Code readers in particular are designed for specific makes and models. This information can be found on product packaging, as well as online listings.
Price
The price of diagnostic tools can vary significantly, depending on manufacturer, retailer, performance capabilities, and condition. Products designed to diagnose a single aspect of a vehicle are naturally less expensive than comprehensive code readers, though high-quality units can save buyers time and money over time by eliminating the need for additional or replacement tools.
Used Items
Diagnostic tools and equipment can be expensive, and high-end scanners in particular can cost 200 pounds or more. As an alternative to new products, consider used items. Many of these are sold at greatly discounted prices, and are still in excellent condition. Used diagnostic tools are primarily sold by private sellers online. When shopping for used diagnostic tools, be sure to verify the functionality of a unit, and if shopping online, read the item description and compare it with available photos. Ask the seller for a warranty or some type of return policy in case the product does not function properly. Even a 10-day warranty can provide enough time to use a diagnostic tool and check for any potential problems.
Read Product Reviews
Diagnostic tools are created by many different manufacturers, and the high number of products available can make it difficult to choose. One of the best ways to find reliable, quality products is to read reviews. Many online shopping sites specialise in automotive parts and accessories, including diagnostic equipment. These sites sometimes post reviews of new products, and discuss item features and performance. Information about tools can also be found on blogs, online forums, and shopping sites. Customer ratings and reviews on shopping sites and marketplaces can provide dozens or hundreds of opinions on a product, which makes them an excellent resource for learning about a tool's performance. Check these sites for information about the durability of a product, as well as its compatibility with particular vehicles.
How to Buy Diagnostic Tools on eBay
All types of diagnostic tools and equipment can be purchased on eBay. To find these items, head to the home page. You may begin a search by entering keywords into the search field. For example, enter "code reader" to see all items tagged with those keywords. Search results can be refined by adding other terms, such as the name of a vehicle make or model. You may also use category links to find items. These can be used to browse by product type, manufacturer, condition, price, and more. Try using both search methods to find the most relevant search results.
Inspect individual items by clicking on their names or images in search results. In full listing, you can find detailed information about the product, such as its specifications. Read the description of the product and examine photos to be clear on the specific tool being sold. Check the price of the item, and remember to include shipping charges in your estimate of the final cost. Look for the payment methods accepted by the seller, and be prepared to pay promptly for your order.
Users on eBay have a positive feedback rating that can be used to find reliable sellers. This number indicates the percentage of buyers in the past year who had a positive transaction with the seller. Consider the feedback rating in relation to the number of completed transactions to find experienced and dependable eBay users. Leave feedback once you have found an item to inform future buyers about your experience.
Conclusion
Diagnostic tools and equipment can be used to assess and troubleshoot the performance of any vehicle on the road. The primary tool used to check modern cars is a code reader. These products are designed to interact with a car's on-board diagnostics, and can be plugged into ports throughout the vehicle to assess different aspects of its performance. The tools are designed in a range of styles, and high-end models are comprehensive units that can help users handle a variety of functions on a vehicle. Code readers can be supplemented with several other tools to diagnose vehicle functions that are not governed electronically, such as tyre pressure.
Many tools are designed to function with specific types of vehicles, so be sure a product is compatible before committing to a purchase. Buyers on a budget can also find used items for sale. These are sold at discounted rates, though many are still in excellent condition.
Diagnostic tools and accessories can be purchased from auto parts stores, department stores, and online sellers. Marketplaces like eBay have listings for both new and used items, and can be utilised to quickly browse a range of products. Several websites specialise in automotive parts, including diagnostic tools, and can also provide a high number of products. Shop around to find the best prices and sellers, and choose diagnostic tools to assess and troubleshoot problems for any area of an automobile.