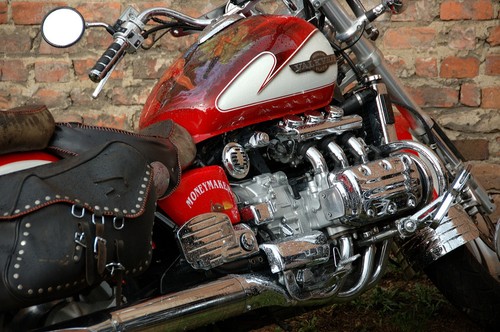 Honda has been in the motorbike business for a long time and their motorbikes are relatively inexpensive in comparison to other brands. Therefore, there is a surplus of motorbike parts for sale. Having basic tools, light equipment, and an owner's manual can save the owner time and money by replacing Honda motorbike parts on his own. If the owner has to take the motorbike to the shop to be fixed, it can get expensive due to labour costs and because Honda is a foreign brand, so typically the part prices run higher.
Honda motorbike parts can be purchased at a Honda dealership, motorbike shops, and the online auction website, eBay. After a buyer completes his research, he can effortlessly buy Honda motorbike parts. Before a buyer begins purchasing parts, there are a few factors that he needs to evaluate including: what constitutes an amateur mechanic, the Honda motorbike year and model, which parts are needed, and understanding how to replace parts on a motorbike.
Who Is an Amateur Mechanic?
An amateur is a person who is attached to a particular pursuit, study, or science without any formal training. Amateur mechanics have an interest in working on vehicles, including motorbikes. In order for an amateur mechanic to begin working on replacing Honda motorbike parts, he must first have a Honda service manual. Most service manuals contain troubleshooting techniques and frequently asked questions. Honda motorbike service manuals have processes for changing clutch plates, lights, filters, and brake pads, among other procedures.
Honda Motorbike
The type of Honda motorbike that an amatuer mechanic owns is ultimately his personal preference. The amatuer mechanic may find working on motorcycles to be a hobby, or he was handed down a classic Honda motorbike and wants to get it working again. Whatever the reason for the amateur mechanic's sparked interest in replacing Honda motorbike parts, he can easily do so with the help of some simple steps.
Honda motorbikes are categorised under Honda's Powersports brand. Honda Powersports brand includes other vehicles, such as: personal watercrafts, scooters, and all-terrain vehicles. When purchasing Honda motorbike parts online, it is imperative to know the bike's year, make, and model. Once the year, make, and model have been established, the search for specific parts begins. When searching for parts, it is helpful to know if the part is located in the front end, body, or rear end.
Honda Motorbike Production Year
The original production year of a Honda motorbike dates back to 1955. Honda peaked in 1982 when it manufactured over 3 million motorbikes annually. Therefore, finding parts and motorbikes surrounding 1982 should be easier because of the large number produced.
One of the first steps when purchasing parts for a Honda motorbike is determining what year the Honda motorbike was produced. Each motorbike manufactured after 1981 has a vehicle identification number (VIN) that provides manufacturing details about the motorbike. The VIN is able to provide information, such as the year of the motorbike. The VIN can be found on either side of the steering column on a metal plate or on the engine case. Once the VIN has been located, it can be used to find out the year of the Honda motorbike. A Honda dealer or the DVLA is able to provide the year of the motorbike when given the VIN. The 10th digit of the VIN is used to determine the year of the motorbike. Once the 10th digit has been identified, the buyer can use online resources to find the year that the Honda motorbike was produced. Motorbikes manufactured before 1981 can be identified through comparison with online catalogues.
Model of Motorbike
Honda motorbikes are classified into categories including: cruisers, sports bikes, tourers, and motorbikes. The make and model can sometimes be located on the fairings, bodywork below the seat, or on the fuel tank. The name of the make and model can fade over time, in which case the VIN needs to be located. The second number of the VIN signifies if it is a Honda, represented by the letter H. After it has been determined that the motorbike is, in fact, a Honda, the model must be discovered.
| Model of Motorbike | Years Produced | Engine Size (cc) | Driving Experience |
| --- | --- | --- | --- |
| | 1967-1979 | 174 | Modern motorway driving |
| Nighthawk | 1982-1991 | 234 | Easy to handle for inexperienced drivers |
| | 1999-2003 | 1520 | Good for extended travel |
| | 1984-2002 | 500 | Racing in Grand Prix |
There are a variety of Honda motorbikes including: Power, Nighthawk, Valkyrie, and Racing. The model of motorbikes vary depending on the year produced, engine size, and driving experience. Each model has different parts specific to the motorbike. Popular Honda motorbike models include: CBR, CB, CR, and K, among many others. The model of Honda motorbike is ultimately based on the buyer's personal preference.
Purchasing Specific Honda Motorbike Parts
There are thousands of options when it comes to purchasing Honda motorbike parts. Depending on what specific part the buyer is looking to purchase, the motorbike can be broken into three main areas including the front end, body, and rear end. The front end of a Honda motorbike consists of the front forks, handlebars, tyre, and rim. The main responsibility of the front end is to control the steering.
The body of the motorbike contains the gas tank, seat, muffler and exhaust, engine, headlight, brake lights, gear shifter, mirror, windscreen, foot peg, and fairings. The body is the most complex, and where the majority of the Honda motorbike parts are located. All of the parts and mechanisms in the body make the body functionable.
The rear end of the Honda motorbike is accountable for propulsion and braking. The rear end is made up of the rear forks, drive chain, rear shocks, fender, tire, rim, brake, and brake accessories. All of the parts are dependent on the make, model, and year of the Honda motorbike.
Replacing Parts on a Honda Motorbike
After the parts have been purchased, the amateur mechanic must learn how to replace the parts on a Honda motorbike. In order for an amateur mechanic to replace parts on a Honda Motorbike, he must have the appropriate tools, a reliable repair stand, voltage tester, and spare batteries. A basic set of tools can take care of most of the bolts when replacing parts on a Honda motorbike. Tools that are recommended to have on hand include: metric spanners, metric allen wrenches, metric sockets, a ratchet, and a socket extension. An amateur mechanic may only consider his first Honda motorbike when purchasing a reliable repair stand. It is recommended that a buyer purchase a stand that is appropriate for many different types of Honda motorbikes, because most likely the amateur mechanic's interest grows into fixing multiple Honda motorbikes. Voltage testers are used to test the battery voltage in less than a minute.
How to Buy Honda Motorbike Parts on eBay
The buyer must decide for which type of Honda motorbike part he or she is looking. eBay offers thousands of options when it comes to purchasing Honda motorbike parts. The simplest way to search for Honda motorbike parts is by taking advantage of the keyword search. Fortunately, there is a search box located on the top of every page on eBay. In the search box, a buyer can type in specific keywords, such as "Honda motorbikes". After clicking search, many options appear in the search results. If a buyer would like to browse through a smaller product listing, he needs to enter more precise keywords, such as "Honda CBR", and browse a much smaller list.
Seller feedback allows a buyer to determine the authenticity of a seller. Feedback ratings from buyers within the last 12 months can be found on a seller's eBay history. Feedback is beneficial for a buyer because it provides a buyer with a seller's past interactions, and allows a buyer to make an informed decision before purchasing. The feedback is beneficial for a seller because it allows a seller to improve his service and attract more buyers to his page through positive feedback.
Conclusion
Purchasing Honda motorbike parts can be difficult, but with the right research and knowledge, it is simple. In order to have a greater understanding of how amateur mechanics purchase Honda motorbike parts, it is important to recognise who an amateur mechanic is. Honda promotes drivers taking care of their motorbikes and the motorbikes taking care of their drivers. In this instance, a new Honda motorbike owner is an amatuer mechanic. Anyone without formal training is considered an amateur.
The four main components needed to purchase parts online include: the make, model, year, and specific part requested. There are key ways to find out the make, model, and year of a Honda motorbike. It is very helpful to know the VIN, in order to determine the make, model, and year and assure the correct part is being ordered. It is not recommended to order a part if a buyer is unsure of the make, model, and year because the shapes and sizes of parts vary, and not all sellers offer returns after a part has been opened. If the make, model, and year are unable to be determined by the VIN, then it can be determined using the serial number, comparing online catalogues, and specifications.