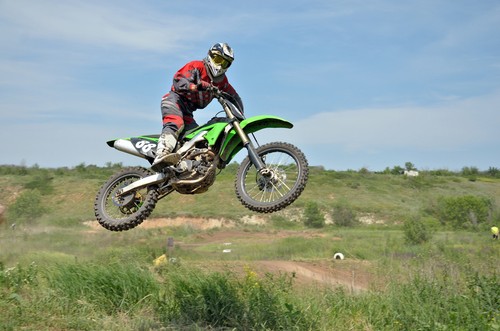 Some people find that trials and motocross bike riding is the ultimate challenge in which a person and a machine become one. Trials biking uses a bike to traverse an obstacle course without putting a foot on the ground. Trials is descended from motocross, which uses motorbikes to cross hills and mud in a competition. Both kinds of race can be challenging for both the rider and the bike. This means that riders may need a trip to the doctor for bumps and scrapes from time to time. Trials and motocross bikes may need spare parts, which should be purchased either before the bike stops working or before it becomes unsafe.
Before buying trials and motocross bike parts, amateur mechanics should understand the types of motocross bike and the parts of a trials bikes. Trials and motocross bike parts can be purchased at specialty bike shops and on eBay, which has a wide variety of parts that can be bought at competitive prices.
Types of Motocross Bike
Before buyers start to look for parts for their motocross bike, they should determine which kind of bike they have. Some bikes are built for speed and some are built for endurance, so they require different parts. Other bikes are built to help the rider perform amazing stunts. Manufacturers of motocross bikes include Ducati, Aprilia, Bultaco, and Yamaha.
Freestyle Motocross Bikes
Freestyle motocross bikes are built for tricks. The bikes are designed to withstand high jumps and can be manoeuvred in the air. In freestyle motocross, which is also known as FMX, riders try to impress judges with a variety of jumps and stunts, such as kicks, jumps, and backflips. The dangerous nature of freestyle riding means that FMX riders often wear body armour to protect them should they fall. Elbow and knee pads are usually worn and some riders feel more comfortable in a neck brace.
Supermoto Bikes
Supermoto is a kind of race in which riders must compete across both roads and off-road terrain. Supermoto bikes have tyres with a groove tread that provides traction on both concrete and dirt tracks. Tracks can also have jumps to make them different from normal racing tracks. Races are often held on go-kart tracks. Motocross bikes are customised for supermoto racing. Riders wear a combination of racing and off-road equipment, including leathers, helmets, and boots from motocross.
Supercross Bikes
Supercross combines elements of freestyle and supermoto into a race. The dirt track for supercross includes steep jumps and obstacles. Supercross races are not as fast as motocross races, but they involve more dangerous tracks. Competitions usually take place in stadiums. Racing classifications in supercross depend on the displacement of the motorbike's engine. The 250 cc engine championship is considered the most prestigious of the various levels.
Pit Bikes
Pit bikes are small vehicles used to ride around the staging areas where team support vehicles are found, called the pits. These mini-bikes are used in supercross and motocross tracks. Pit bikes are powered by a four-stroke, single-cylinder engine that has a displacement ranging from 49 to 195 cc. Pit bikes are often heavily customised using performance-enhancing parts and decorative accessories. Competitive pit bike racing is usually classified by wheel size.
Parts of a Trials Bike
Trials bikes are completely human powered, unlike motocross bikes. Trials bikes are usually not built for speed, but are used to balance among a number of obstacles. They are distinctive vehicles that have very powerful brakes, lightweight parts, wide handlebars, and often come with no seat.
Frame for a Trials Bike
The frame is noticeably different on a trials bike than other mountain bikes because it rarely has a seat. A seat is not used because riders prefer lighter bikes and a seat would require a different posture when competing in a trial. The frame is designed to be as low as possible and the pedals are often higher than the frame, above the bottom bracket. The frame sometimes has holes in the front of the head tube to reduce the overall weight. Materials used in trials frames include aluminium alloys, steel, titanium, magnesium, and carbon fibre.
Brakes for a Trials Bike
The brakes on trials bikes create more torque than common mountain bikes to lock the wheel rather than slowing the bike from a quick speed to a gradual stop. Trials bikes with larger wheels usually have brakes that work directly on the rim. In bikes with 66 cm wheels, rim brakes are used on both the back and front wheels. Bikes with 50.8 cm wheels have rim brakes on the back, but often disk brakes on the front. Rim brakes reduce the springiness found in disk brakes, which feels less precise to many riders. Rim tar is sometimes added to the rim of wheels to allow the bike to stop more quickly.
Tyres for a Trials Bike
Tyres for trials bikes are much wider than other types of bike tyres to provide a wide contact area. This allows tyres to be inflated to a lower pressure so that they are more resistant to pinch punctures: trials courses often have sharp edges. Wider rims also help to keep the tyre on the rim when exposed to side loads. The one potential disadvantage to having wider tyres is that they are heavier than thinner tyres. This extra weight is offset by larger holes in the rims between each spoke. Rear trials wheel hubs are defined by their spacing, usually either 116 mm or 135 mm.
Gear Ratios for a Trials Bike
Most trials bikes only have one gear. Therefore, the gear ratio cannot be changed while riding. The most common gear ratios for trials bikes are presented in the following table.
| Gear Ratio | Length of One Complete Revolution (m) | Wheel Diameter (cm) |
| --- | --- | --- |
| 18:15 | 2.49 | 66 |
| 18:14 | 2.46 | 61 |
| 18:12 | 2.39 | 50.8 |
Gear ratios for trials bikes are chosen to provide the power and quick acceleration needed to move at the typical speeds for trials riding. General mountain bikes have multiple gears to get the rider through a variety of situations.
Wheel Diameter for a Trials Bike
The two most common measurements of wheel diameter are 50.8 cm and 66 cm. The smaller of the two is used on mod bikes that were originally comprised of modified BMX bikes. Some mod bikes have a 48 cm back wheel to allow for a wider tyre, but the tyre diameter remains the same despite the differences in rim size. Bikes with 66 cm wheels are called stock bikes. Hybrid bikes have a 61 cm wheel diameter and offer the ability to bridge between obstacles and lift the bike easily onto the back wheel.
How to Buy Trials and Motocross Bike Parts on eBay
Once you have a general grasp of trials and motocross bikes, you can visit eBay to find the right parts for your bike. From the home page, you can use the search engine by typing keywords into the rectangular text box at the top of the page. A query of "trials bike parts" presents a wide variety of parts. You can narrow the search by adding more detailed keywords, such as a component name or type of bike. Try to spell all of the search terms correctly so that the eBay search engine can find the parts that you want.
How to Research Sellers on eBay
Once you have found the appropriate part, it is a good idea to spend a moment or two to research the seller. Every product page includes seller information, such as the seller's username, the rate of positive feedback, and whether or not the person is a Top-rated seller. By clicking on the username, you are given more detailed information, including individual ratings for the seller's ability to describe the item, communicate efficiently and effectively, and the timeliness of dispatch. When you buy a trials or motocross bike part from an eBay seller, you can feel confident that the person on the other end of the transaction is reputable.
Conclusion
Trials and motocross bike racing are different because trials use manual bikes, whereas motocross bikes have motors. However, the two sports have similar equipment in some respects and require similar skills: they both need riders that have good physical awareness and high levels of focus. The various types of motocross sports determine the composition of the bikes and which spare parts are required to make the bikes work to the rider's advantage.
For trials bike competitions, the modified mountain bike has various constituent parts that can be checked by an amateur mechanic in case of a fault. Trials bikes have different frames, brakes, and wheels than common mountain bikes in order to provide a steady ride that can stop and accelerate quickly. Understanding each part allows the buyer to identify which part needs to be purchased. The right part for trials and motocross bikes can always be found on eBay, which is the one-stop shopping destination for enthusiastic racers.