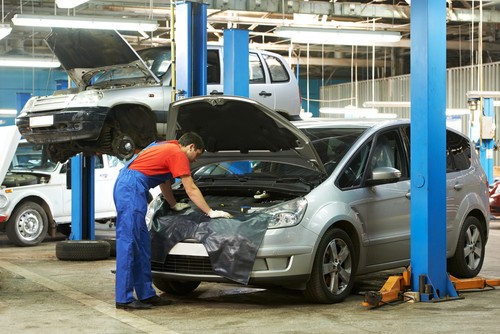 Buying van and pickup truck parts is often very confusing, even for a well-seasoned professional. Because there are so many things to consider when choosing these types of auto parts, the experience can be mind-numbing for a novice. There are many reasons that people choose to buy parts for a pickup or van. Some people may need to replace an existing auto part with a newer, high performance part. Other people may want to buy these types of auto parts to customise their vehicle and give it a new look. Still, other people simply are buying auto parts to keep their vehicles on the road with as little out-of-pocket expense as possible.
All of these needs and desires are ones that change the way van and pickup truck parts are chosen. These parts can be located at auto part retailers, in catalogues, and online on eBay. Careful planning is crucial when tailoring how van and pickup truck parts are chosen. Assessing the needs of the vehicle and owner and performing the proper research is important as well as doing comparison shopping before making a final decision.
Overview of Van and Pickup Truck Parts
Before picking out and buying parts for a van or pickup, there needs to be some careful thought put into the matter. Choosing the right part or accessory the first time is the desired goal for more than one reason. One very important reason is to make sure that the part chosen fits the vehicle specifications, especially if the vehicle needing the part is the only one available at the time of the part installation. If the wrong part is chosen, then the vehicle is left out of service until another means of transportation can be found to get the right part.
Besides those factors, another problem that commonly arises is that many parts are unable to be returned once the package has been opened, which means a lot of money could be wasted if the wrong part was chosen as well. In addition to these factors, the wrong part also often results in mechanical failure, if it even works at all. So to avoid all of these scenarios, it is essential to have a plan in place before making a final purchase. Following the suggested steps can help make a professional out of an amateur in no time.
Assess the Need
One of the first steps in any planning process is to determine which van or pickup parts are needed. How the process of deciding what parts are needed is directly related to the purpose of why the parts are desired in the first place. If the part is desired for the purposes of receiving better vehicle performance by buying a high quality part designed for that purpose, then there is some room to work with in this area. For example, if the auto part needing to be replaced are the brake parts, then it is essential to take into account not only the specific type needed for the vehicle it is being placed on most importantly but also how much more performance is desired from the part.
A person who wants to buy new brakes shoes for increased stopping power during winter under normal driving conditions is not probably going to want the same type of brake shoes as a person who wants them for a race car. There is a broad spectrum of high performance brakes shoes, so make sure to factor in the need of the new brakes required.
Research
Another step in the planning and buying process is research. It is important to know everything about the original part that is being replaced in order to ensure the part purchased meets the specification and design requirements of the vehicle that it is installed in.
It is a good idea to write down all of the information obtained so that it can be readily accessed when it comes time to buy the new part. For example, if a van or pickup requires an alternator or generator, one of the things that should be taken note of is the brand of the existing auto part. Also make sure to write down any model and serial numbers that can help identify the part as well. Notations should also be made of the size and shape of the auto part.
Taking a picture of the existing part if it is one that can be viewed easily is also a good idea to have for future reference in case there is any confusion in identifying the part with the information that is written down. Sometimes, a picture can be worth a thousand words when there is any doubt in during the part specification and identification process.
Comparison Shopping
Another crucial step in planning how to buy the right van or pickup truck parts is to make sure that the most value is obtained from the money that is being spent. This is customarily done by taking the time to scout out the best deals on similar parts. This is reason why the research and identification process performed earlier is extremely helpful.
Shop by Features Desired
It may be easy to shop for the same auto part by the brand previously owned in some cases, but in other cases, this is not an option. For example, if a person has an accident and needs to replace their current van or pickup doors with other ones, there are some factors that should be considered. If the replacement door is same from the same manufacturer but it is a model from a different year, this can pose a problem. Since vehicle styles change over the years, a door from one year model may have a taller height and be wider than the current doors and therefore is useless as a replacement part.
Moreover, when purchasing new rims, one factor that need to taken into account is the amount of lug holes the new rim needs to have. Locking nuts may also be a feature that is available and desired on new rims that the current tyre brand company may not have available.
Quality of Merchandise
The quality of the merchandise obtained is one of the biggest factors that needs to be considered when purchasing any auto part. Although a cheap price may be really appealing to the eye, if the part is one of low quality, then any of the money that is spent on the part is wasted. A cheap price does not always signify that the quality of an auto part is inferior all the time; however, in some cases it might be. It is important to make sure how long the part is expected to last and under what types of conditions it is best used under. It is also important to see if the part comes with a warranty, and what the warranty covers for the part, as well as how long the warranty is good for.
Shop for Value
When comparison shopping, it is important to also shop around to get the best price possible. While researching various van or pickup parts, there are many different things that affect the price of the auto part. For example, if a person is replacing an outdated exhaust system with a new high performance exhaust model, there are many styles and options to choose from. Instead of buying a new part, there is the option to buy a used exhaust system in this category as well. It is always a good idea to review all of the options available before making a final decision.
Buying Van and Pickup Parts on eBay
One of the great things about eBay is that this website is really a one-stop shopping experience for most people who use it. Because there are a multitude of sellers who use eBay to sell their auto parts, there is almost an endless variety of styles of parts and prices to choose from. Finding the right part for a van or pickup is easy and convenient as well by performing a simple keyword search for van and pickup truck parts.
To begin the search, navigate to the eBay homepage. Once there, enter the descriptive information in the search query box at the top of the page for the item you wish to view and then click on the search button icon. For example, if you want a wiper motor for your windshield blades, type in "van wiper motor", click on the search icon. All items tagged with those keywords are displayed for you to view. You may further customise your search by using the advanced search option or also by using more specific keywords to narrow the search results returned to you.
Conclusion
Picking out the right van and pickup truck parts is very important in order to meet the needs of both the vehicle the part is to be installed on, and the needs of the vehicle owner. There are many things that can go wrong during this process if a person is not careful, but amateurs are often the ones that have the greatest disadvantage because of their lack of experience. That is why it is important for there to be a plan in place designed to increase the awareness of the buyer before the purchase is made.
Being able to properly identify the part that is needs to be replaced by brand, model, serial number, and size is a great advantage and often very necessary when replacing certain auto parts. Researching the various choices available and being able to recognise where customisations are also needed is very beneficial in this process. Tying all of these elements together and getting an exceptional quality at a great price helps to make the process a smooth and more satisfying one, even for an amateur.