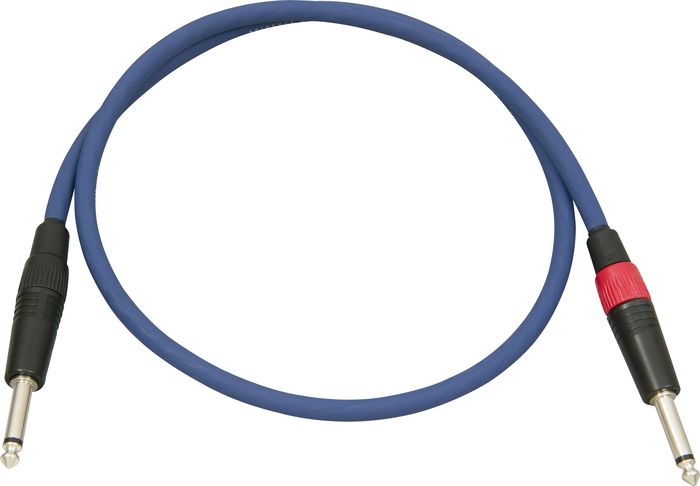 When buying a new stereo hi-fi unit or a home cinema, there are many factors one must take into account. One important aspect of a home audio setup is the audio speaker cables. Ultimately, the sound produced by a sound system is only as good as its weakest component, and that is often the speaker cables. The speakers are connected to the amplifier with audio speaker cables. Cables are often not included, but even if they are, it is good to consider the different types and lengths of audio speaker cables and determine what speaker cables would work best for a particular home audio system. When shopping for audio speaker cables, the shopper should consider the terminations, what the speaker cables are made of, and how the wire size affects performance. A shopper also needs to consider the appearance of the speaker cables and how easy they would be to install. For the widest selection of audio speaker cables possible, an audiophile should look on eBay.
Audio Speaker Cable Basics
Speaker cables consist of two wires, individually insulated with some kind of plastic and attached to each other. Sometimes extra insulation is placed over those two wires to provide extra protection and enhance durability. Usually, such a cable is used to connect one speaker to the amplifier. There are also bi-wires. This consists of a pair of cables bundled together. When using bi-wire, two cables connect to each speaker, one for higher and one for lower frequencies. Whether this offers any real improvement in sound quality is a much debated issue, but most audiophiles (and even speaker cable producers) agree that a single cable that is a little thicker does exactly the same job.
Terminations
The cable terminations can be bare or they may be fitted with connectors. Connectors offer both protection from corrosive factors and ease of use and come in many sorts. There are pin connectors, spade connectors, 2-pin DIN connectors, and banana connectors. Banana connectors are probably the most common type of connector. They can be plugged in and pulled out without the need for tools.
Materials
The overwhelming majority of speaker cables are made of copper. Copper is one of the best electrical conductors available and it is very affordable, making it the material of choice for speaker cables. Basically, the job of a good speaker cable is to allow the electric current to run from the amplifier to the speaker without the current encountering too much resistance. For higher-end systems, speaker cables are manufactured using oxygen-free copper, or OFC. Some audiophiles claim that OFC enhances sound quality due to its slightly higher conductivity, but others say that the difference is insignificant. OFC is also more resistant to corrosion but under normal circumstances standard copper cables are sufficiently durable to last many years.
Silver has a slightly higher conductivity and hence less resistance than copper, but its price is much higher. Silver cables are favoured for professional systems or by audiophiles who require the best possible sound quality. Gold has a lower conductivity than copper, but it does not oxidise, so it is sometimes used to plate cable terminations as a means of protecting the connectors against corrosion. Of course, the presence of gold increases the price of a speaker cable considerably.
Audio Speaker Performance
The main factor affecting the performance of a speaker cable is its impedance. Impedance is a measure of the difficulty or resistance an electrical current encounters when passing through a conductor. In the case of direct current, or DC, impedance is the same as resistance. In the case of alternating current, or AC, which is the current used in audio equipment, other factors such as capacitance and inductance also play a role. In applications such as speaker cables, those two factors are of significantly lower importance, and according to many audiophiles, the effects are negligible. Audiophiles on the other hand feel that there is no such thing as a negligible effect on sound quality.
In any case, resistance is by far the most important factor to consider when buying speaker cables. The resistance of a cable increases with the length of the cable, and decreases when the cross section of the cable increases. So a thin cable has more resistance than a thick one, and a long cable has more resistance than a short one.
When buying speaker cables, the first thing is to consider the required length. According to the length of the cables and the impedance of the system (measured in ohms), the buyer can calculate how thick the wires should be. This tables features the recommended lengths for speaker cables based on the wire size and the impedance of the speaker.
| Wire Size | 2-ohm load | 4-ohm load | 6-ohm load | 8-ohm load |
| --- | --- | --- | --- | --- |
| 23 SWG (0.6 mm2) | 0.9 m | 1.8 m | 2.7 m | 3.6 m |
| 21 SWG (0.8 mm2) | 1.5 m | 3 m | 4.5 m | 6 m |
| 19 SWG (1.0 mm2) | 2.4 m | 4.9 m | 7.3 m | 9.7 m |
| 18 SWG (1.2 mm2) | 3.6 m | 7.3 m | 11 m | 15 m |
| 16 SWG (1.6 mm2) | 6.1 m | 12 m | 18 m | 24 m |
| 14 SWG (2.03 mm2) | 9.1 m | 18 m | 27 m | 36 m |
| 12 SWG (2.64 mm2) | 15 m | 30 m | 46 m | 61 m |
Cable thickness is commonly measured in Gauge numbers. What is slightly confusing is that there are two different scales of measuring wire gauge: the American Wire Gauge (AWG), and the Standard Wire Gauge (SWG). When searching for speaker cables online, it is important to consult one of these scales. Below is a table that converts AWG to SWG and vice versa.
| AWG | mm | SWG | mm |
| --- | --- | --- | --- |
| 8 | 3.25 | | |
| 10 | 2.59 | 12 | 2.64 |
| 12 | 2.05 | 14 | 2.03 |
| 14 | 1.63 | 16 | 1.63 |
| 16 | 1.29 | 18 | 1.22 |
| 18 | 1.02 | 19 | 1.02 |
| 19 | 0.92 | 20 | 0.91 |
| 20 | 0.82 | 21 | 0.81 |
| 21 | 0.72 | 22 | 0.71 |
| 22 | 0.64 | 23 | 0.61 |
| 23 | 0.57 | 24 | 0.56 |
| 24 | 0.51 | 25 | 0.51 |
If this all seems too complicated, a rule of thumb is that as long as speaker wire resistance is kept to less than 5 percent of the speaker's impedance, the conductor is adequate for home use.
Some speaker wires are shielded, meaning that they are protected by a wire mesh on the outside. Shielding offers protection from interference from other wires and enhances the durability of the cable. In normal household installations, shielding is not considered necessary. However, in professional installations and in car audio it is often implemented due to the large number of other cables in close proximity to the speaker cables. This close contact can impede performance.
Installation and Looks
The installation of speaker cables should be done with great care to ensure both sound quality and a setup that looks neat and tidy. Speaker cables should be kept as far away from power cables as possible to avoid interference. If the cables absolutely have to cross a power cable, it is best to do so at right angles.
When measuring the distance between the amplifier and the speaker, it is best to use a cord to take an exact measurement. In the end, it is better to have too much cable than too little. If the cable has to go through a wall, UL-rated or CL2 or CL3 labelled wire is advisable.
It is also important to hide speaker cables as best as possible. If the house is carpeted, the easiest solution is to pass them under the carpet. In this case flat wires are the best choice. Another option is to run the cables along the base of the wall, either bare or using cable raceways. Both raceways and some sorts of cable can be painted so that they blend in with the colour scheme of the house. The cleanest, but most difficult option is to run them through the wall. In this case speaker wire terminals can be installed in the wall near the speakers and the amplifier.
How to Buy Audio Speaker Cables on eBay
eBay has a wide variety of speaker cables to choose from. Go to the eBay homepage, type in the search box 'audio speaker cables' and press 'Search'. You can then choose the appropriate category, such as 'TV and Home Audio', and refine your search using criteria such as type, brand, length, type of connectors and more. If you know from the outset exactly what you are looking for, you should start with a more specific search term such as 'banana plug black audio speaker cable'. Alternatively, you can also browse the cables by category until you find what you are looking for.
There are two buying methods: participating in an auction or paying the seller's listed price. The seller will specify the buying method in the item description. Before completing the purchase or bidding on the item, carefully read the full item description and ask the seller questions if the information provided in the item description is not clear. To contact a seller directly, just go to their profile page and click on the contact link.
Conclusion
Buying audio speaker cables is a crucial step in getting the best sound out of a sound system. The most important characteristic of a speaker cable is its resistance. The buyer should measure the distance between the speakers and the amplifiers very carefully and then use a table to choose the proper gauge cable. Speaker cables are either bare-ended or, more often, equipped with termination plugs. The plugs of choice depend on the individual amplifier and speaker, but banana plugs are the most common. There are many high-end options in speaker cables, such as silver cables or gold-plated cables, but many audiophiles agree that a standard copper cable of the proper gauge is sufficient for the vast majority of applications, especially home use. An easy rule of thumb is that the resistance of the cable should be less than five percent of the speaker's impedance. eBay offers audiophiles a wide range of speaker cables for both professional and domestic audio setups.