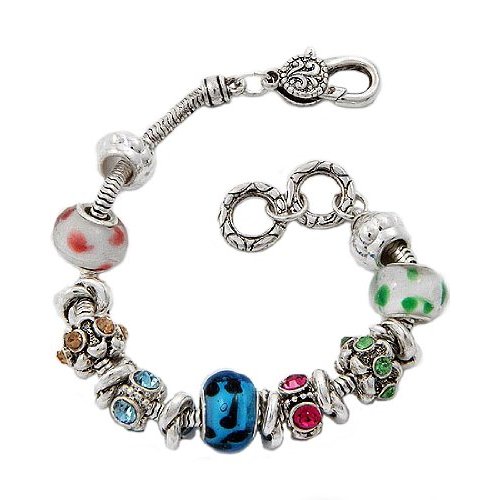 An antique art deco bracelet is any bracelet made during the art deco period of the early 1929s and 1930s. Art deco jewellery is often categorised as a collectible, although some pieces can be worn as well. Art deco is one of the most loved periods in history for its vibrant colours, richness of culture, and eclecticism, and most importantly, the visual freedom allowed by the style. The forerunner to today's modern art, art deco jewellery is often beautiful, eye catching, and valuable.
Art deco bracelets often emphasise geometric designs, flowers, animals, and even machines such as automobiles and planes, although the latter are more commonly seen on brooches, pendants, and pocket watches. Buying locations include estate auctions, vintage jewellery shops on and offline, auction and sales sites such as eBay, and sometimes antiques dealers. Buyers looking for antique art deco bracelets should consider the age, the condition, the quality of materials, and where they want to purchase the bracelet.
The Art Deco Period
The art deco period is commonly recognised as the time between 1915 and 1935, beginning around the same time as WWI and ending just before the advent of WWII, when most metals were in short supply, and major jewellery making was laid off until 1945. Art deco lavished on jewellery as women's rights and wealth grew due to international movements and jewellery became one of the prime expressions of fashion. Often lavish, bold, and intricately designed, diamonds were popular, as were bold designs, pearls both real and cultured, as well as colour, contrast, and design.
The style was named by the International Exposition of Modern Industrial and Decorative Arts in 1925 and originates from the art nouveau period, much of which was inspired by Roman, Greek, American Indian, and Ancient Egyptian styles and designs. Today, the style is one of the most sought-after periods, often going for prices much higher than older jewellery.
While jewellery was only a small part of the art deco period, it is greatly influential to designers today and many popular art deco pieces are actually very similar to modern designers' work. Art deco is about originality, eclecticism, and the use of bold, bright, and beautiful colours and patterns. For this reason, art deco jewellery is one of the most popular styles in history and is still often worn in replicas, original pieces, and costume jewellery of the time.
Recognising an Antique Art Deco Bracelet
Anyone who wants to purchase an antique art deco bracelet should learn to recognise one. Due to the bold colours, bright designs, and often geometric shapes and patterns, most people can easily learn to recognise the jewellery, although recognising costume and real pieces can be more difficult. Generally, art deco bracelets show three distinct characteristics including bright use of colour, valuable gemstones, and very defined patterns.
Art Deco Bracelet Colours
One of the discerning points of the art deco period is the wide use of colours in jewellery. Bracelets often feature vibrant and bold colours such as red, yellow, sapphire, gold, black, green, and white. The use of these colours, usually in stark contrast with paler diamonds and crystals, is the true defining point between art deco and art nouveau. Usually gems, whether real or fake, are set together to create vibrant patterns with a great deal of contrast from one row to the next.
Art Deco Bracelet Gems and Precious Metals
Gems are used often in art deco bracelets, partially because of the increase in wealth after the end of the first World War, and partially because women everywhere wanted them. Common precious stones used include diamonds, emeralds, sapphires, lapis lazuli, onyx, garnet, and coral. Metals common to the period include red, yellow, and white gold, and platinum. Cheaper base metals such as copper and tin are often seen in costume art deco bracelets, as is plastic and imitation gemstones and designs used with rich stones. The combination of base materials and gemstones was used to create a 'fruit salad' look which was popular during the time. Other materials include rhinestones which are typically set very close together and do resemble the many imitation rhinestone necklaces and gemstones found today.
Art Deco Bracelet Styles
Charm bracelets were one of the most fashionable styles during the art deco period, although many other styles of bracelets were used as well. Patterns including Egyptian themes such as pharaohs and scarabs were popular after the 1922 discovery of King Tutankhamen's tomb. Padlocks, woven styles, large bangles, thin chains, and linked jewellery were all also very popular. Generally, styles can be very similar to many of the ones seen in the 1960s, although not exclusively similar.
Art Deco Bracelet Quality and Condition
Most buyers should choose an art deco bracelet based on its quality and condition. In general, art deco bracelets are not worth much but can be nice to wear as an antique or to add a touch of vintage to an outfit. High quality pieces that are not in collections or museums are often quite rare, especially considering the wide abundance of costume jewellery produced during the period. Most of the pieces available for sale are simply costume or made of lower quality stones, but many bracelets are available with a real diamonds or other precious stones. In fact, many of the genuine bracelets have a high number of carats such as upwards of seven to fifteen carats worth of diamonds.
For the quality, the better shape the bracelet is in, the more valuable it is to a collector. However, many people purchase vintage jewellery and repair it as a hobby, so the condition does depend on the purpose of purchase. Most buyers do prefer pieces that are in good shape. With art deco bracelets, this mostly means keeping an eye on the clasps, which are often the first point to weaken, and ensuring there has been no soldering or mending. Watching for visible scratches can also help to prevent buyers from getting badly damaged bracelets.
Genuine metals and diamonds can often be easily distinguished from their cheaper imitation counterparts, although the use of 'fruit salad' looks can make it harder to discern the value of a single piece. For example, an art deco bracelet with Bakelite plastic and genuine turquoise gems can be somewhat hard to distinguish from costume pieces as they contain both base and valuable materials.
Tips on Buying an Antique Art Deco Bracelet
Art deco bracelets can often be purchased in antiques stores, at estate auctions, at online auctions, and sales sites such as eBay, and any online store catering in antique jewellery. Most art deco pieces are not rare, although fine art deco jewellery is. Much of what is available cheaply in second hand stores is costume jewellery, although it can sometimes be hard to tell the maker, or the year, as most art deco pieces are not hallmarked. Usually it is possible to check for local antiques dealers and auctions to see if there are any local options, or visit an online store such as eBay that sells antique jewellery.
Buying an Art Deco Bracelet on eBay
eBay has a wide selection of both costume and fine art deco bracelets so buyers can choose whether to purchase a valuable antique or simply an antique bracelet. In most cases, art deco jewellery is labelled as 'art deco', 'deco', or simply 'circa 1935', all of which usually mean art deco. Bracelets are available on eBay in a range of styles, conditions, and values, so it is important to pay attention to what you are purchasing.
Art deco bracelet buyers can consider looking for specific materials including 'marcasite', 'diamond', 'moonstone', or a specific style such as 'Egyptian', 'woven', or 'charm', or can simply browse through the full selection of art deco bracelets available on eBay. Once you have found an item you like, you can keep looking, ask the seller any questions you might have, ask for more photos, or purchase the bracelet. It is important to keep in mind that most antiques on eBay are sold 'as is' so you should read the description before making a purchase.
Conclusion
Art deco bracelets dating from the 1915 to 1935 art deco period are antiques which range in quality, condition, and value. Usually featuring precious stones such as diamonds, sapphires, marcasite, and a variety of other precious stones, art deco jewellery is both lavish and intricate in design, and often based on geometric shapes. Most buyers recognise the jewellery for its wide use of colours, Egyptian themes, and mostly bold colours and patterns. Antique art deco bracelets are made of both expensive and base materials, sometimes with the two combined to create a 'fruit salad' look of combined riches and poverty, or combined colours, textures, and feel.
Art deco bracelets can be purchased on eBay, which has a rich collection of both antique and costume art deco jewelleries. Buyers should pay close attention to the quality of the bracelet before making a purchase, should carefully consider where they want to purchase the item, and should decide what they want to do with the bracelet before buying it.