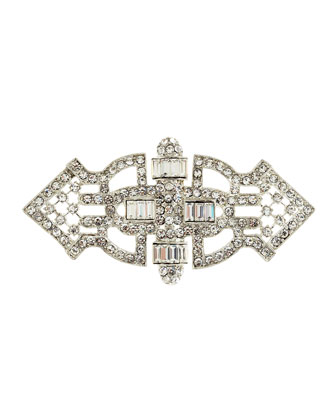 Brooches are a good choice for those looking for an elegant way of adding a final touch to their outfit. There are many designs to choose from when it comes to these accessories and many women prefer to buy antique brooches because they add a vintage look to any outfit. Antique art deco brooches can be worn with elegant or casual outfits, but it may sometimes difficult to choose the right one because there are so many designs available.
Art deco brooches are popular with women passionate about antique jewellery because brooches can be used as accessories for modern outfits quite easily. Unlike other types of antique brooches, such as Victorian ones, for example, antique art deco brooches go well with various outfits and one can choose to wear them not only on the lapel, but on hats, scarves, or even as fake dress clips. Regardless of the purpose for which one chooses to buy an antique art deco brooch, learning more about the characteristics of these accessories can help buyers make an informed choice.
How to Identify an Antique Art Deco Brooch
When shopping for antique jewellery, one should pay attention to several things, and making sure a certain item belongs to a certain period should be on top of the list. This is also true in the case of antique art deco brooches. Therefore, buyers should learn some of the basic characteristics of this style in order to be able to identify a piece as authentic.
Art Deco Forms and Styles
The art deco period roughly covers the period between 1920 and 1935 and it was characterised mainly by geometrics, which began to play an important part in architecture, fashion, decorations, and jewellery. Triangles, circles, rectangles, and squares were often mixed in order to create sophisticated designs. The jewellery of the period was influenced by this geometric approach and this is visible in antique art deco brooches. Many art deco brooches feature sleek streamline angular lines and the strong use of symmetrical design is often employed in the manufacture of these accessories.
Materials Used for Antique Art Deco Brooches
The most common materials for the art deco jewellery are platinum, white gold, and silver, together with precious and semi-precious gemstones such as colourful rubies, emeralds, sapphires, and diamonds. Costume brooches belonging to the art deco period are characterised by the use of materials such as Venetian glass, crystal, Bakelite, and gemstones such as rhinestone. White metals were often used for these brooches, including sterling silver and various types of gold with rhodium plating. Some of the most common motifs one can notice when it comes to antique art deco brooches include arrows, rockets, greyhounds, scarabs, gazelles, sphinxes, and more. Many of these motifs are inspired by Egyptian art, which became very popular in the period after the discovery of Tutankhamen's tomb in 1922.
Types of Antique Art Deco Brooches
When shopping for an antique art deco brooch, one can choose from different types of designs and materials. Art deco brooches vary in size from tiny ones to models that can take up almost an entire lapel. Buyers should first decide whether they are looking for a piece of extravagant jewellery or for one that is more versatile and can be worn casually. Antique art deco brooches may look well with a range of different clothes, so one should try to find a model that goes well with several outfits, especially a brooch is a rare and expensive style.
Different types of art deco brooches are made from different materials and choosing the right one depends on one's taste. Contemporary brooches can be machine or handmade, but in the majority of cases, art deco jewellery was manufactured by hand, which makes it more expensive, but also more durable. The material from which a brooch is made has a great influence on the price of an item and buyers can choose from gold and platinum art deco brooches, which are more expensive, or silver and plastic, which are considerably less expensive.
When it comes to design, some of the most common types of art deco brooches include clip-ons, clips, dangling, pins, and grips. Most of these brooches are quite extravagant and buyers should consider their preferences carefully before making a purchase. Not all brooches come in the same size and buyers should read the product description carefully when shopping for antique art deco brooches online, as the photos alone are not a good way to determine the size of such an accessory.
How to Wear an Antique Art Deco Brooch
One of the main reasons behind the comeback of antique art deco brooches is the fact that they can add a touch of glamour and a vintage look to any outfit. Whether one is looking for an art deco brooch to wear on their wedding day or simply to accessorise their favourite hat with, there are multiple ways in which such a brooch can be worn.
Complex decorative brooches are ideal for special occasions, while simple, yet eye-catching styles can look great as an accessory for a casual outfit. The size and weight of an antique art deco brooch is also important, with smaller, lightweight pieces being suitable for a summer dress, for instance, and larger, heavier brooches being an excellent choice for autumn and winter outfits.
Antique vs. Vintage Art Deco Brooches
When shopping for art deco brooches on websites such as eBay, one may encounter the words antique or vintage in the product description. Even though the two terms may seem similar, there are actually differences between their significances. An antique art deco brooch is by definition very old, preferably from the early period of the art deco movement. On the other hand, the term vintage may refer to a piece of jewellery that is used, but not necessarily a century old. When it comes to art deco brooches, the term vintage is often used for models that are often mid-century modern.
Buyers who are looking for antique art deco brooches should make sure the item they would like to buy was manufactured in the 1920s or 1930s, which is the heyday of the art deco movement. The condition of an antique art deco brooch is very important especially for buyers who plan to wear it instead of collect it. Whether one is shopping for such brooches in antique shops or online, they should pay close attention to the imperfections of the item and make sure the price is fair for the condition of the brooch.
How to Find an Antique Art Deco Brooch on eBay
Shopping for an antique art deco brooch on eBay requires patience and at least some basic knowledge about the characteristics of art deco jewellery. A good way to make sure an art deco brooch is authentic is to carefully evaluate the photos and read the item description provided by the seller. As they are very old, antique brooches may have some flaws, but some of them can be easily repaired by a jeweller specialised in antique jewellery. When shopping on eBay, one should be very careful about items that have chips and cracks in the metal or enamel and those that feature discolouration and corrosion. This can be easily done by looking at a piece from different angles in the photos provided by the seller.
Finding an antique art deco brooch that suits both your style and budget should not be a problem when shopping on eBay. In order to start searching for such a jewellery piece, you can type the words 'antique art deco brooch' into the search bar of the website and then browse through the results you get. If you feel the results are too numerous and want to save some time, you can refine them according to your preferences. If you choose to buy an antique art deco brooch from a local seller, you can avoid spending too much on delivery fees and you could even evaluate and pick it up in person.
Conclusion
Antique art deco brooches can be purchased either as fashion accessories or additions to a jewellery collection. Regardless of the reason for which one decides to start shopping for such pieces of jewellery, it is important to take into account several factors when it comes to actually buying an antique art deco brooch. One should remember that it is essential to make sure the item they buy is authentic, especially when shopping online. Antique jewellery should not be very difficult to identify if one has some basic knowledge of the characteristics of a certain period. Shopping for antique art deco brooches on eBay is one of the best ways to find authentic and valuable pieces dating back to the 1920s and 1930s. The website offers a large selection of antique jewellery pieces available from sellers from all over the world, so buyers should patiently and carefully browse through various styles of art deco brooches in order to find an item that suits their preferences and budget.